About BLAG
BLAG (Better Letters Magazine) is the world's only print and online publication dedicated to sign painting. Join today for a free weekly dose of our worldwide adventures in sign painting.
BLAG
Every summer and winter, BLAG (in print) ships to Blaggers (paid members) around the world. Its 64 pages (soon to become 80 from Issue 04) are free of advertising and packed with informative and inspiring articles and features.
"It's straight up no BS all about sign painting."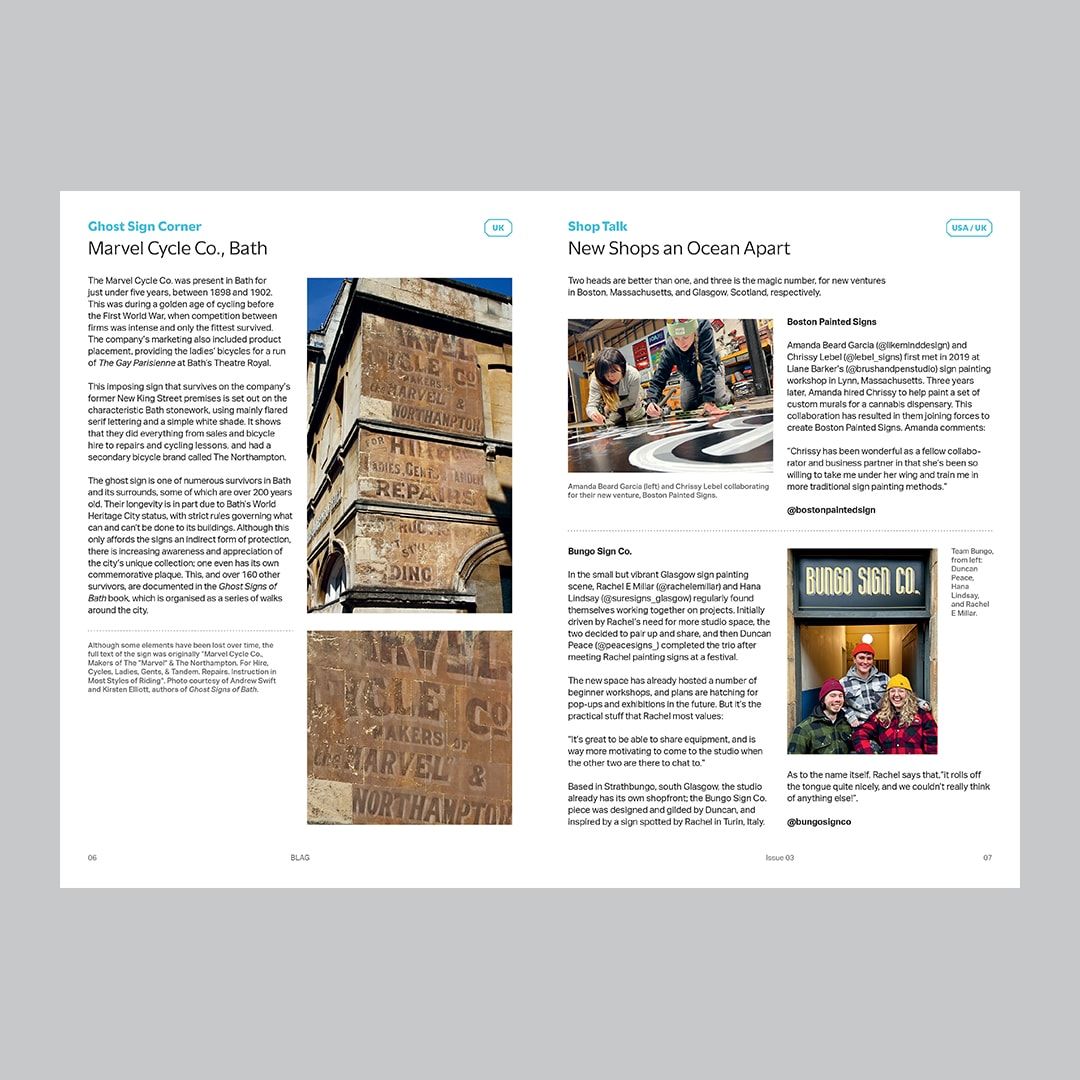 Back Issues
Individual copies of Issue 02 can be purchased from the online shop.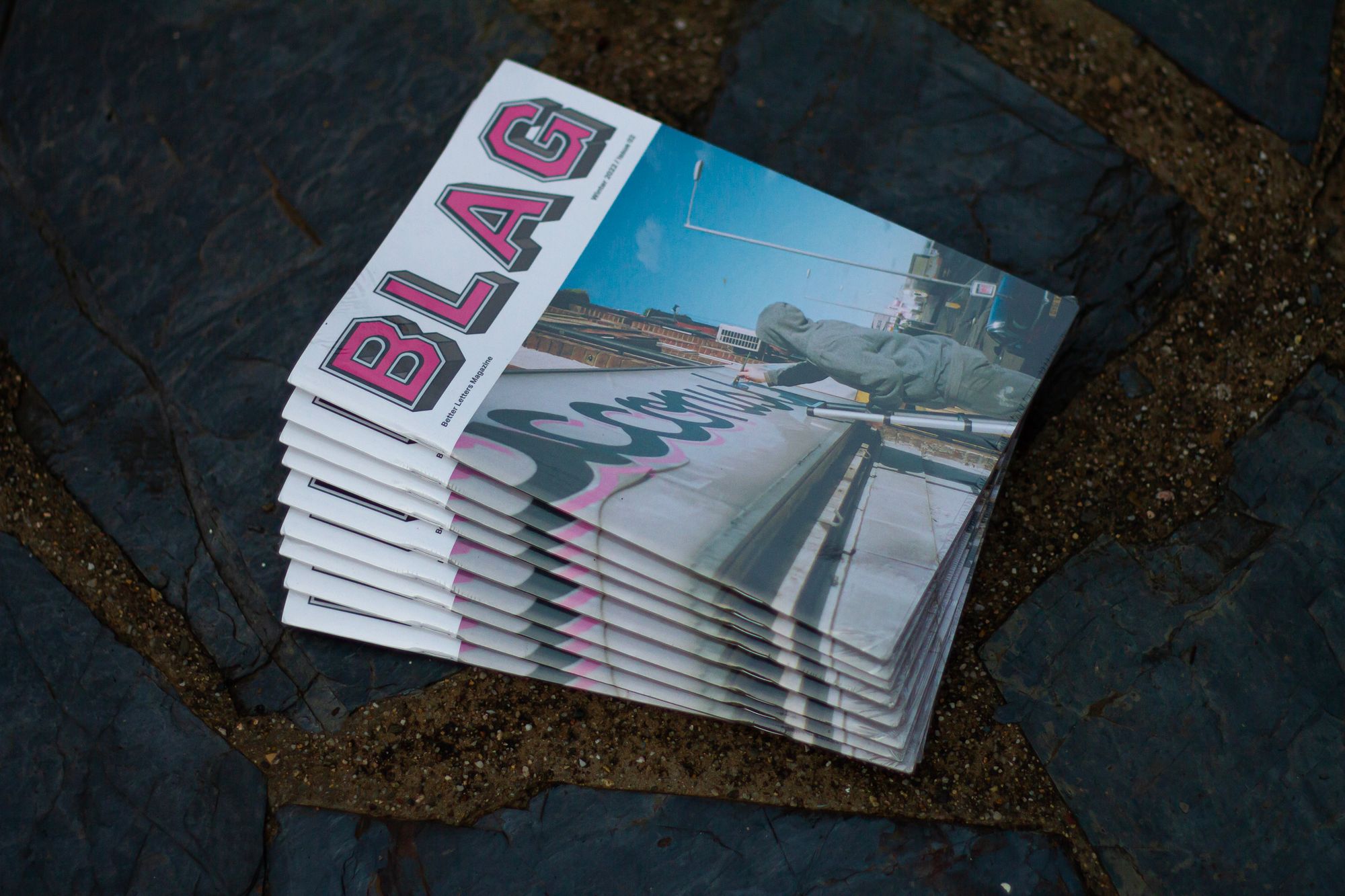 It is also available to read online.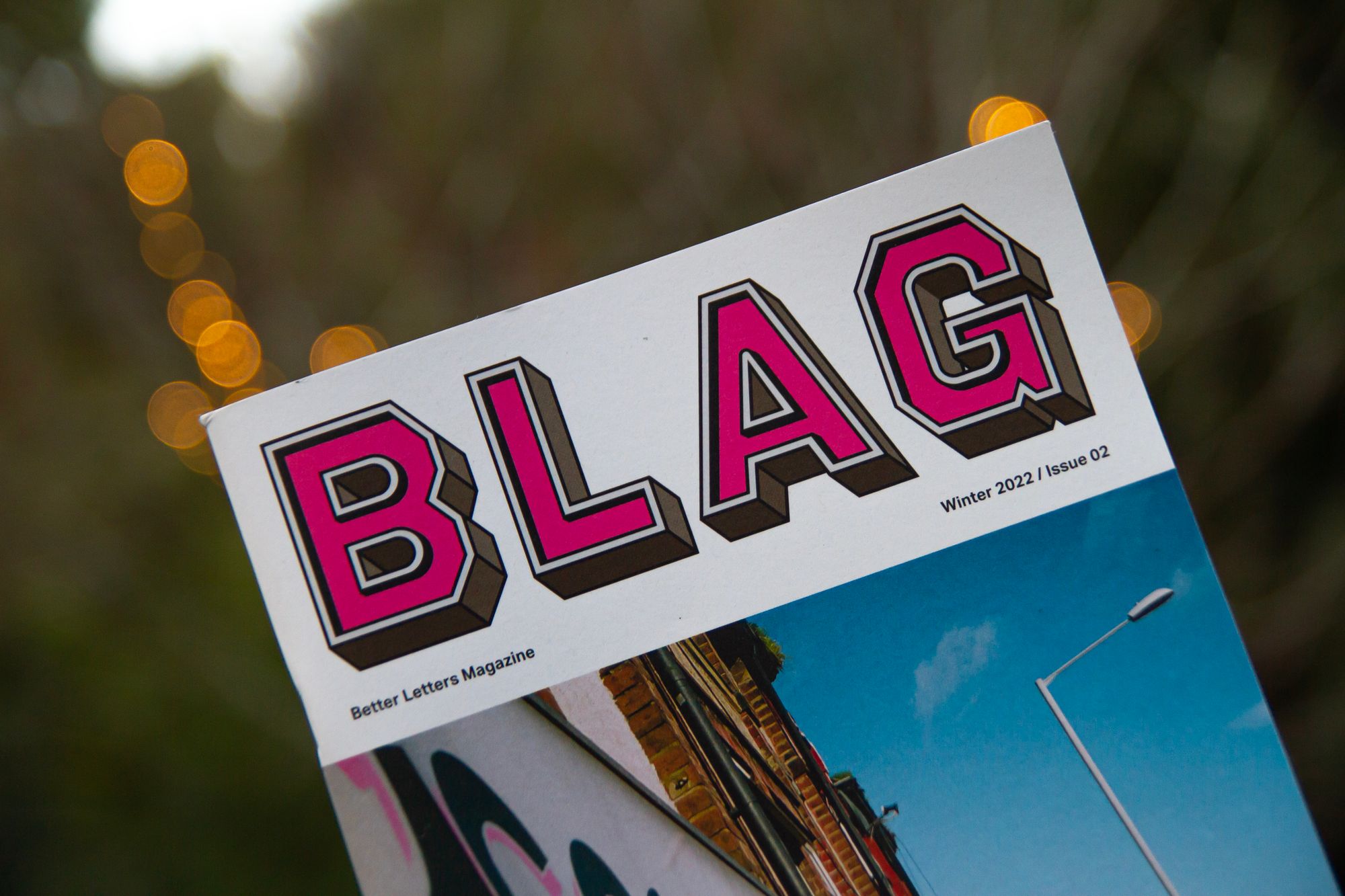 Sold out in print, Issue 01 is also available to browse online.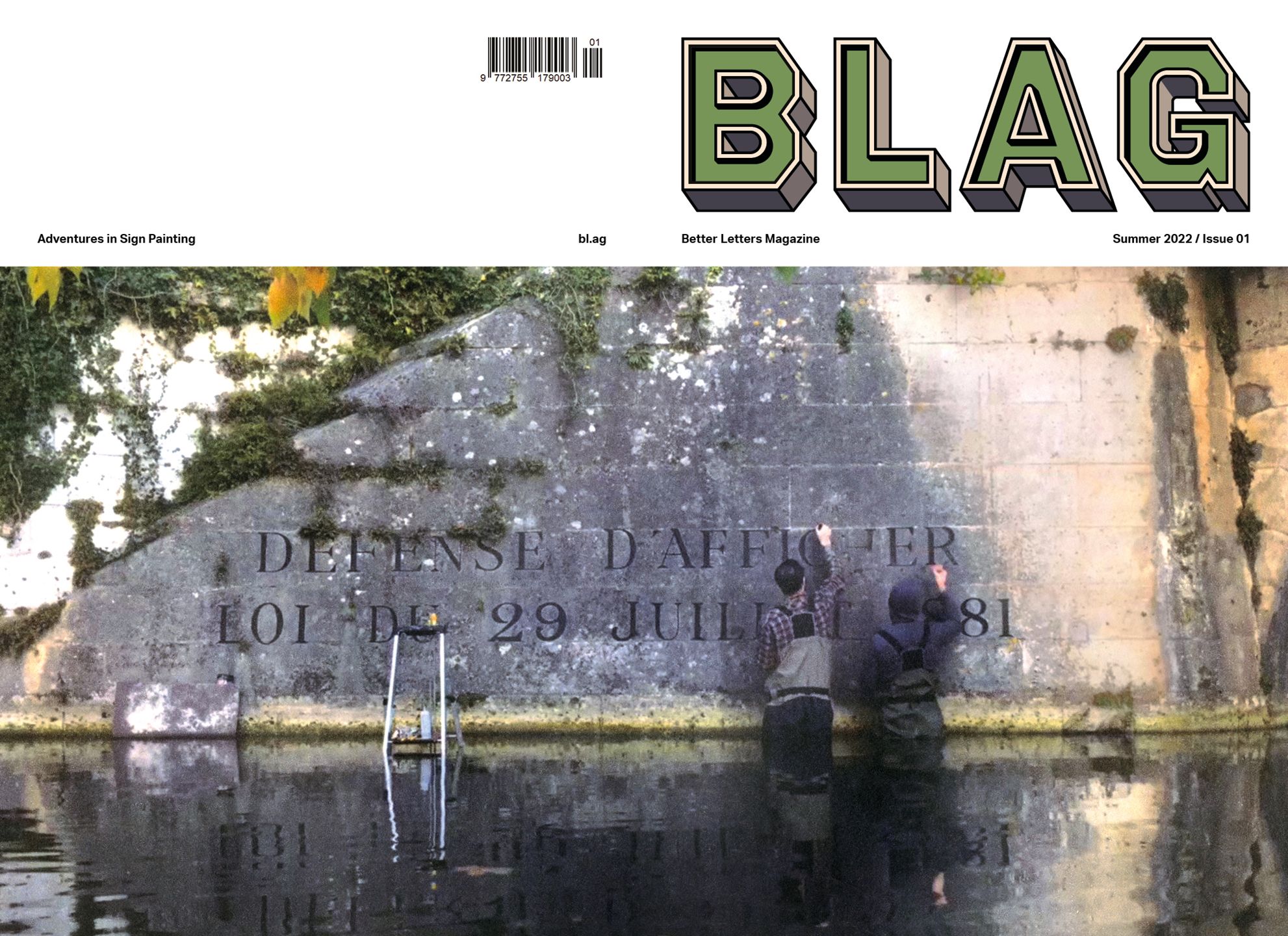 ---
bl.ag online
Every week, a new article is published here at bl.ag online. These include opportunities to learn, projects, and sign painter profiles, as well as book reviews, events, sign painting history, and more.
"It's packed full of gems! A brilliant resource."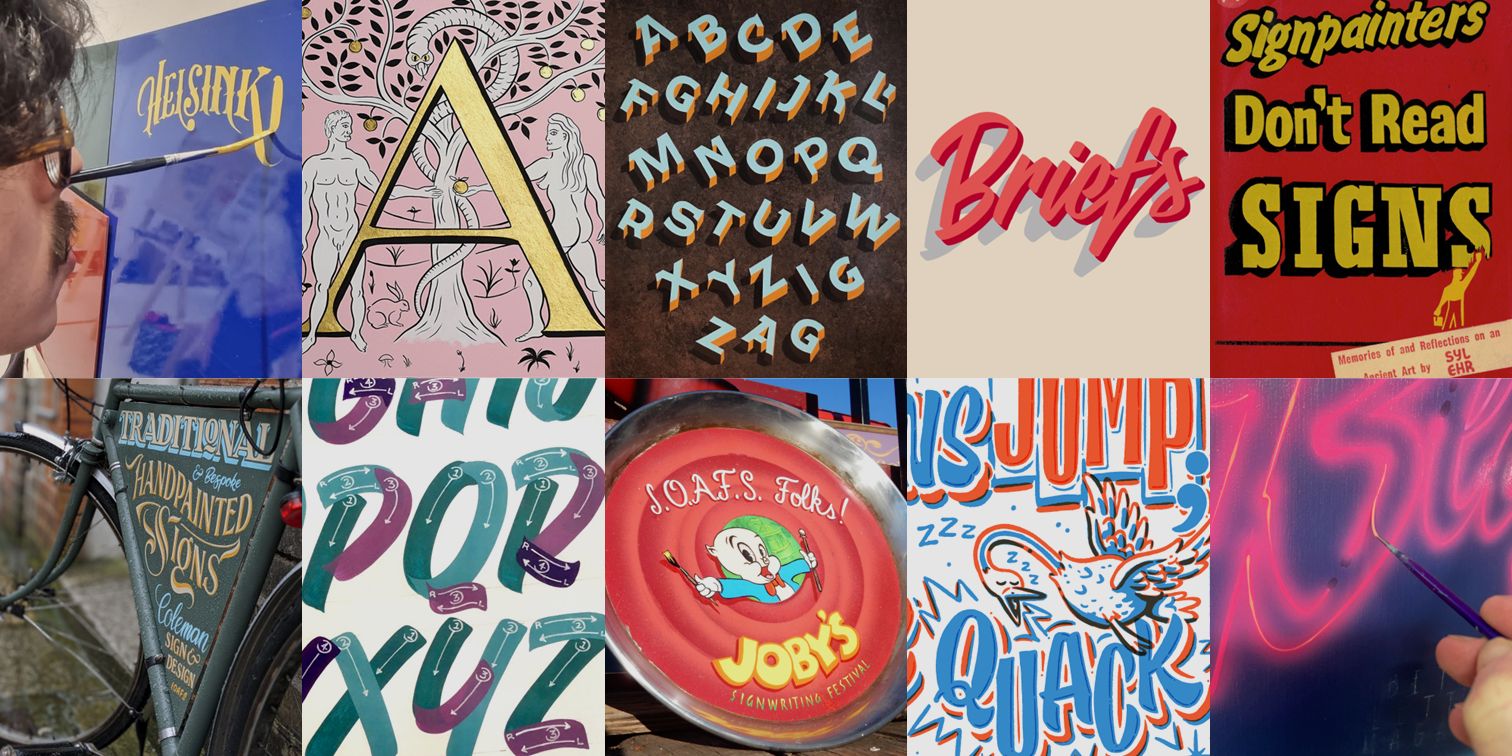 Most articles are public, or available to free subscribers, while some can only be accessed in full by paid members.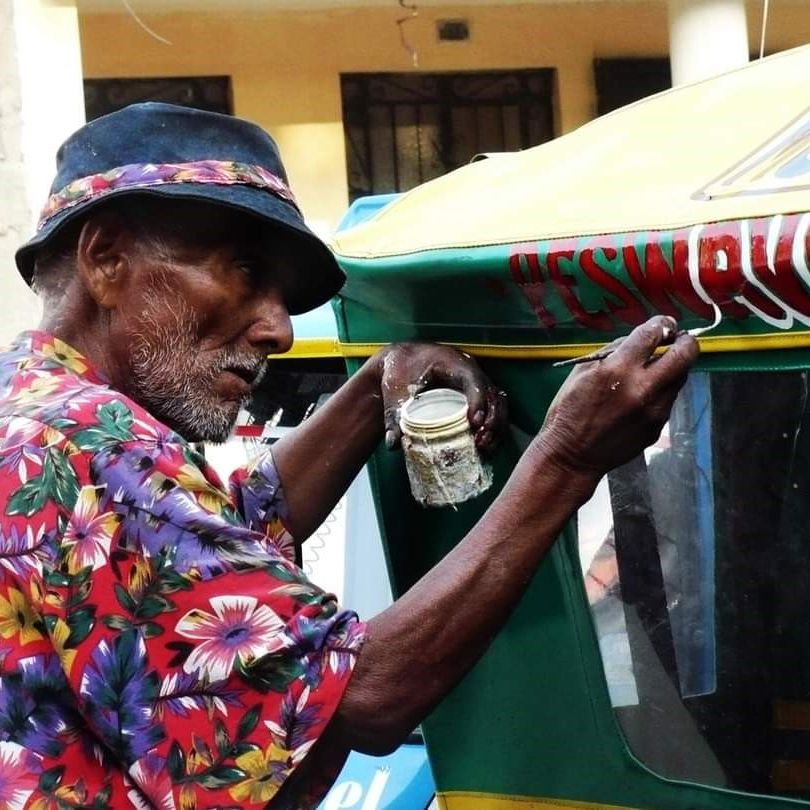 ---
BLAG Events
BLAG's new online events programme brings a world of sign painting experience and expertise directly to your screen.
BLAG Chats are informal presentations, interviews, and discussions, while BLAG Demos hone in on specific skills and techniques.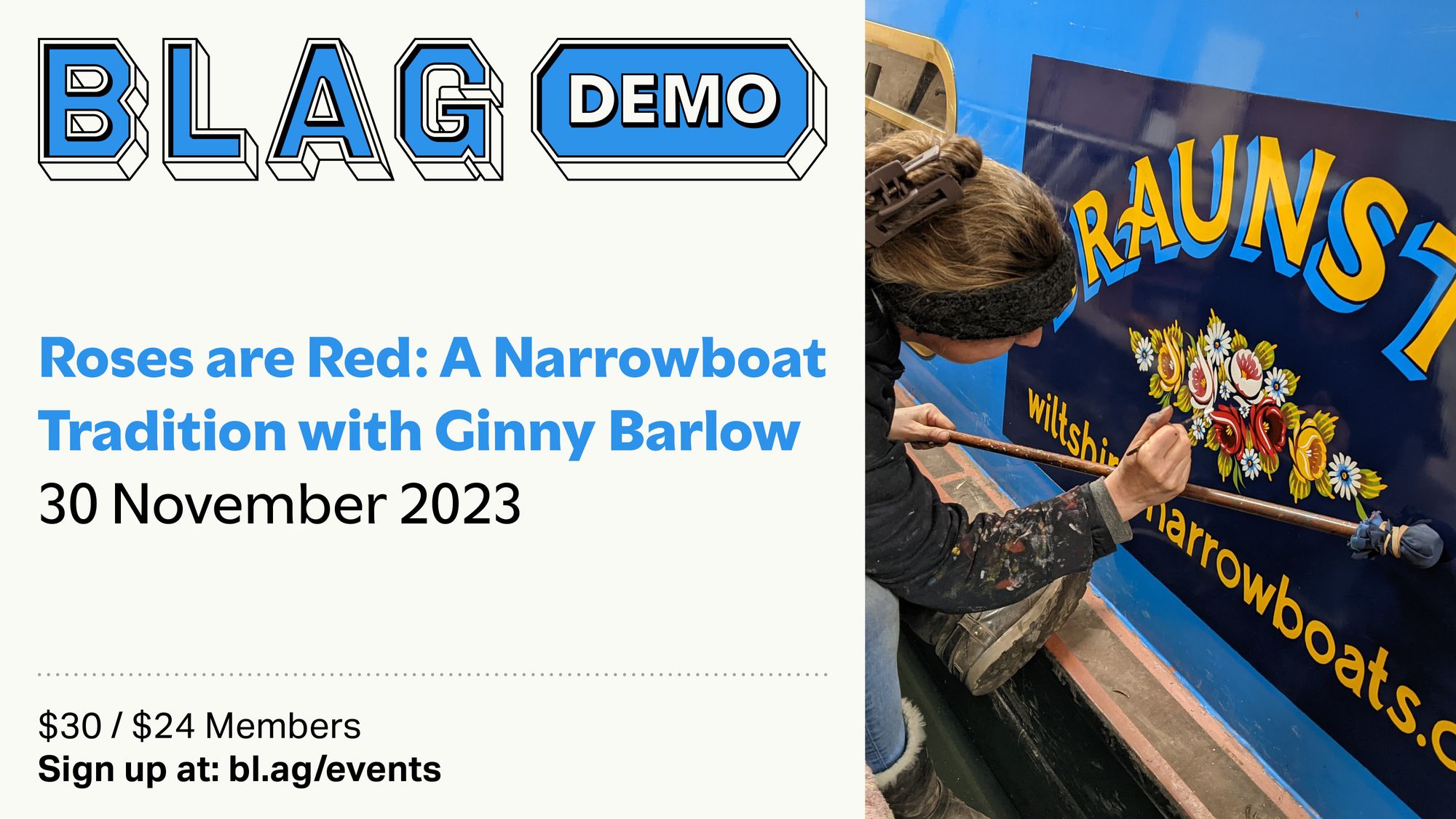 ---
Join the Adventures
Join these adventures in sign painting by becoming a free member today. If you sign up as a Browser, you'll also get full online access, or you can go all in as a Blagger to:
📖 Be the first to receive BLAG in print, including shipping to anywhere in the world.
📚 Catch up with digital back issues of BLAG online.
🌐 Learn and be inspired with access to all bl.ag online articles.
💻 Meet the worldwide sign painting community via free and discounted online events, including access to recordings.
✉️ Receive exclusive email newsletters, and control what you get and when.
🚫 Enjoy time away from advertising and annoying pop-ups.
✔️ Support independent publishing. (At its heart, BLAG is a one-man show!)
---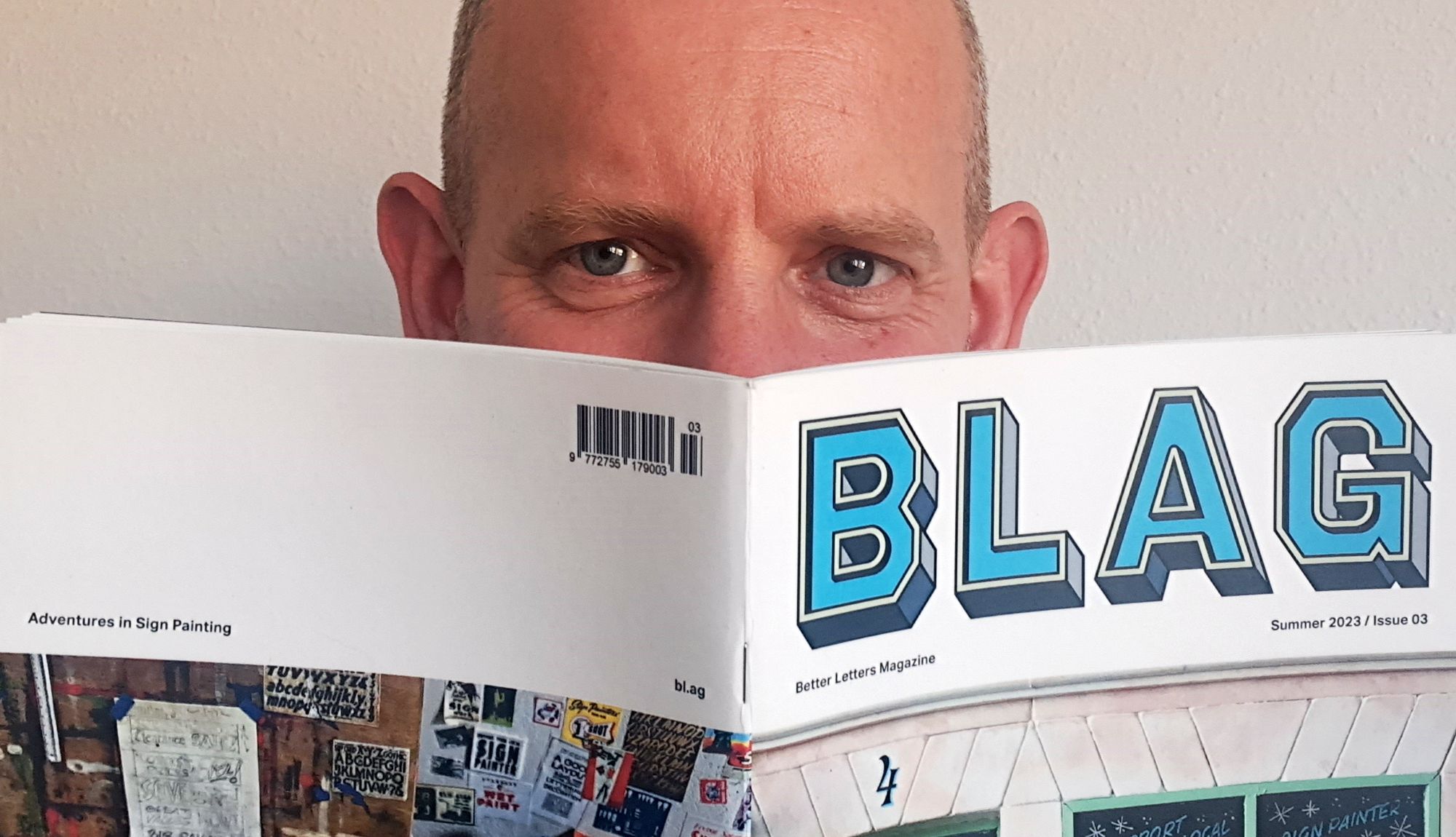 About Me
I'm Sam Roberts, and Better Letters was born in 2013 as a natural extension to my work on Ghostsigns. The aim was to champion sign painting and foster greater appreciation of the trade. In the years since, this has led to me organising countless events, managing a variety of sign painting projects, and writing books and articles about the craft.
In addition to supporting Mike Meyer with his worldwide workshops programme, I have also gained huge satisfaction from the voluntary projects I've been involved with. These have included organising Letterheads meets, producing the 'When Better Letters Met' series of short films, and helping to support and connect people inside and outside the trade.
BLAG is the new direction for my work. It allows me to continue supporting the international sign painting community by sharing work and learning opportunities, and helping to bring everyone together. I hope you'll join me on the journey, and let me know where you'd like to go.
---
FAQs
Free and paid subscription options are available via this link.
What's the difference between BLAG and bl.ag online?
BLAG is the print magazine which is published two times per year (summer and winter) and shipped to subscribers at Blagger level and above. bl.ag online is this site, where articles are published weekly, some public and some available only to paid subscribers.
When does the print BLAG come out?
There are two issues per year, one in summer (June/July) and one in winter (December/January). New Blaggers that sign up between 1 December and 31 May will receive the winter issue as their first instalment. Signing up between 1 June and 30 November will mean you receive the summer issue first.
Is shipping included in the subscription?
For those at Blagger level and above, shipping of each issue of the print magazine is included in the monthly/annual subscription.
What do I do if I change my address?
If you are signed up at the Blagger level or above then you can change your address using the online form, or by sending an email to sam@bl.ag.
What are the email newsletters?
Everyone can get the latest bl.ag online articles via email each week. Paid members can then opt in to receive a regular round-up of these, and the monthly newsletter with useful links and other features such as 'Ye Olde Sign Shoppe' and 'Ghost Sign Corner'.
Why are the paid subscriptions so expensive?
Just like signs, researching, writing, editing, designing, publishing, and distributing a magazine (even just online) takes time and money. The paid subscriptions are how this is funded. This keeps BLAG and bl.ag online free of advertising and popups, so more space for signs and sign painting. Students and lower-income groups can get in touch to request a discount via sam@bl.ag.
Why are the paid subscriptions so cheap?
In general I think that if people are asking this question, and the one above, then the pricing is probably about right. If you have a bigger budget, then you can consider becoming a patron or sponsor of BLAG.
What is the format of BLAG (Better Letters Magazine)?
The printed magazine measures 172 x 250 mm (6.8 x 9.8 in) and contains 64 full-colour interior pages, plus the cover. (From Issue 04 there will be 80 pages.) There is no advertising, so every page is focused on the sign painting content.
The paper used is 100% FSC certified recycled; 115gsm uncoated for the interior pages, and 250gsm anti-scuff matt lamination uncoated for the cover. It is printed using eco-friendly HUV inks
Can I contribute to BLAG or bl.ag online?
Yes, I welcome contributions and ideas for articles and features. You can send these to sam@bl.ag, or use the online submission form. The aim is to inform and inspire the international sign painting community, so keep that in mind when developing ideas.
Is BLAG available to buy elsewhere?
The printed magazine is first and foremost for subscribers. Once a new issue has been pubished, outstanding stock of the previous issue is made available in the online shop. The few remaining copies of BLAG 01 were sold in this way, but the only way to be sure of receiving the magazine is to subscribe.
Is BLAG available digitally?
More Questions?
You can contact me, Sam Roberts, BLAG editor and publisher, via sam@bl.ag.