Glittering Glass in Vietnam: The Story of Saigon Gold Sign
Saigon Gold Sign's Thien Nguyen on his gilding journey, and the challenges of working in Vietnam.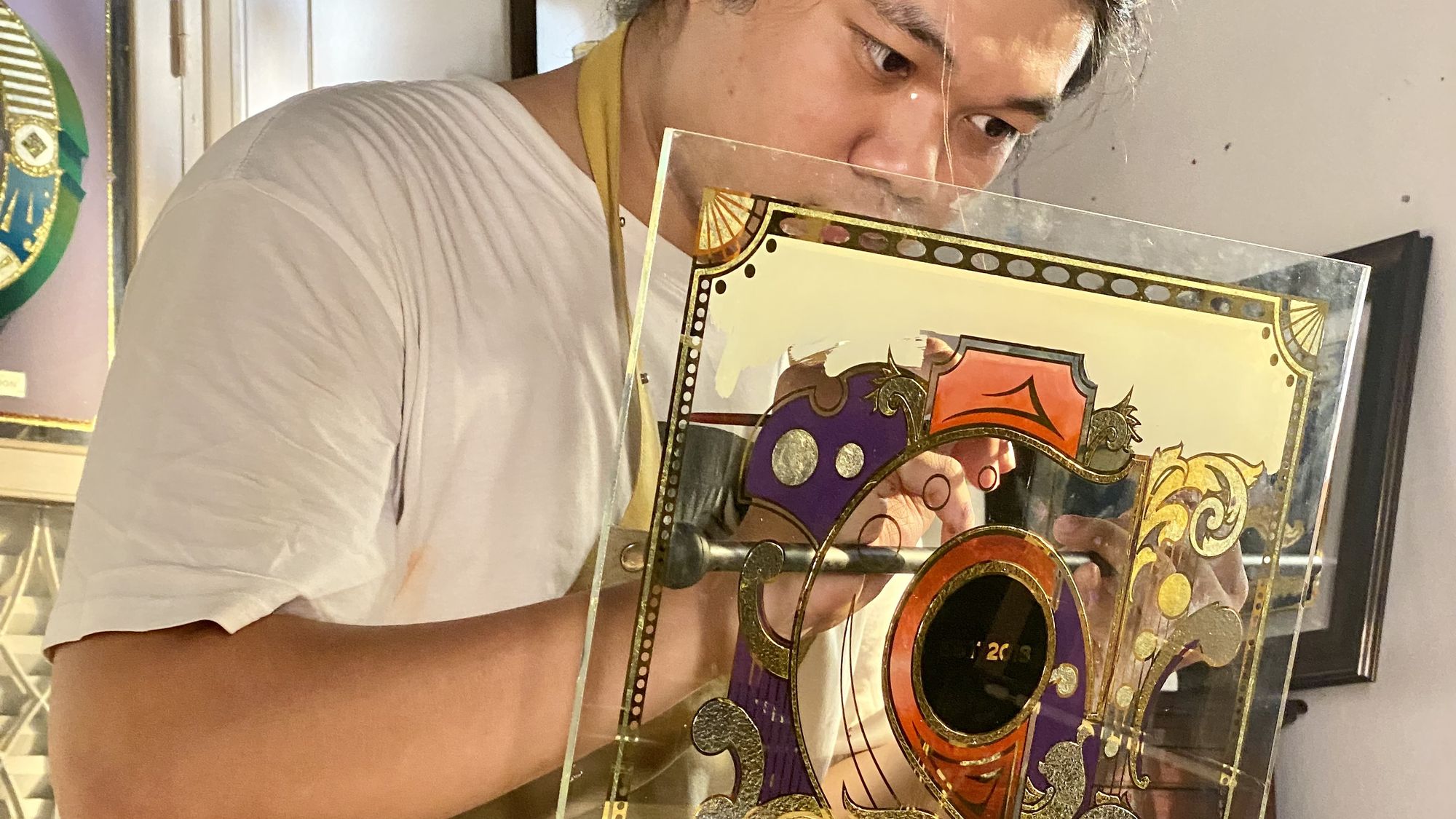 Every sign painter has their own story of how they got into the trade. The path to this work is often meandering—full of false starts, abandoned projects, and a search for meaning—until you finally arrive at the door of lettering, and it all clicks into place.
This is exactly what happened to Saigon's (Ho Chi Minh City) Thien Nguyen, an animation director now producing meticulously crafted and highly ornate gilded panels under his side project, Saigon Gold Sign (@saigongoldsign).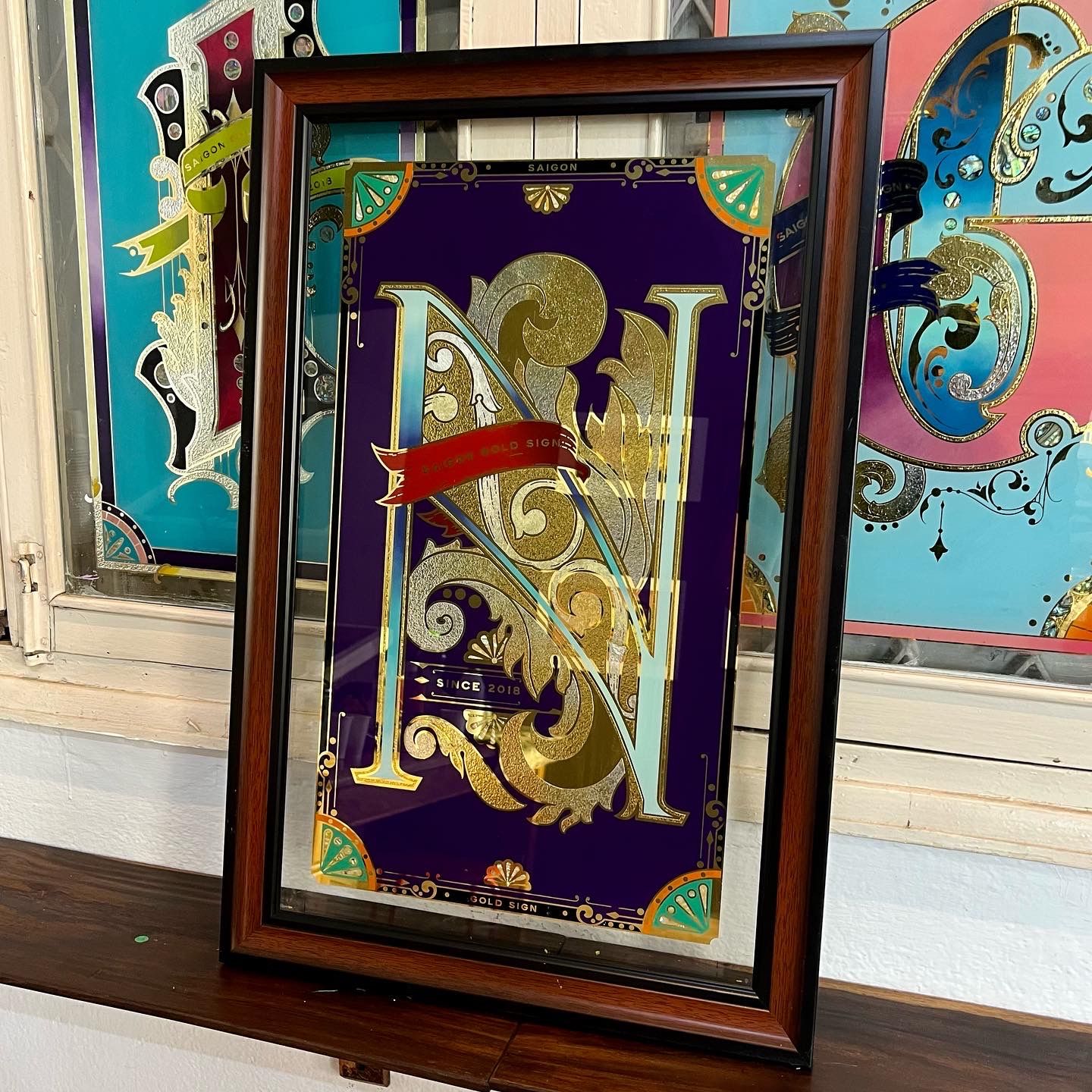 ---
Striking Gold
Thien graduated in graphic design in 2017, but only took this course after failing the entry exam for architecture. It was during his time studying graphic design that he learned calligraphy, and his passion for lettering was born—gone was the dream of becoming an architect, and cemented in its place was becoming a sign painter.
In his search for artistic references, he stumbled upon gilding as another application of lettering—and it was his interest in music that really opened things up for him.
"I am a John Mayer fan, so you can guess how I found David's video doing the glass [for his] album, which is my inspiration."
Learning Curves
As anyone who has worked with gold leaf knows, it's a finicky medium requiring patience, practice, and, of course, money to gain expertise. Mistakes are sure to happen, and Thien felt the full sting.
"When I first started, on the very first day, I wasted $200 (when my salary at that time was only $300) by letting all the gold leaves fly away when I opened the first gold leaf book... Those [early experiences] were unforgettable moments in my career."
Undeterred, Thien turned to YouTube to learn more techniques, eventually adding water gilding, silvering, and acid etching to his repertoire. But gilding is his preferred way of showing his lettering work.
"I like the texture and pattern of gold when it's dry under any treatment: water gilding, oil gilding, acid etching, glue chipping. I rarely do work without gold... If I do something without gold leaf, it would be for a digital artwork."
He has also sought advice from others in the trade, and owes a huge debt to the team at Heart & Bone Signs (@heartandbonesigns) for their guidance.
If there's one guiding principle Thien has adopted over the years, it's to start with a strong design and go from there.
"All of my works tell one thing: you have to make a beautiful design first, before doing the gild. To me, gilding is a way to transfer the beauty of your artwork so everybody can see it shining!"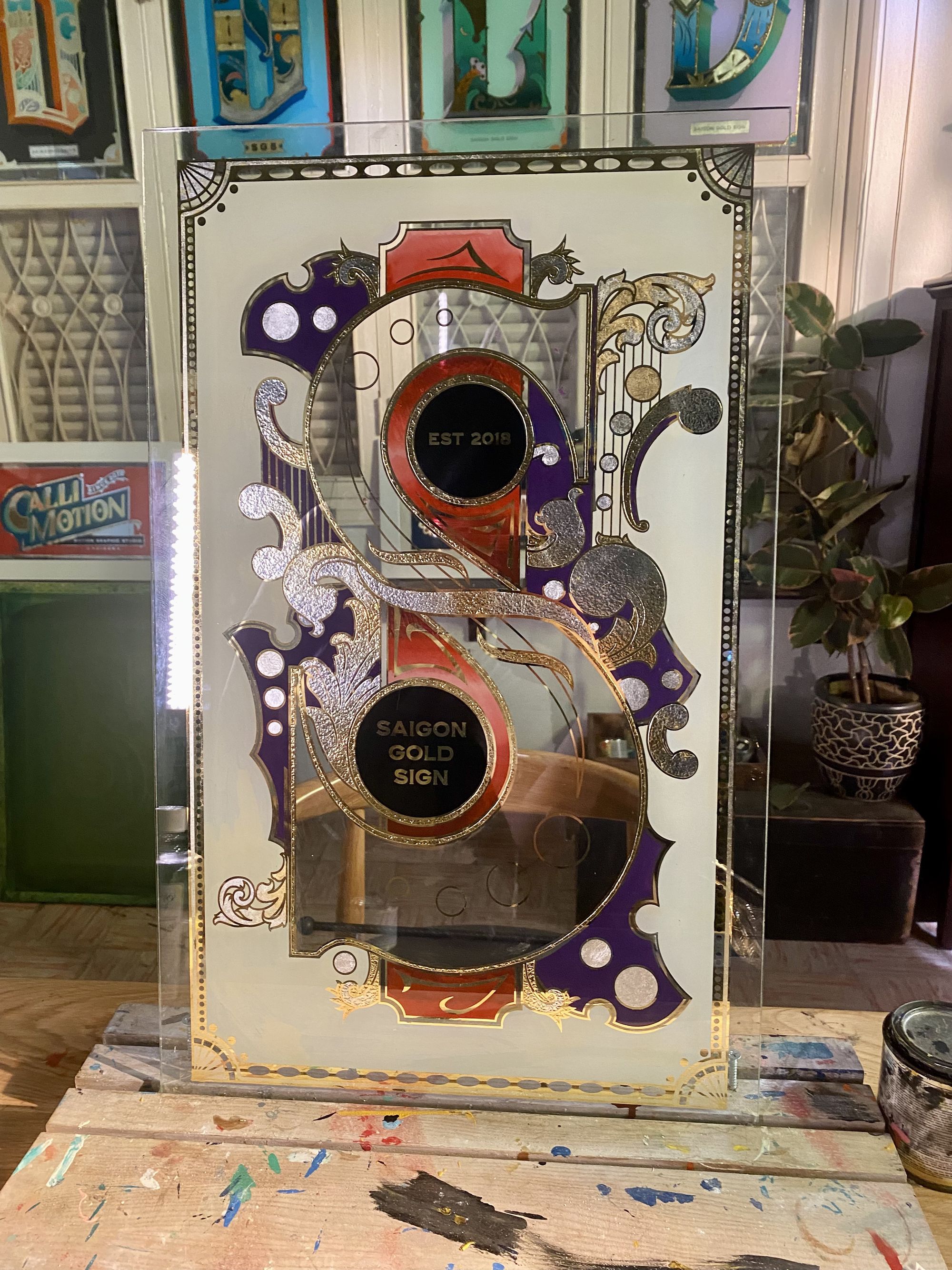 Supply Chain Challenge
Being based in Vietnam, Thien has a difficult time acquiring the tools and materials needed to gild. His attempts to work with local materials showed that they were, in general, not usable.
For example, Vietnamese gold leaf is extremely thin, requiring four or five layers to get the desired coverage. Added to this is that the price of gold itself is controlled by the Government, and set at a prohibitively high level.
He's also struggled to find proper paint.
"I tried to use [Vietnamese brand] Bach Tuyet paint for glass but it didn't seem to stick to the panel. The dry paint looked thin and didn't have any reflection."
Luckily, his friend Buk, a fellow sign painter and gilder in Thailand, now provides supplies for Thien, proving the importance of community in the world of sign painting.
Looking Ahead
In Saigon, you'd be hard-pressed to find another artist dedicated to Art Nouveau-inspired lettering and gilding work. Because of this, Thien's friends begged him to do a private workshop. Their design industry experience meant that he could focus on the craft skills, rather than having to cover things like layout and colour schemes. The experience took him back to his time as a novice, reminiscing that:
"When I saw people doing the gilding, it reminded me of when I started doing this, and the hardest part was showing them how to get a nice gild."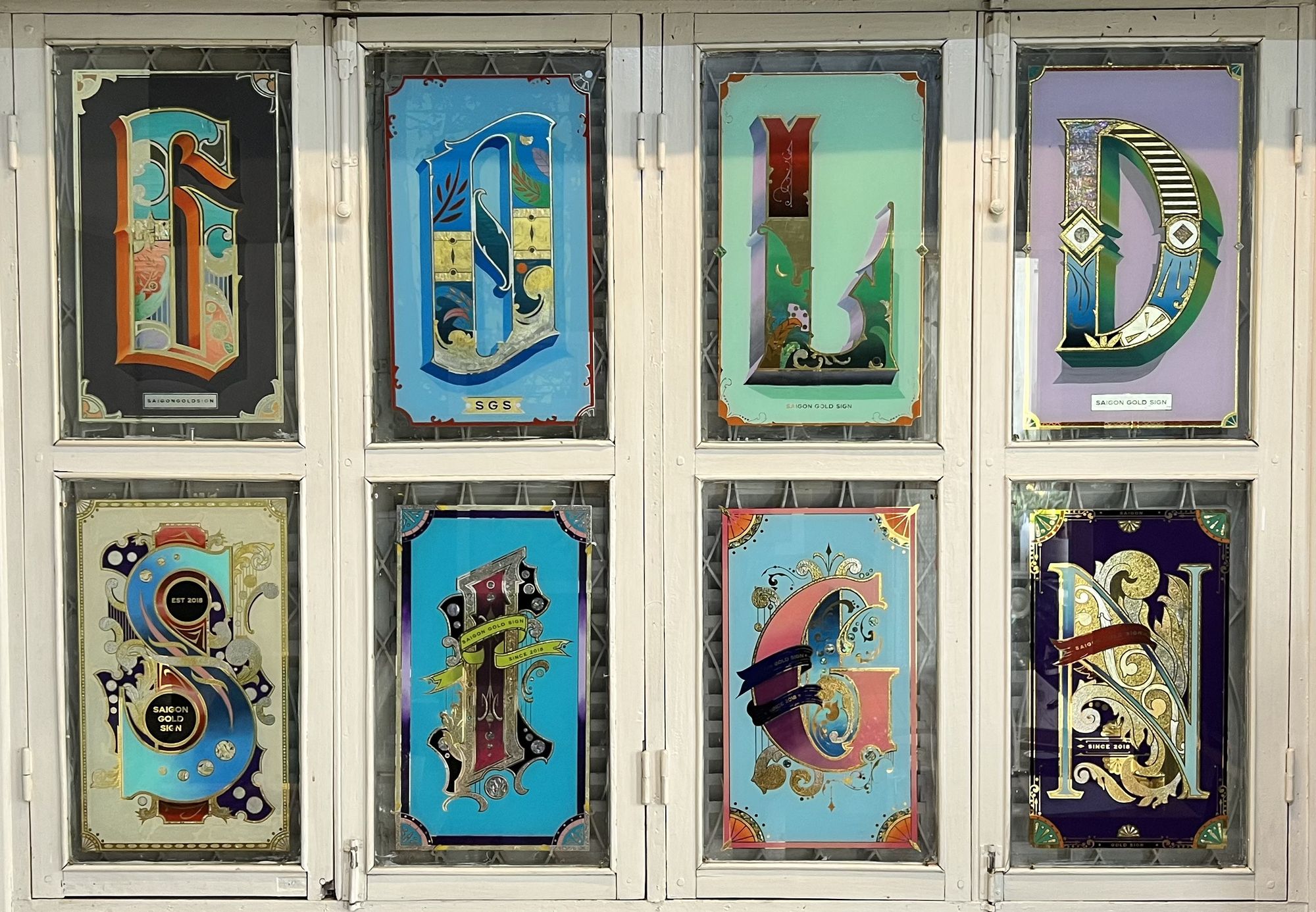 As well as encouraging others to experience the craft, Thien wants to keep practising, and developing his own decorative work. He is less interested in pursuing commercial sign work, preferring to work with collectors and art lovers on bespoke pieces.
"I will keep learning and practising to do more beautiful work and make this art popular in Vietnam."
Good luck Thien, and keep it up!
---
Written by Jenna Homen, Jenna Paints / @jenna_paints
Thien Nguyen, Saigon Gold Sign / @saigongoldsign
---
More Sign Painting in Asia
In addition to the bl.ag online articles below, BLAG 02 will have a feature about the resurgent Japanese sign painting scene. The print magazine will be shipping worldwide to Blaggers from the end of November.