Two Wheels Good—Even Better Lettered
Sign painter bicycles around the world lettered to advertise their sign painting services.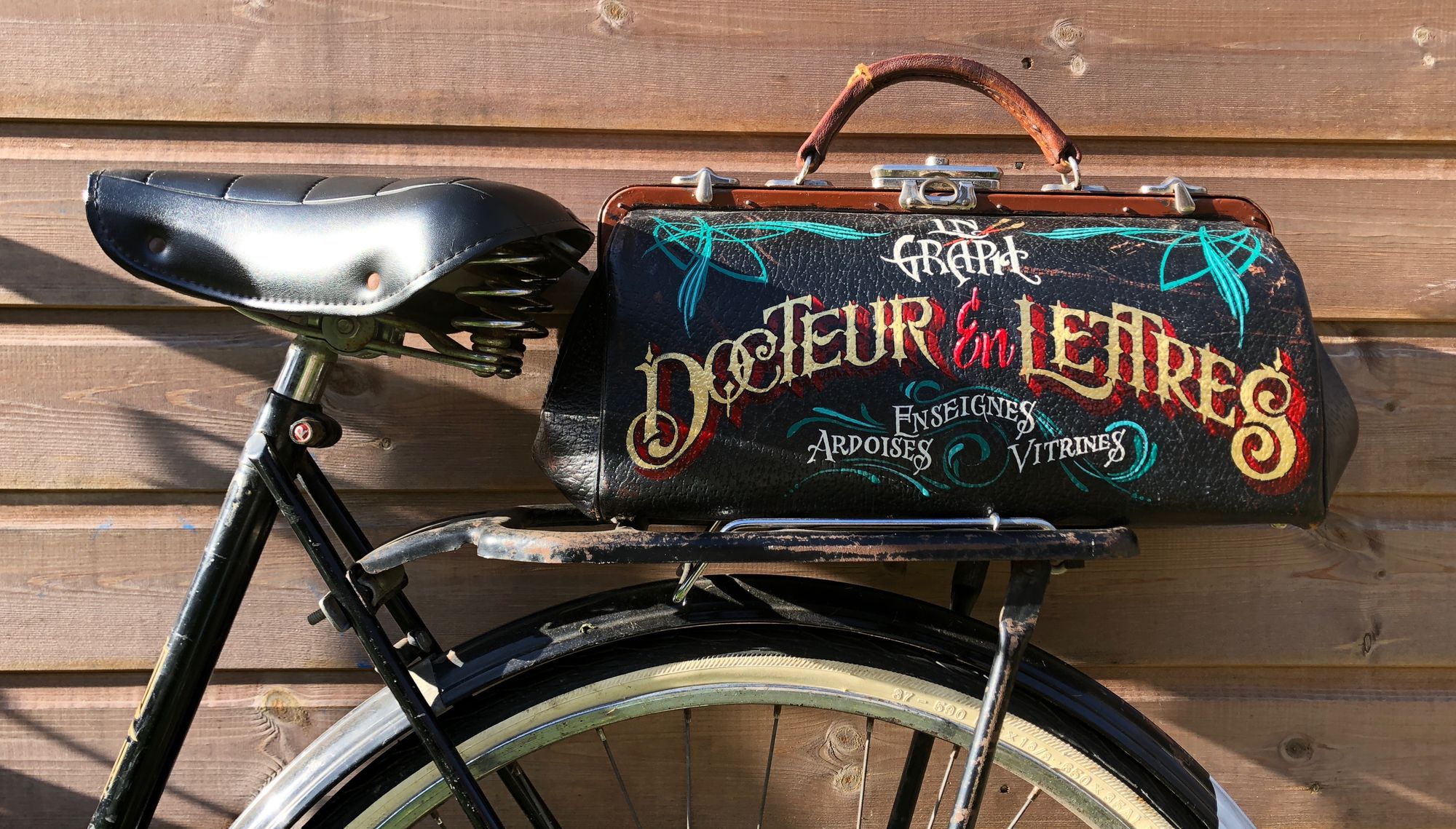 The picture below, believed to be from the 1910s, is evidence of a longstanding relationship between sign painting and cycling. It shows G. Antonino, with promotional panels on his bike wheels, posing outside his "Alla Lettera" sign shop in Turin, Italy. I'm still trying to find out more about Antonino and his shop at Corso Regina Margherita 143 if anyone can help...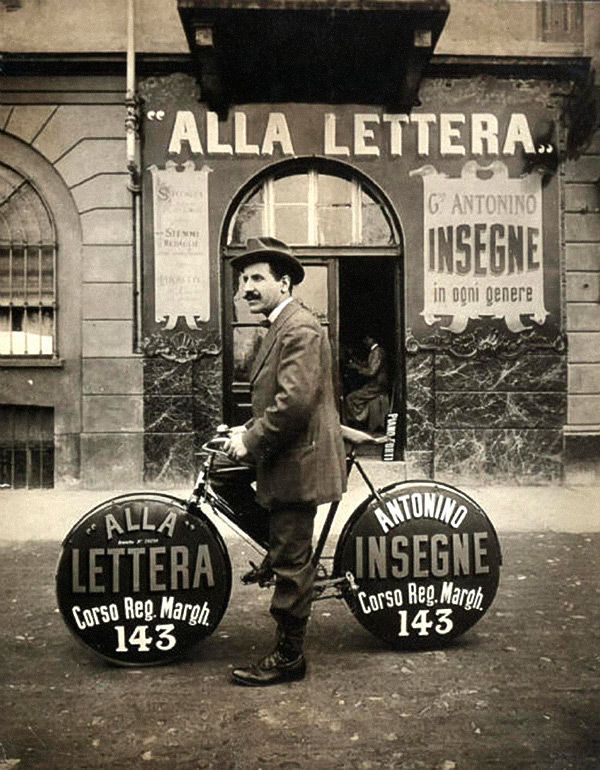 The photo got me thinking about contemporary sign painters and their rides, and soon enough Gibbs Connors got in touch to share these pictures of his old shop bike. He'd had it since 1984 and it helped him ply his trade in both Philadelphia and New York. It's now been decommissioned, but he's kept the panels, and even used the pattern again on his metal kit box.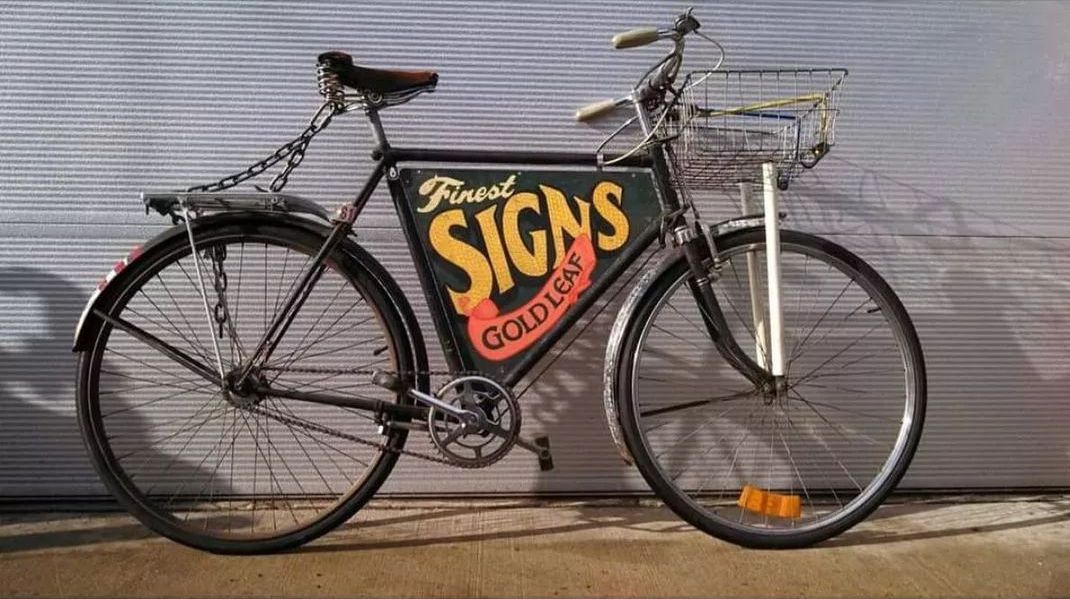 Gibbs Connors, Standard Sign Co. / @gibbsconnors
Pedal Power
I put the call out for more examples of sign painter bikes, and was not disappointed. Here's a selection of these rides from Canada, France, Netherlands, the UK and USA. I'll happily add more if you send them to me via sam@bl.ag.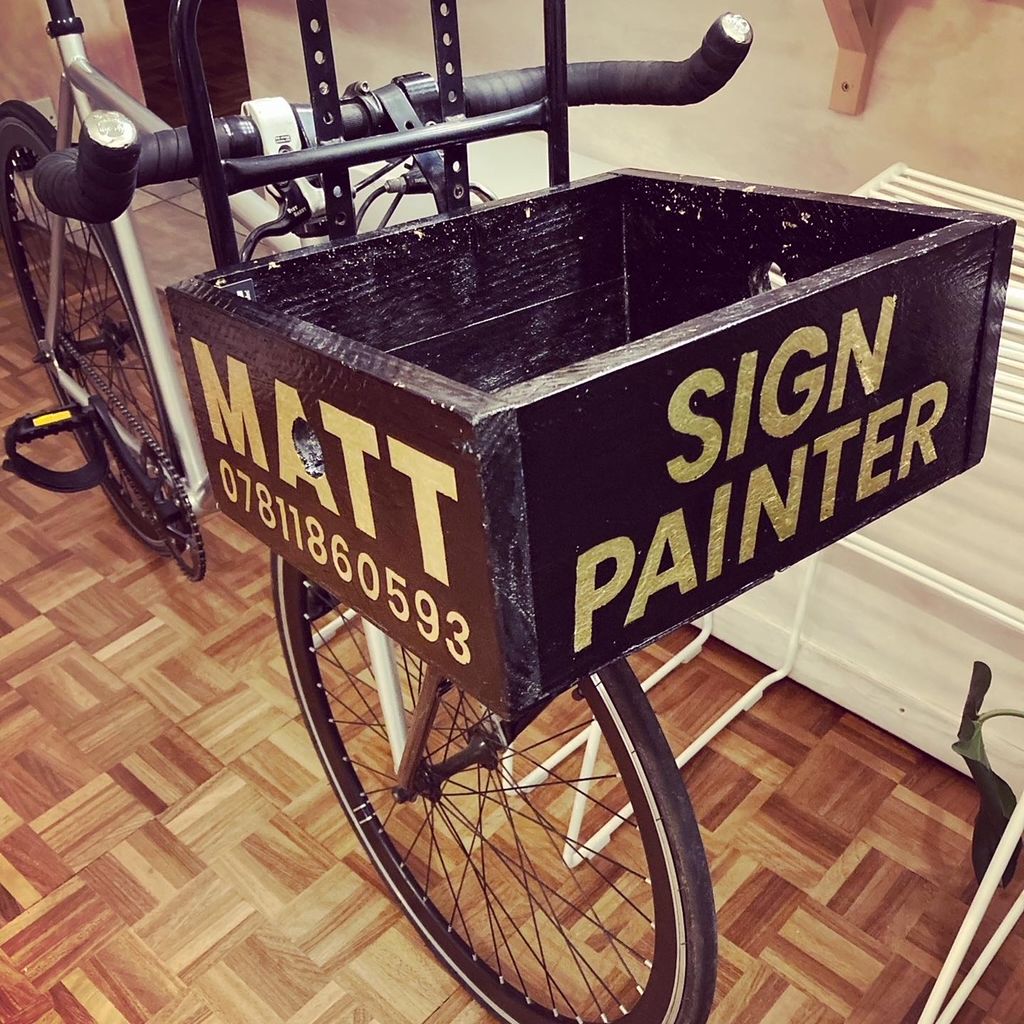 Matt Keeling
Brightlingsea, UK
"Here's my current ride. Super simple and stripped back gold leaf on black, rough board. The bike is a cheap steel fixie and I just do small local jobs on it."
Matt Keeling / @graphics_matt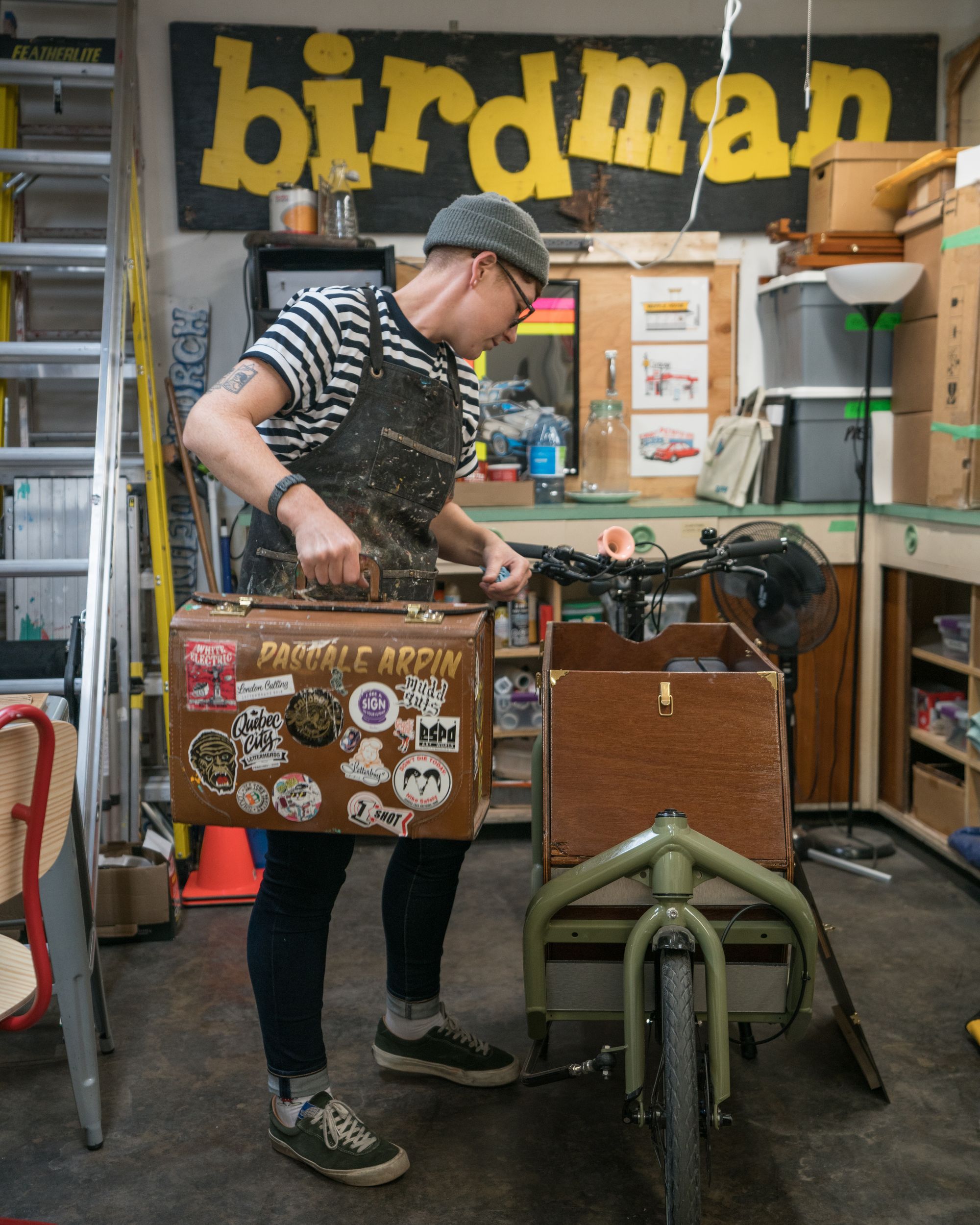 Pascale Arpin
Ottawa, Canada
"The bike is the Bullitt cargo bike by Larry vs. Harry and I built the box myself! It's marine-grade plywood with an aluminium composite top. It also has an expansion panel that opens up at the front for extra large loads!"
Pascale Arpin / @pascale_arpin
Francois Morel
Paris, France
Like Pascale's, this is a Bullitt from Larry vs. Harry which Francois pushes to the limit with his sign work. He also has another, a Petit Porteur, not pictured. (Francois' work on The French Dispatch film is one of the main features in BLAG 01.)
Francois Morel, Morel Enseignes / @mo_signs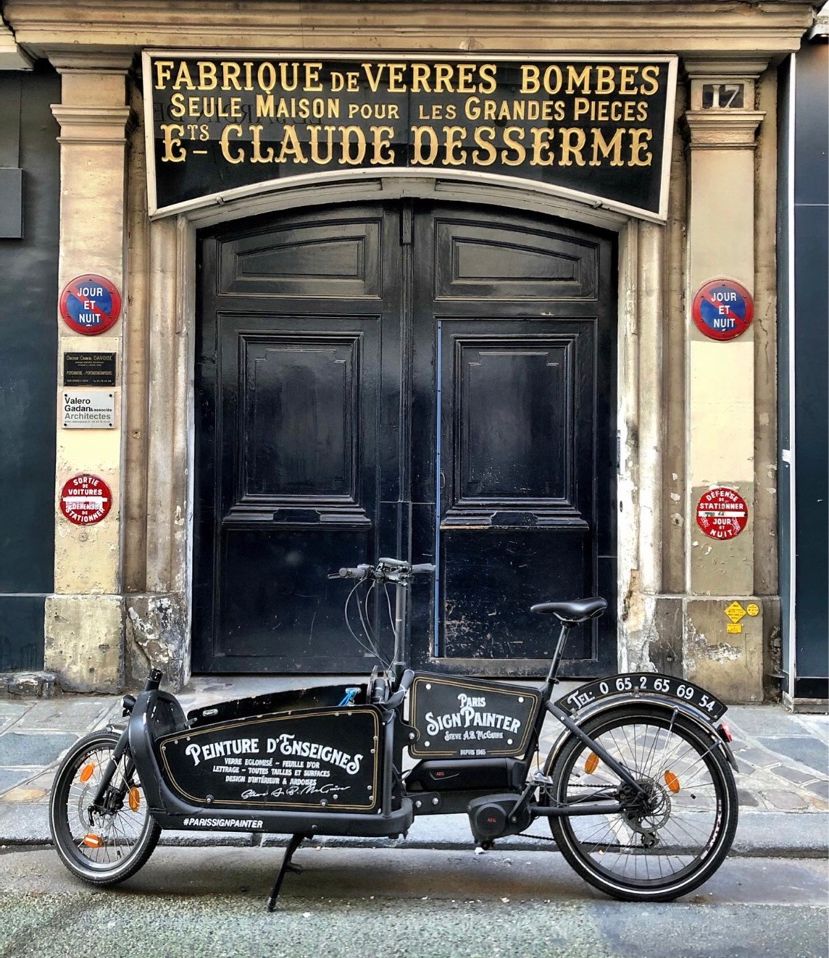 Steve McGuire
Paris, France
Another cargo bike in Paris. Steve has lots more photos of the bike in front of old shop fronts across the city in his Instagram feed.
"My bike has slowly but surely become famous in Paris because of it old/new nostalgia look. Yes I know, it's an e-bike, a German brand called Prophete. It's well built, with a few customisations by me."
Steve McGuire, Paris Sign Painter / @parissignpainter
Joe Coleman
Weymouth, UK
"This is my lovely Humber 3-Speed. I've had it for yonks now, and it converted nicely into a sign bike when I first started out. It's been a good workhorse pretty much since I started and I used to cycle to most of my jobs.
My friend cut the panel down from an old triangular road sign that I found at the tip. Although it now pains me to look at the first iteration of the lettering, it has fond memories for me; my late Gramps was so chuffed that I was using his family name for my business and loved seeing me visit on it!
The bike has since had a re-spray from the chaps at Sven Cycles after I did some work from them. I'm already changing my mind on the deign again so it'll probable get a repaint at the end of this year. I aim to never own another bike."
Coleman Sign & Design / @coleman_signanddesign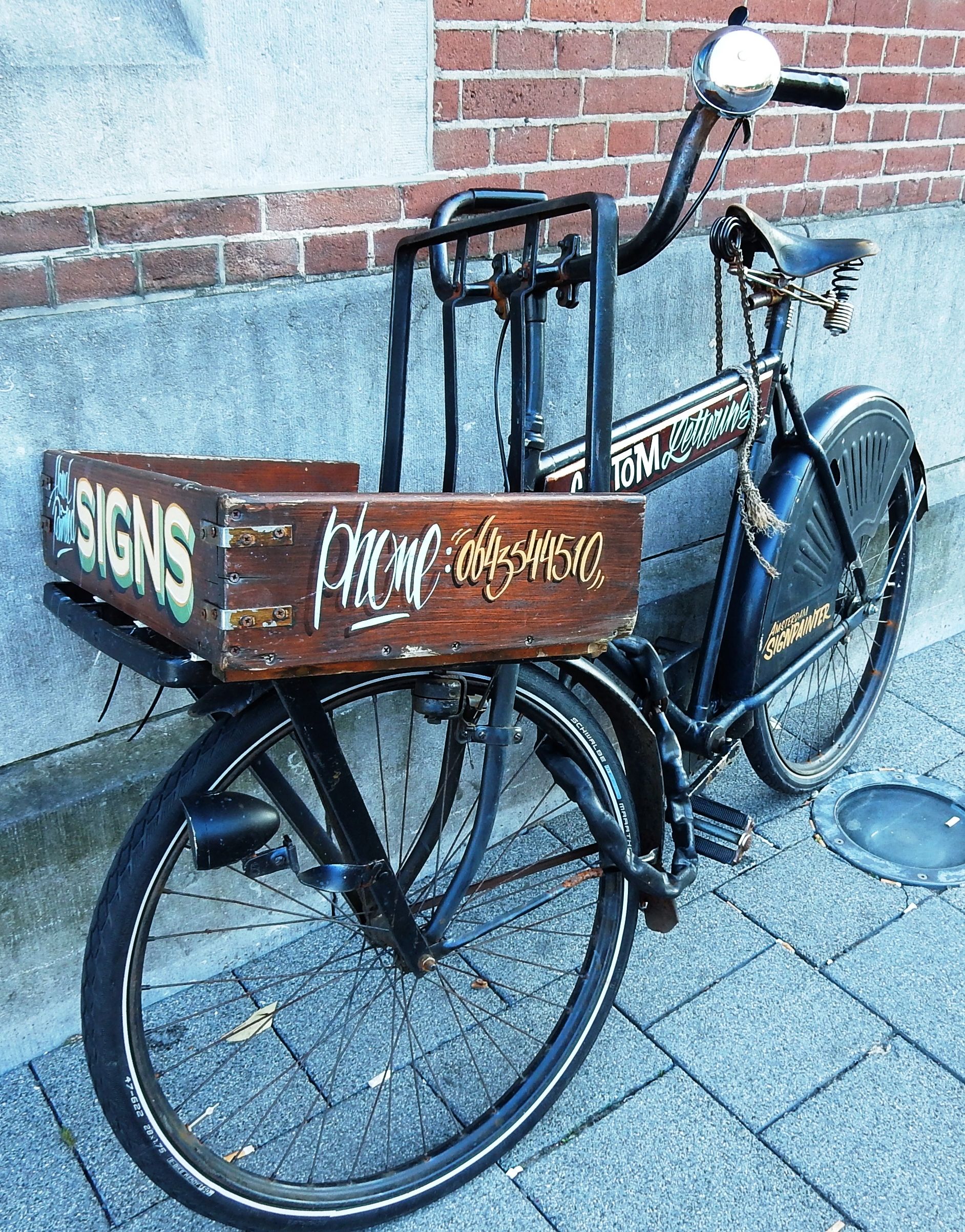 Signpainters & Co
Amsterdam, Netherlands
I couldn't have a feature on sign painter bikes without something from Amsterdam. And sure enough, here's one from Signpainters & Co (formerly Amsterdam Signpainters) spotted at their 2016 international Letterheads meet.
Signpainters & Co / @signpaintersandco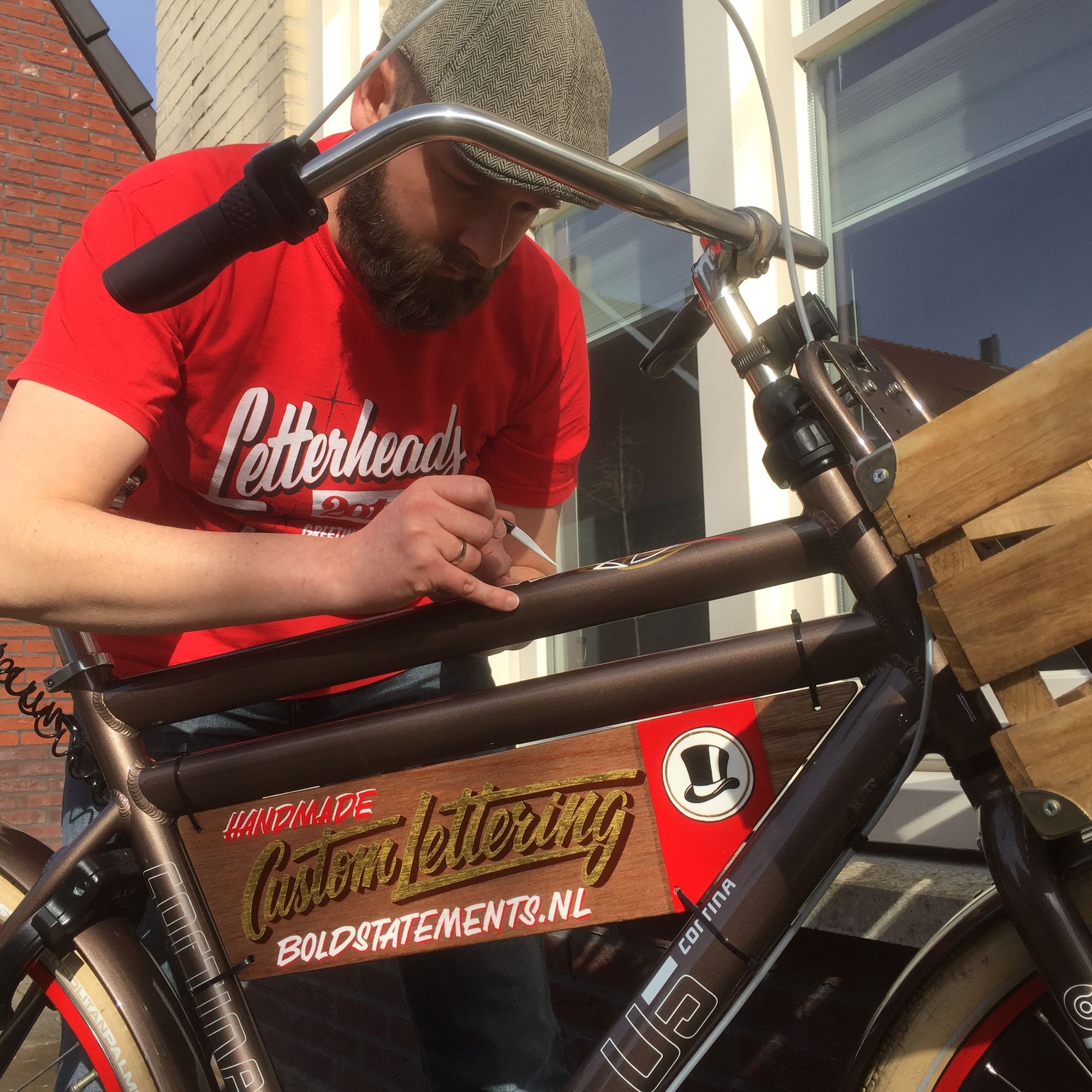 Pieter Snijders
Arnhem, Netherlands
"About six years ago I bought this bike just after catching the sign painting bug. I started my business in custom lettering and couldn't leave this bicycle untouched. Only recently my company vehicle fleet has been expanded with a cute little Renault 4 panel van from 1982. It is currently getting the same treatment."
Pieter Snijders, Bold Statements / @boldstatements.nl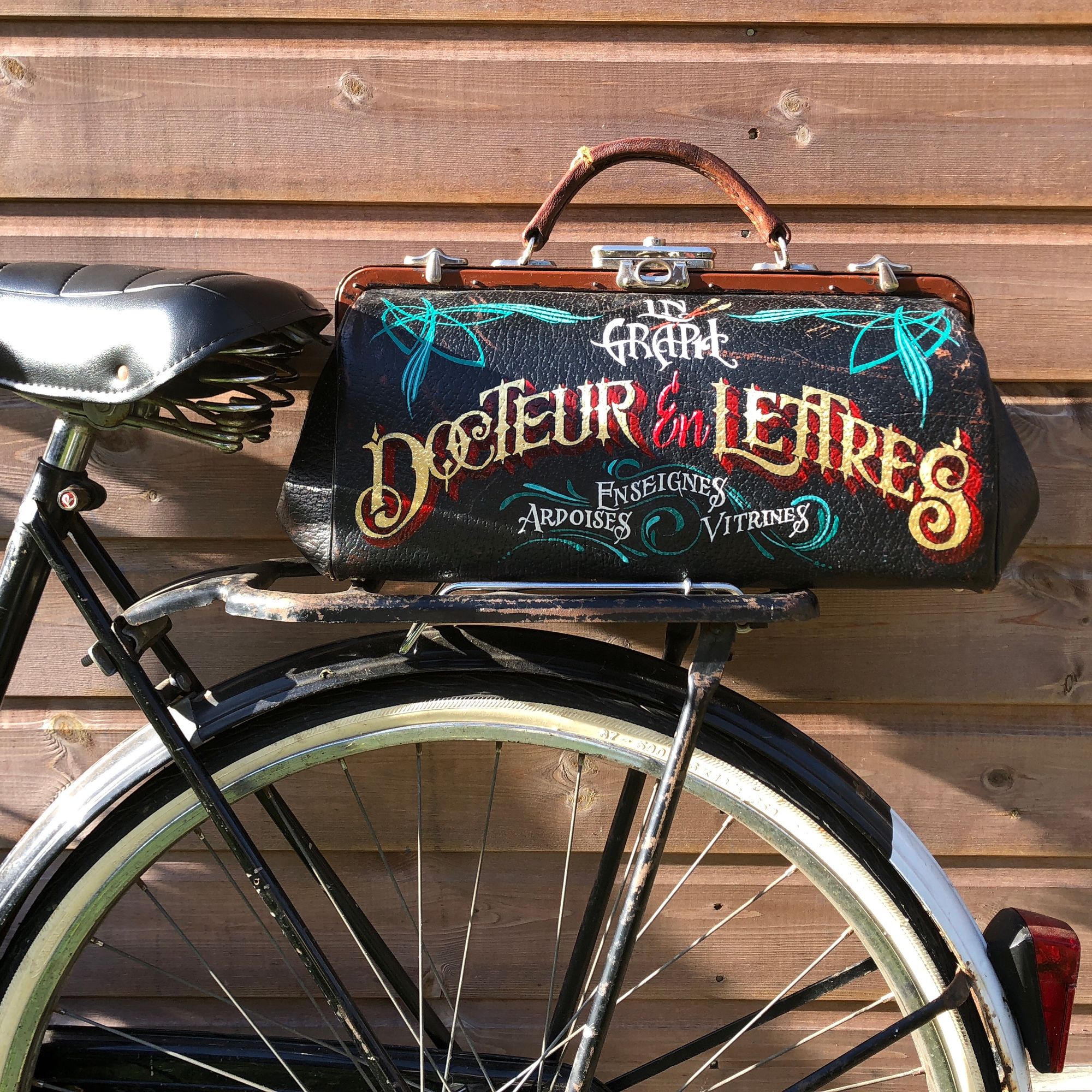 Hélène Valverde
Marseille, France
Fitting snuggly onto her bike rack, Hélène describes this customised doctor's bag as her "emergency sign kit!". Hélène rides a Raleigh.
Hélène Valverde, L N ★ GRAPH / @ln.graphdesign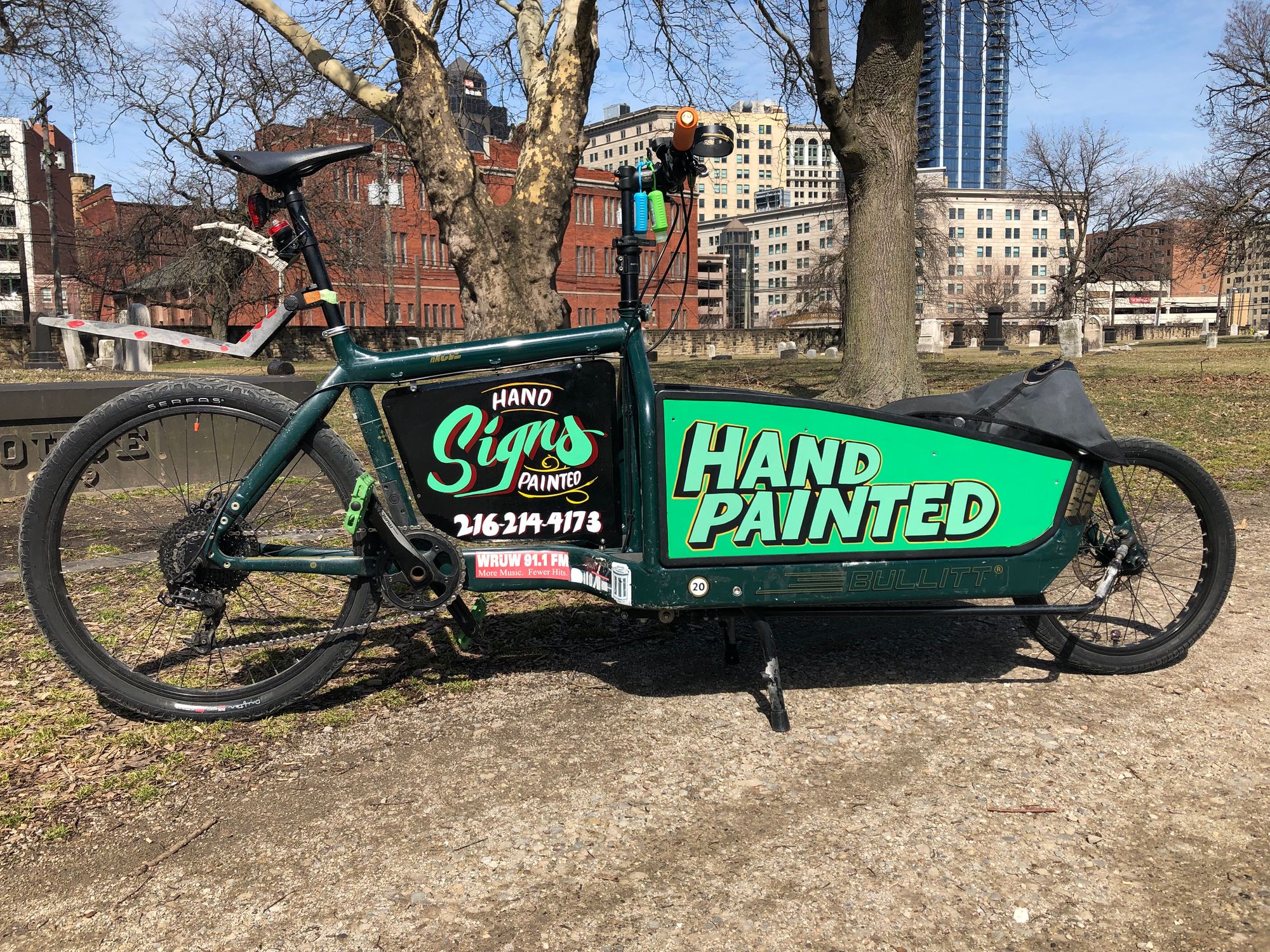 Ben Mcmillan
Cleveland OH, USA
Another Bullitt cargo bike from Copenhagen's Larry vs. Harry, and our only American entry.
Ben Mcmillan / @GreenEscalators216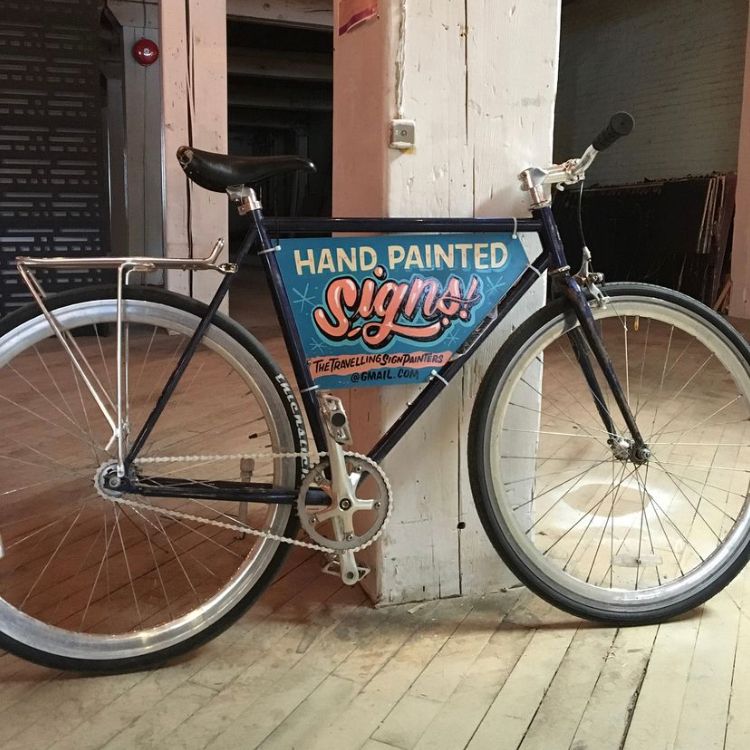 Joe at The Travelling Sign Painters
Winnipeg, Canada
This is my old bike sign from a few years back and there are so many things I'd do differently now. I tried to repaint it last year, but didn't end up biking to much, so should probably get round to it this year.
The Travelling Sign Painters / @thetravellingsignpainters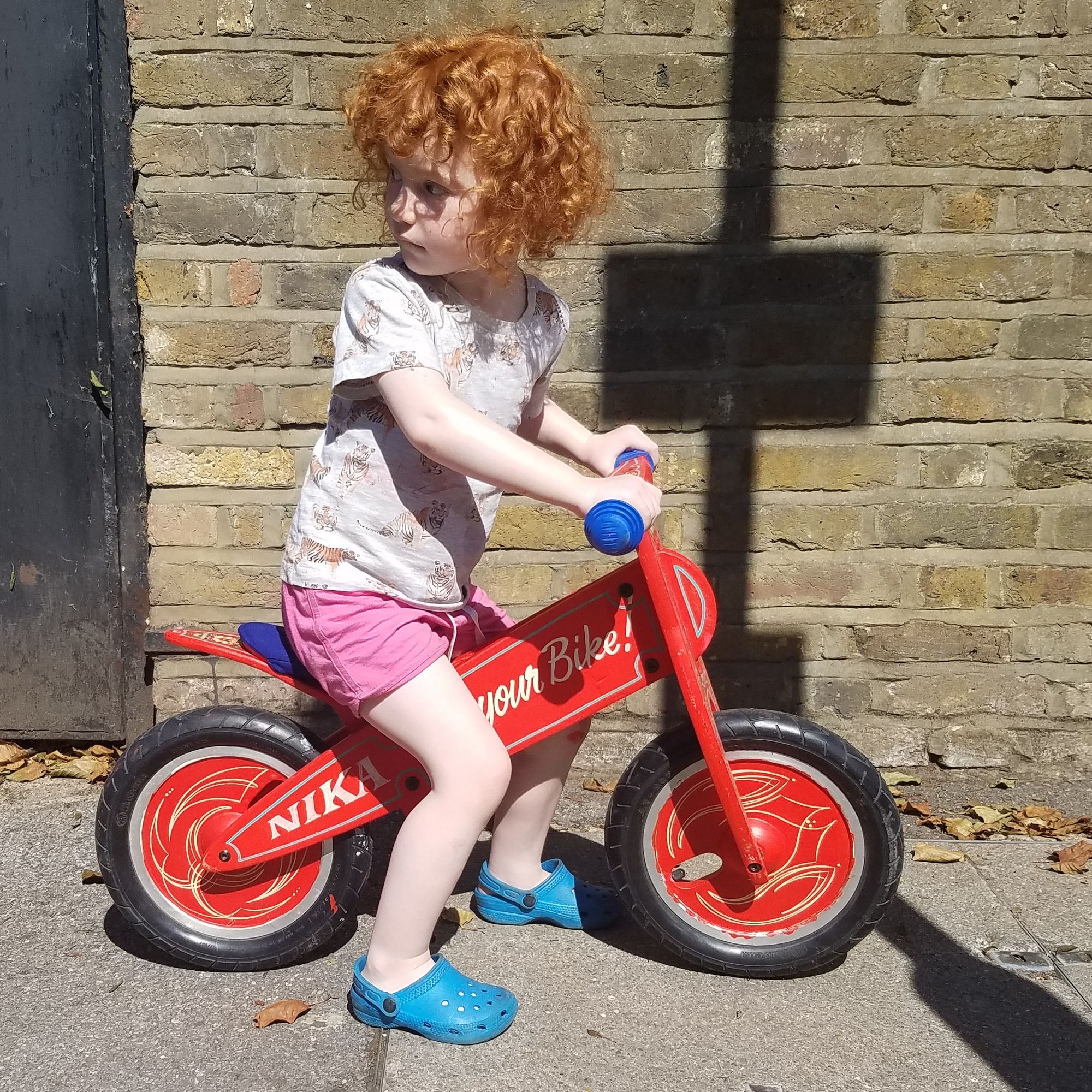 One to Watch...
London, UK, via Argentina and the USA
In around 2016 I found a discarded wooden balance bike outside a house in London. I took it home, sanded it down and painted it red. It was then decorated with Fileteado Porteño by Gustavo Ferrari, lettered by Mike Meyer, and finished by Von Leadfoot with pinstriping on the wheels.
It's been worked hard by both my daughters, and has now been passed on to Adrián Pérez (El Deletrista) for his son to keep it in use. Maybe one of these youngsters will be spotted lettering a bike in the future...
Gustavo Ferrari, Ferrari Fileteados / @ferrarifileteados
Mike Meyer Sign Painter / @this_is_the_real_mike_meyer
Von Leadfoot / @vonleadfoot
On Your Bike!
---
Thank you to everyone that kindly shared pictures of their lettered bikes, and the stories behind them. I'm considering a similar piece for trucks and vans in the future if there's interest...
---
More Sign Painter Publicity