Tokyo Letterheads: Now Bigger in Japan
Review of Tokyo Letterheads, Asia's first international meet, hosted by Peter Liedberg, aka Letter Boy.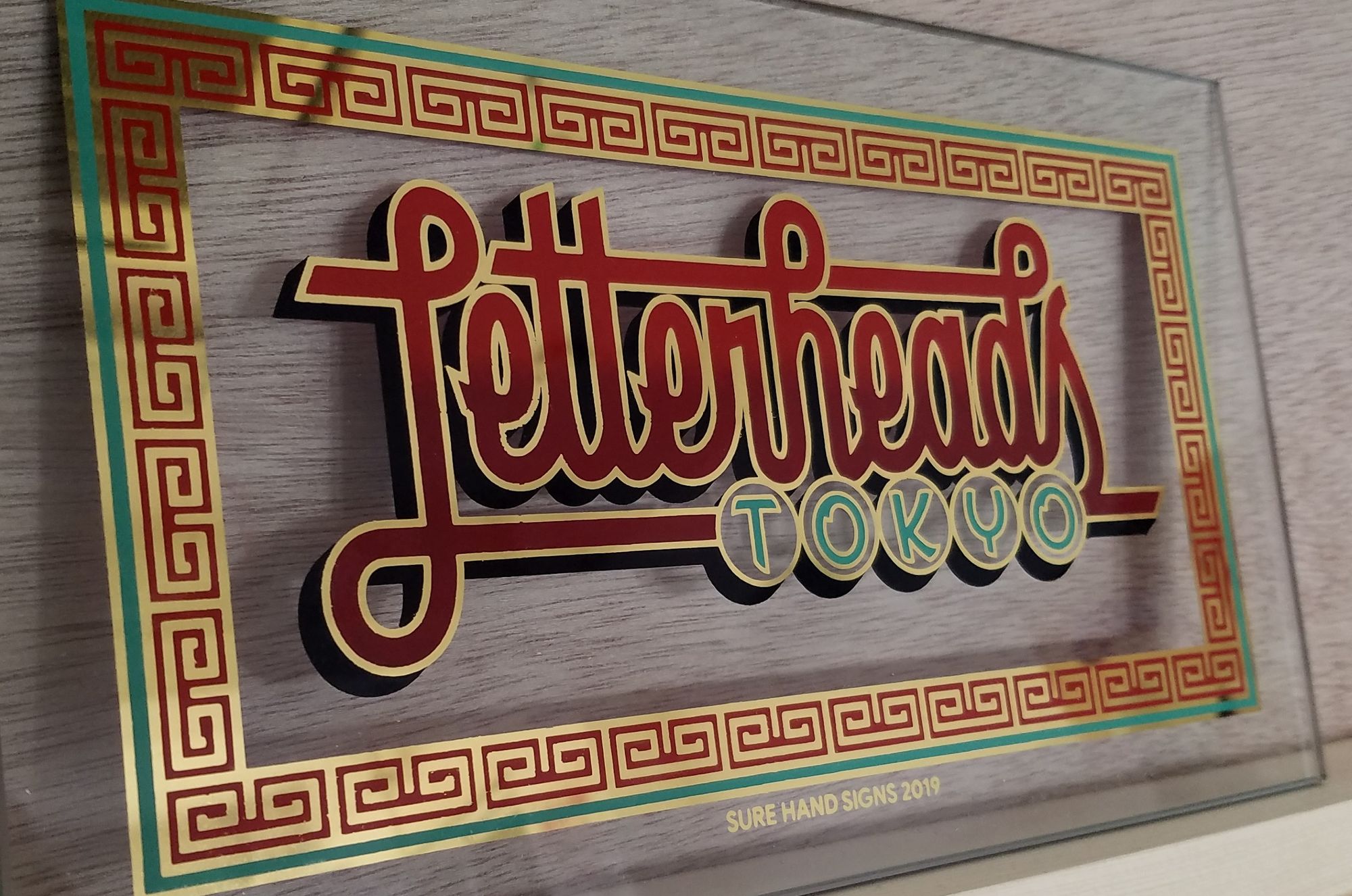 Earlier this month over 150 sign painters and lettering folk congregated in Tokyo, Japan, for an international Letterheads meet hosted by Peter Liedberg aka Letter Boy. There were representatives from all six continents and, across four paint-filled days, a generous exchange of knowledge, skills and cultures.
We were lucky enough to attend this incredible event, and here share some of what happened, with thanks to official photographer RIO for capturing everything.
Our flight landed at 7am and, after checking into our (compact) accommodation, we took off around the city for our single day of sight seeing. Peter had chosen to bring the sign painting world to Tokyo for cherry blossom season and so we checked that out, as well as the book shop district, baseball stadium, imperial palace and the Ginza Graphics Gallery.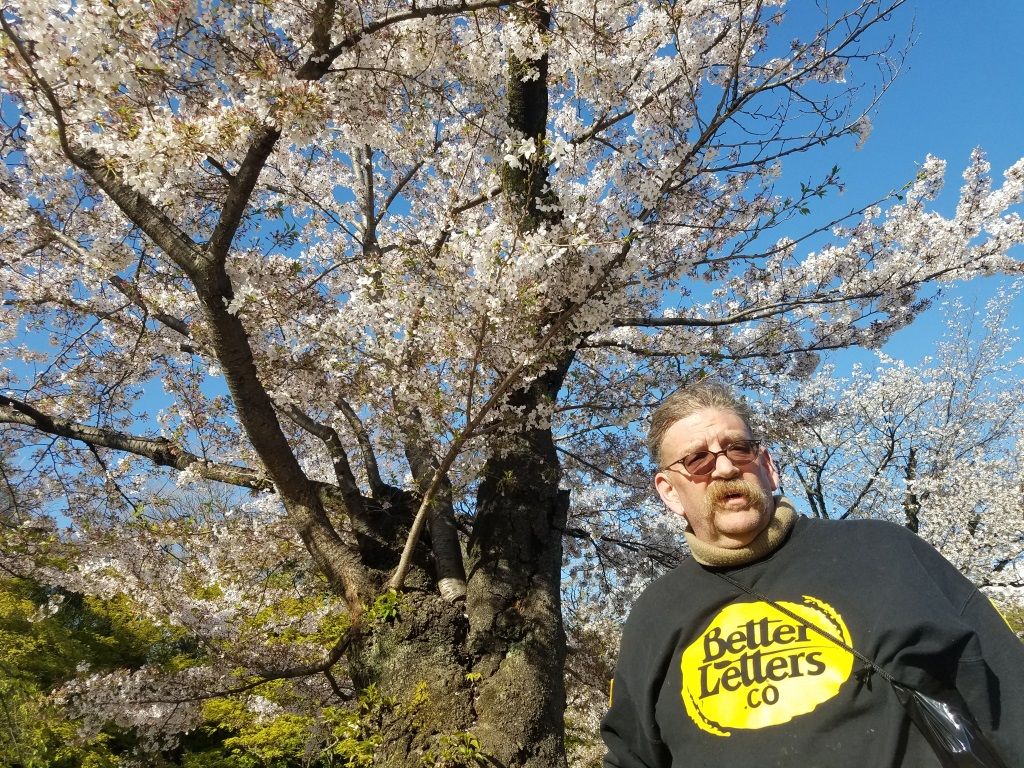 The next day we headed over to the Ikejiri Institute of Design to help Peter and his excellent team of volunteers set up for the meet. With everything in place, it was time for the opening party and the chance to meet up with friends, old and new. Lots of people came wearing their own merchandise and a few with custom pieces created just for the meet. Here's Mr Vinzz's custom jacket.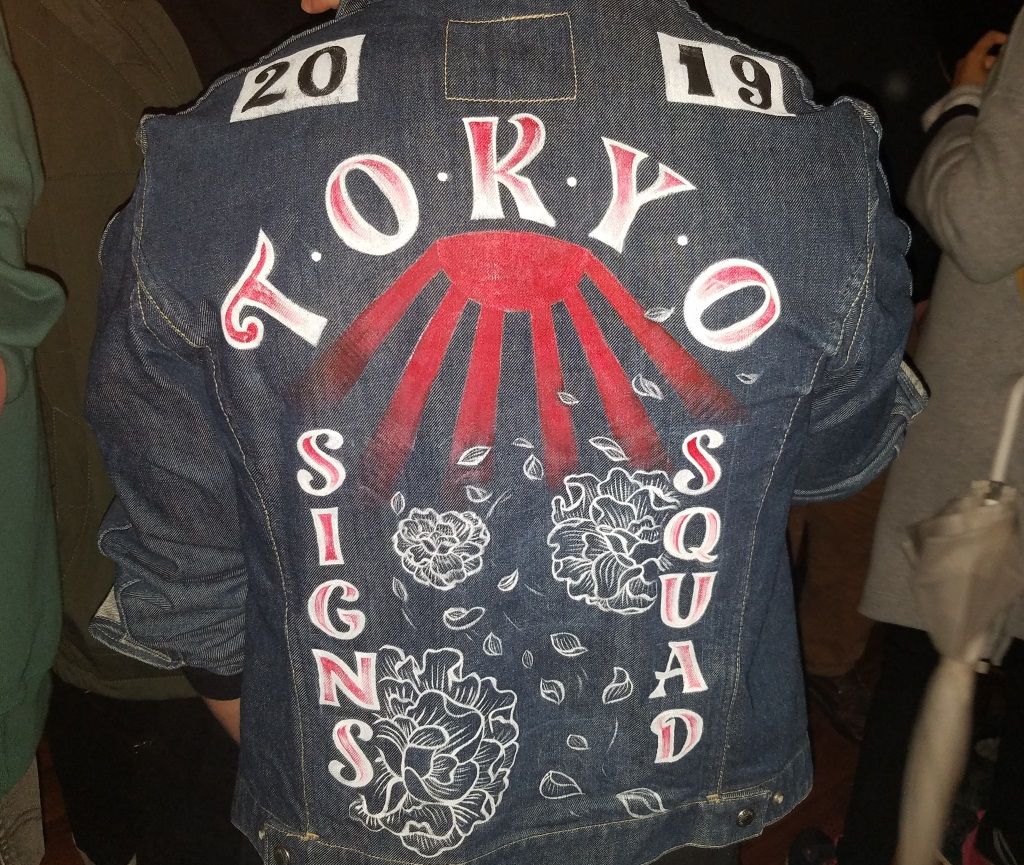 We were at the meet for the majority of each day, and so most of what we saw of Tokyo was by night. In many ways this is a brilliant time to be out and about given the (sometimes overwhelmingly) lit nature of the city. In contrast with the huge advertising displays in the central districts these lanterns were more subtle, in this case recognising those that have contributed financially to the shrine.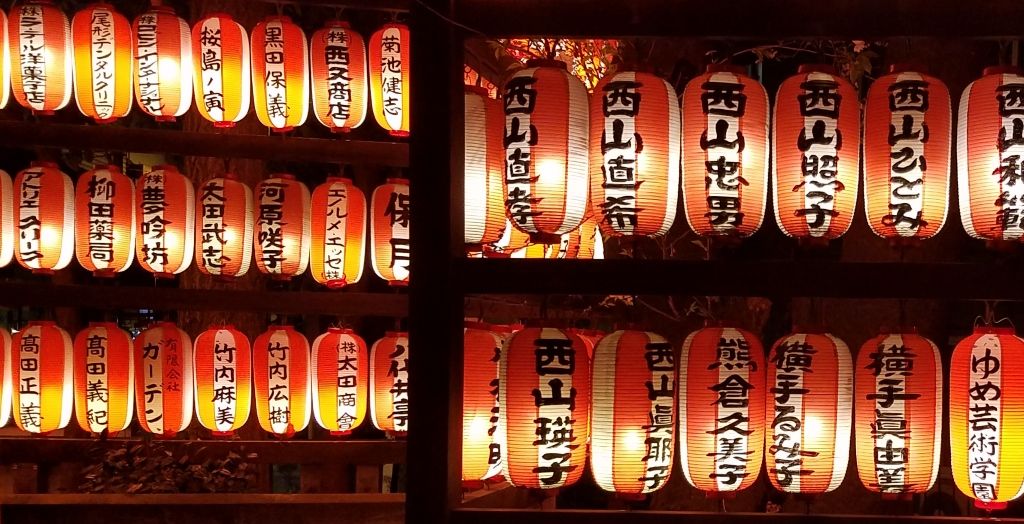 Each morning we had a short walk from the station to the meet, and each day we took a slightly different route, allowing us to see more of the city, including these lanterns catching the morning sunshine.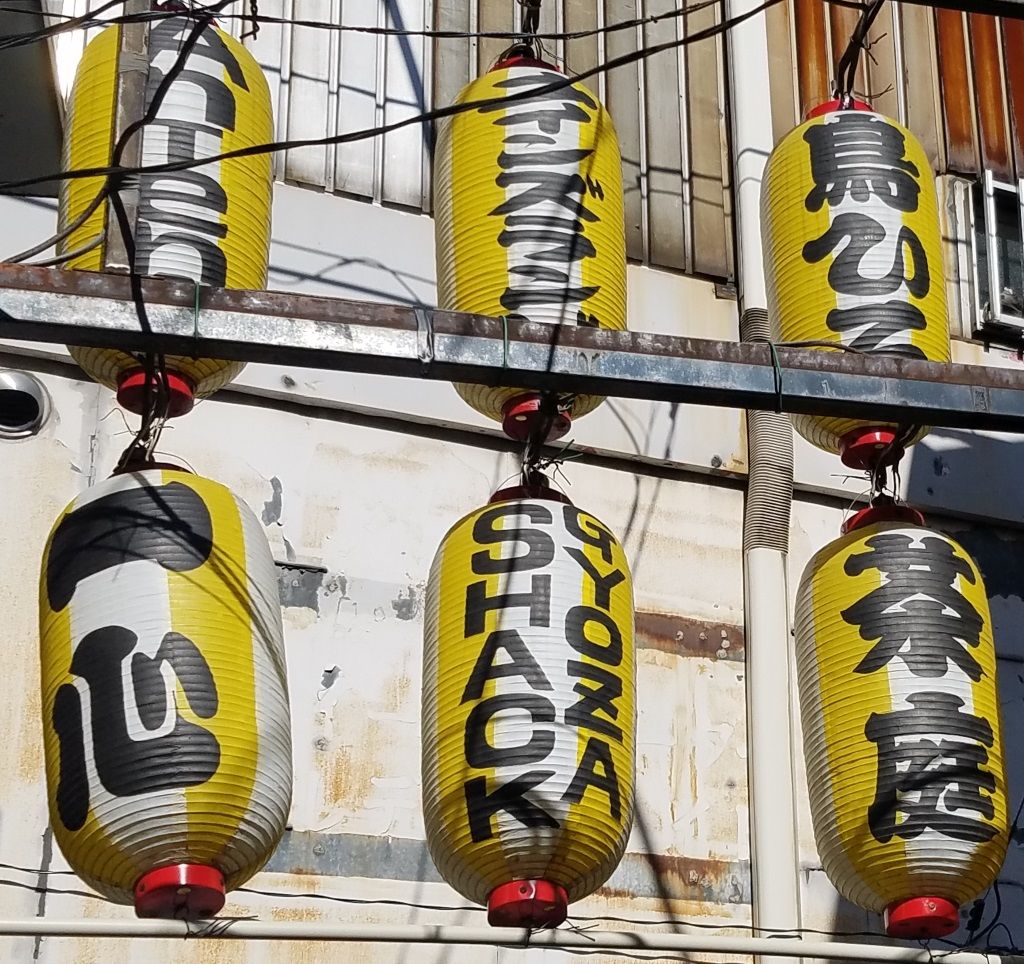 On the ground floor of the meet was the main panel jam room, where people worked on paper and panels all day every day, sharing tips and jokes along the way.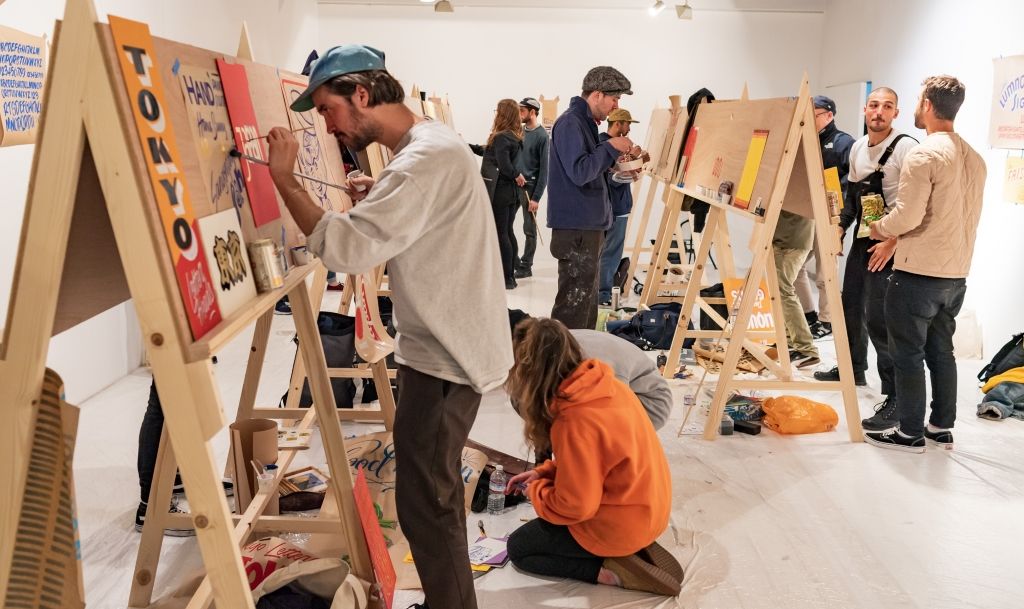 Alongside the panel jamming was a gradually expanding exhibition of showcards and small sign. These were mainly pieces that people had worked on in advance and brought along to the event. The theme was 'school dinners' which led to a diverse display of memories from this internationally-known experience.
We all got to sample the traditional Japanese 'bento box' lunch, and Peter had kindly booked in the sun for the entire meet.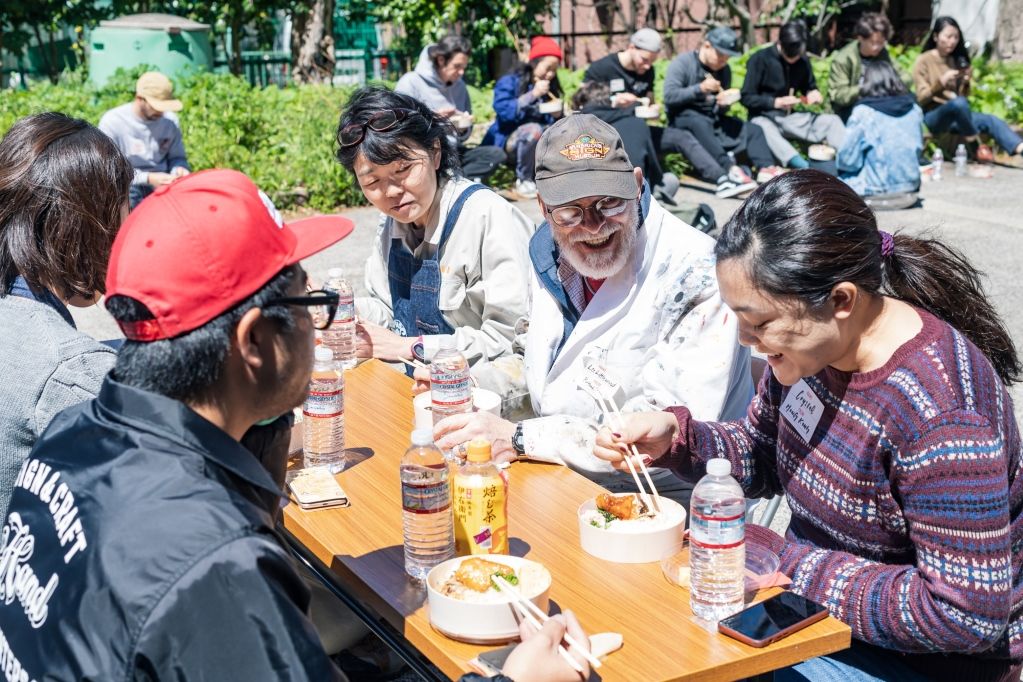 In addition to the formal exhibition, various pieces of work created at the event were also placed on display. All of this was open to the public and many came to visit, especially on the weekend which made up the final two days of the meet.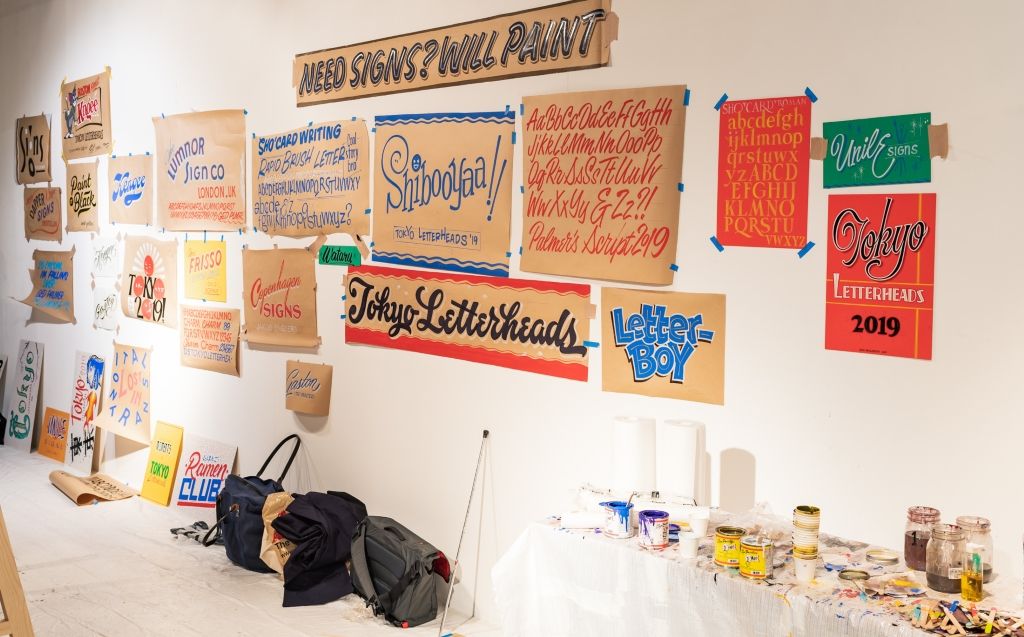 On the next floor up Mike Meyer hosted the 'newbies' room which provided a place for those relatively new to the trade to learn, practice, and get tips from Mike and many other professionals that made themselves available in the space. It was encouraging to see such large numbers of young and local people taking their first steps in the world of sign painting, and the responses via social media are evidence that the passion has been (re)ignited in many that attended.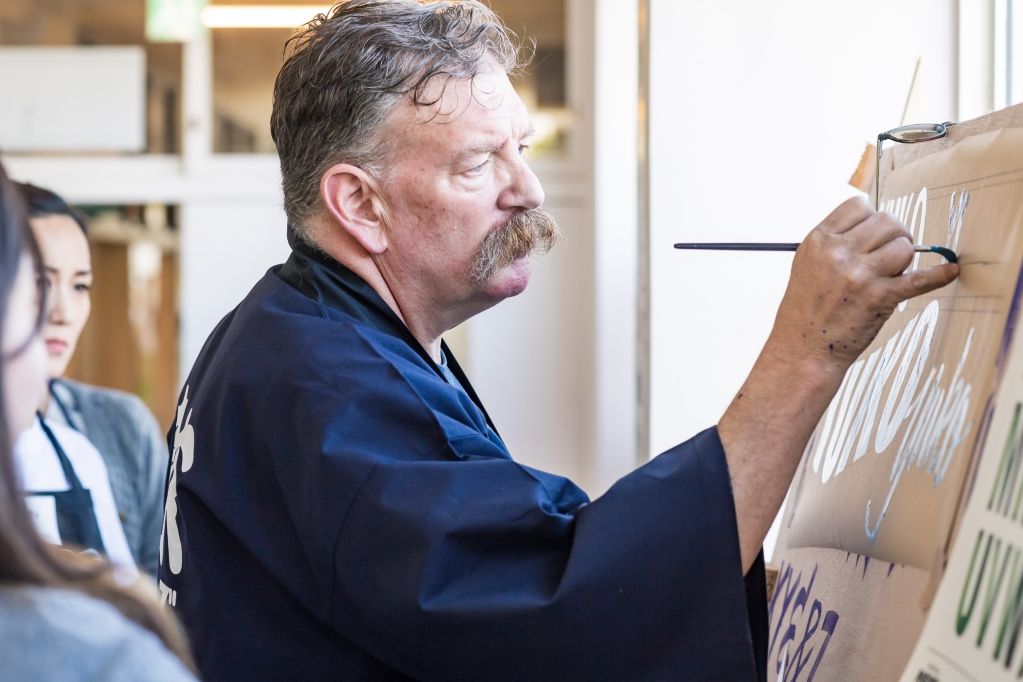 In addition to the beginner's area there were a number of more specialist/advanced workshops. These include an introduction to Fileteado Porteño from Gustavo Ferrari, bringing this vernacular Argentinian art form to Japan for those from myriad countries to learn.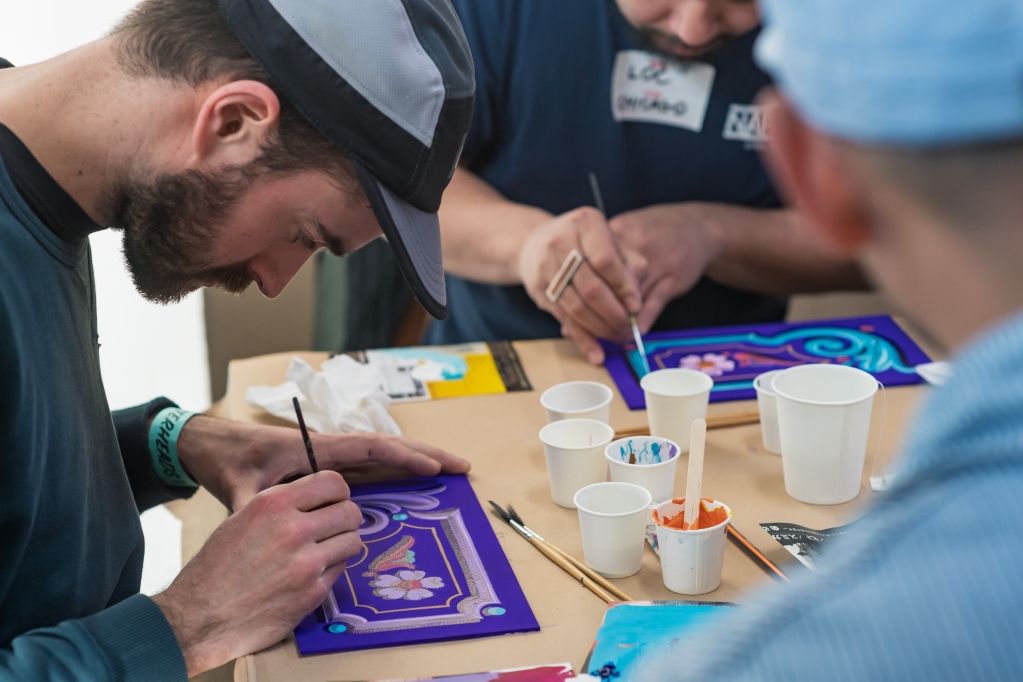 Surface gilding was available every day from the dynamic trio of Adrián Pérez (El Deletrista), Archie Proudfoot, James (Yames) Moffitt. Everyone worked on leafing the Japanese script for Tokyo, before customising the artwork with shadows and other embellishments.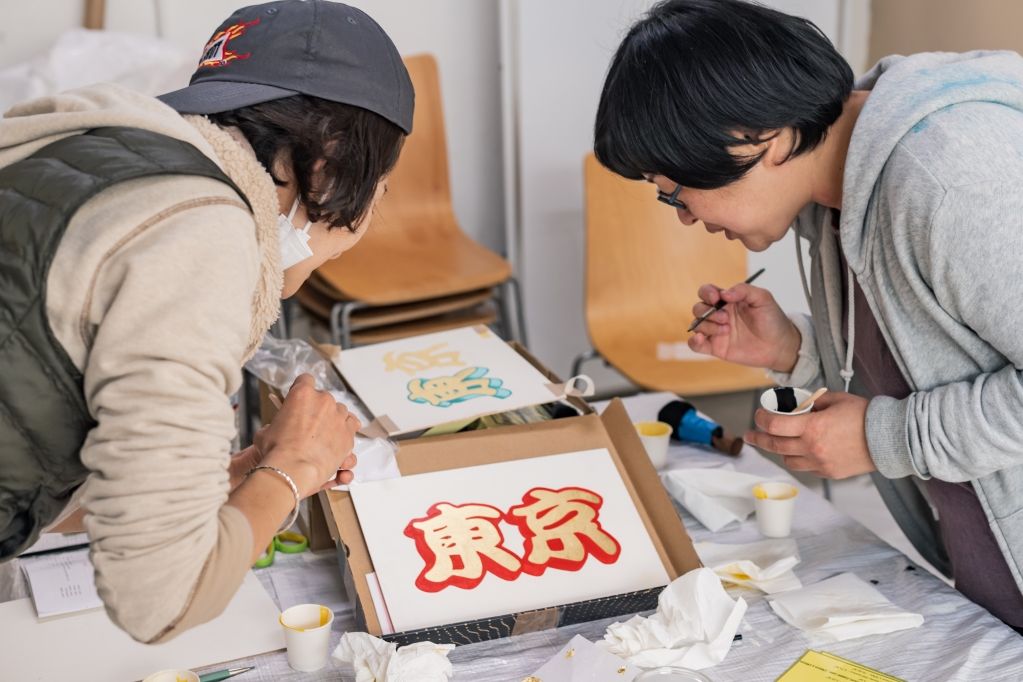 As well as all the scheduled workshops and seminars, there was the usual dose of impromptu opportunities the learn. Ross (Sure Hand Signs) had brought a little screen printing set up and a handful of glass pieces for people to have a go at some reverse glass gilding. Here he is helping Gaston the Painter and the main image on this post is another piece in progress.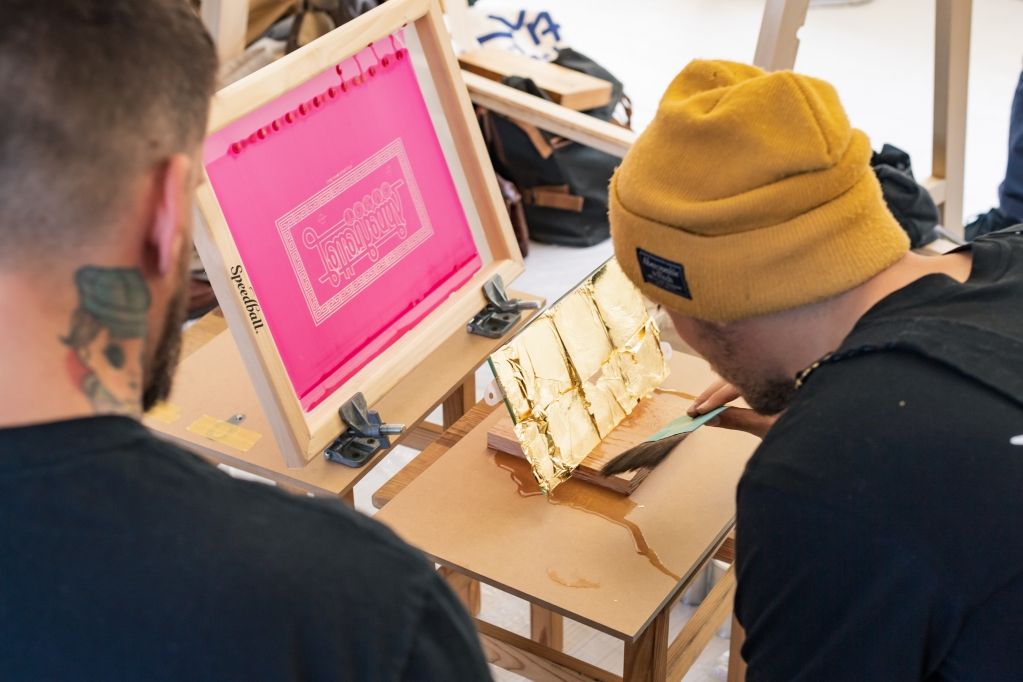 There was lots of socialising in the evenings and one night we all walked along a cherry-blossom-lined river. After crossing the motorway to continue the walk I spotted this shop (Gallup Reproductions) selling what looked like architectural salvage and other vintage goods. It was closed but while we were peering into the window the owner spotted Mike's Better Letters jumper and started frantically tapping his phone until he turned it towards us to show our Instagram account. Turns out he has been following us for ages, and he was in disbelief that we'd turn up on his doorstep.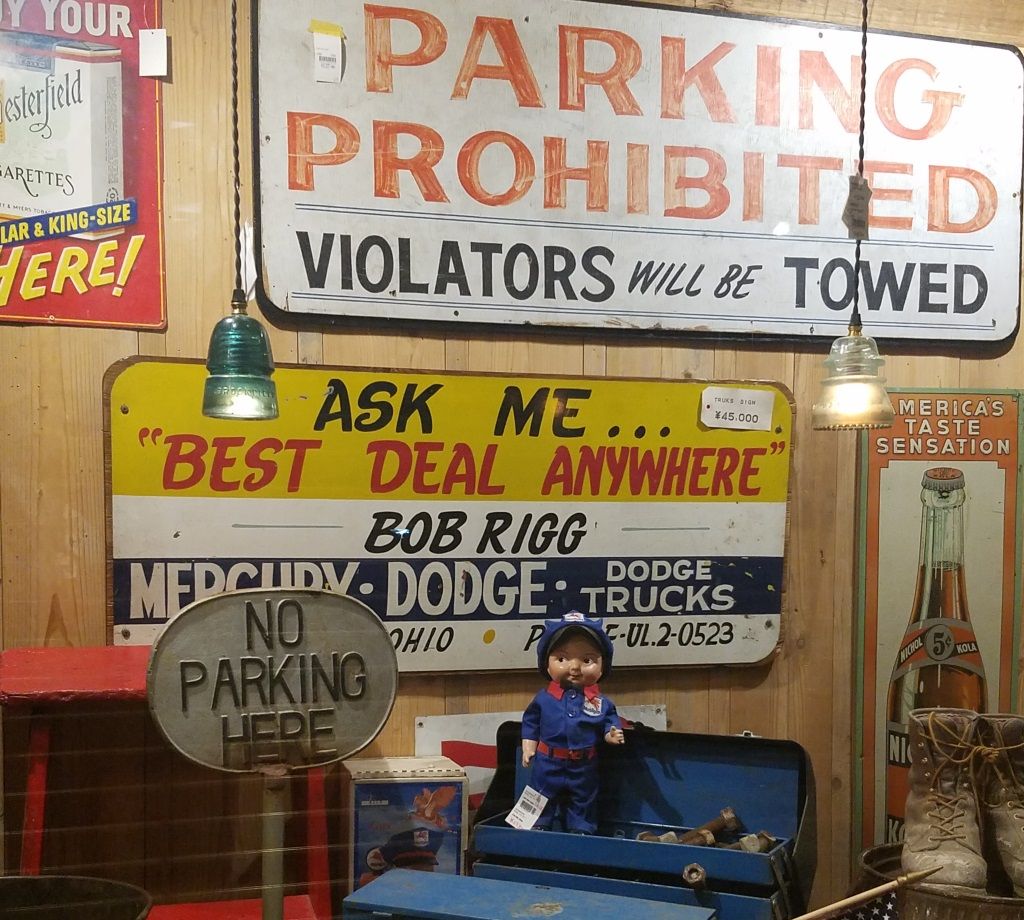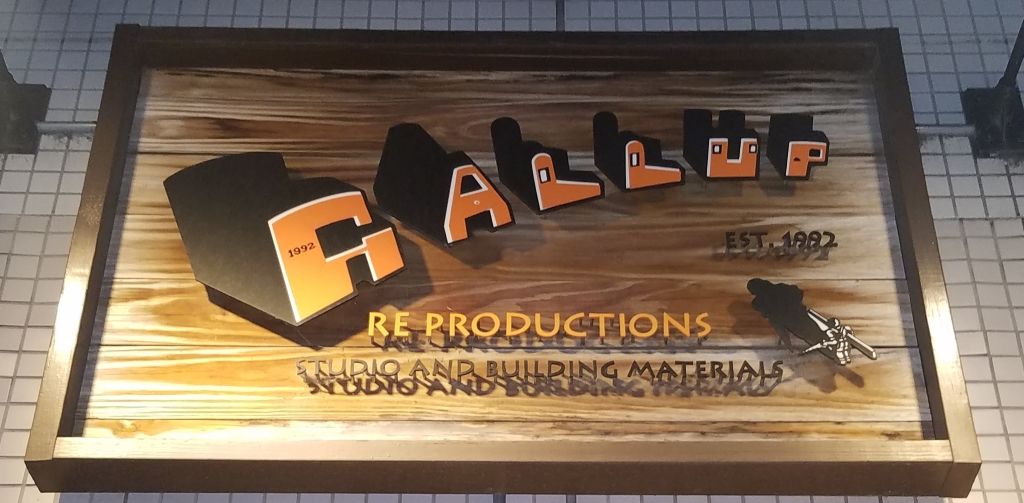 We were also lucky to get to know the guys from Moon Eyes, Japan's leading supplier of signwriting and pinstriping materials. We were gutted not to have time to visit their Yokohama shop where you can watch in-house painter Wildman working on decorating a variety of vehicles.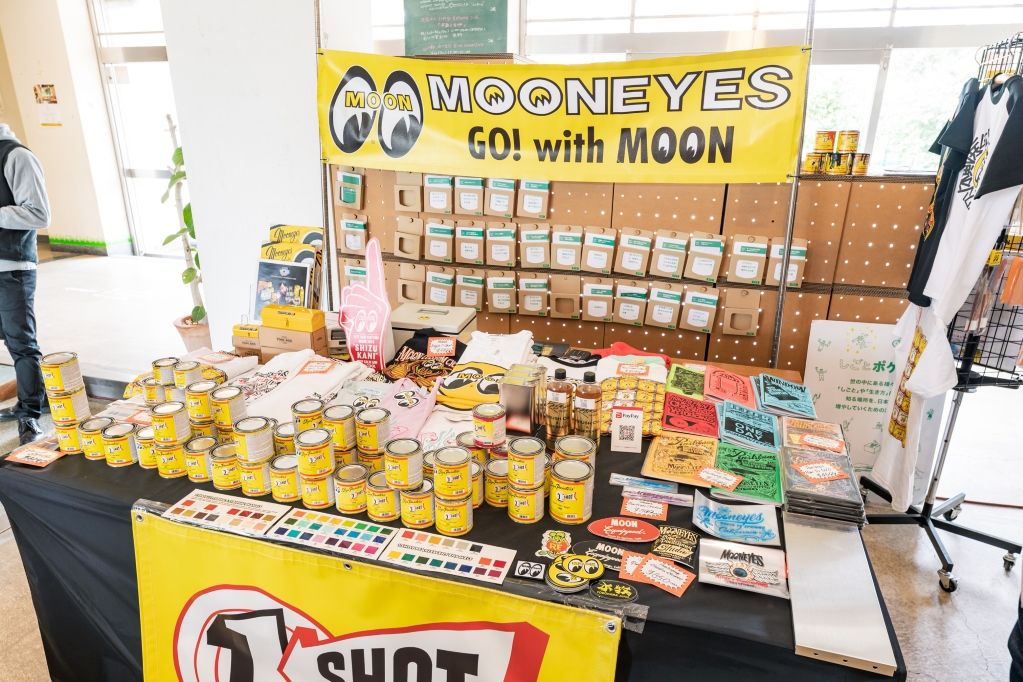 The event concluded on Sunday with an auction to raise money for the Ronald McDonald Children's Hospital. There was some stunning work up for grabs and, in total, well over ¥500,000 (c.$5,000) was bid for this good cause.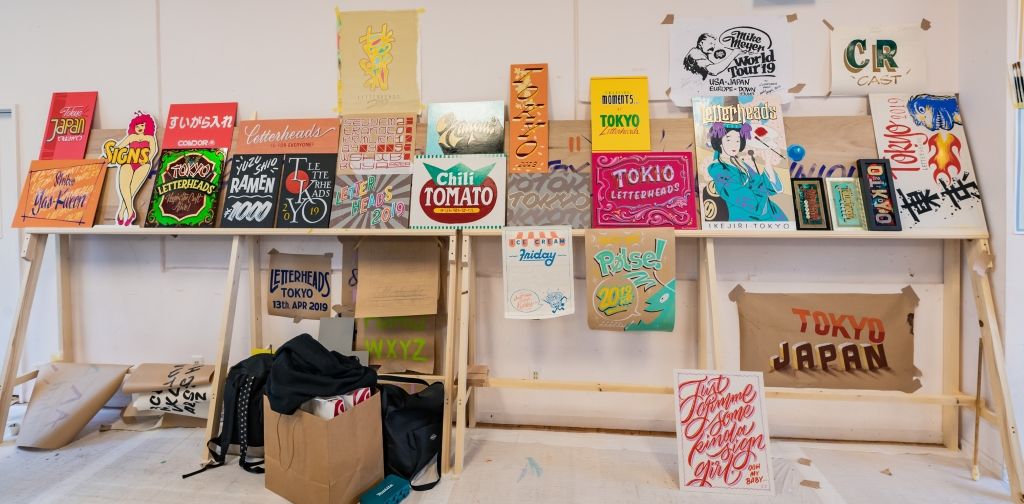 Here's the host with the most, donning the custom ceremonial apparel from Japan, Letterheads style!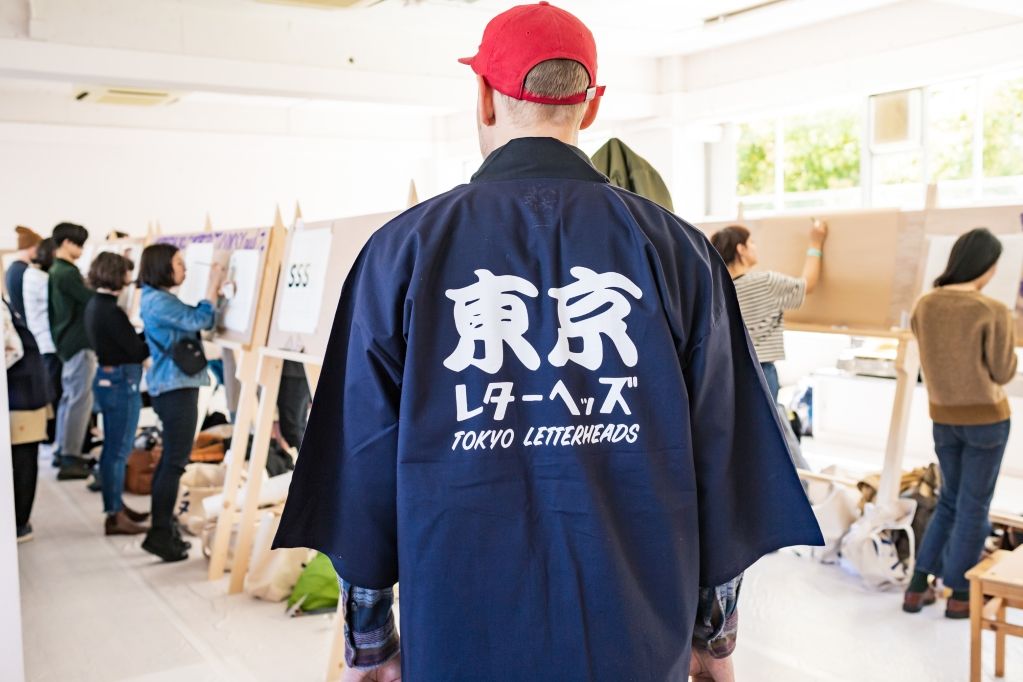 Here's the group photo.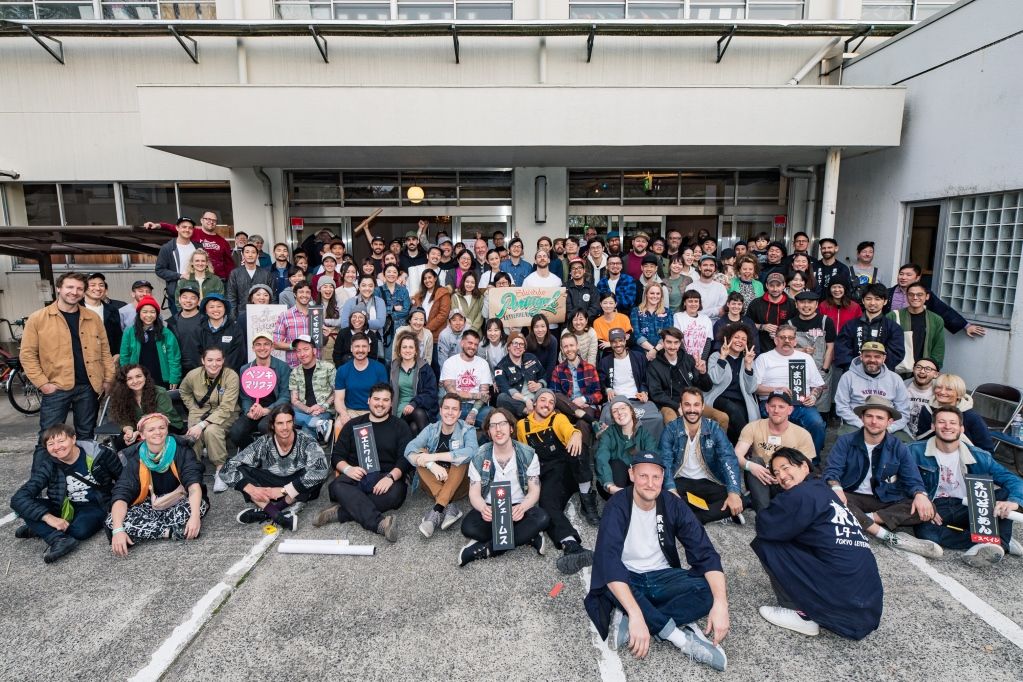 The brilliant volunteer team were all rewarded with a hand-painted piece of their name in Japanese script by Unile Signs.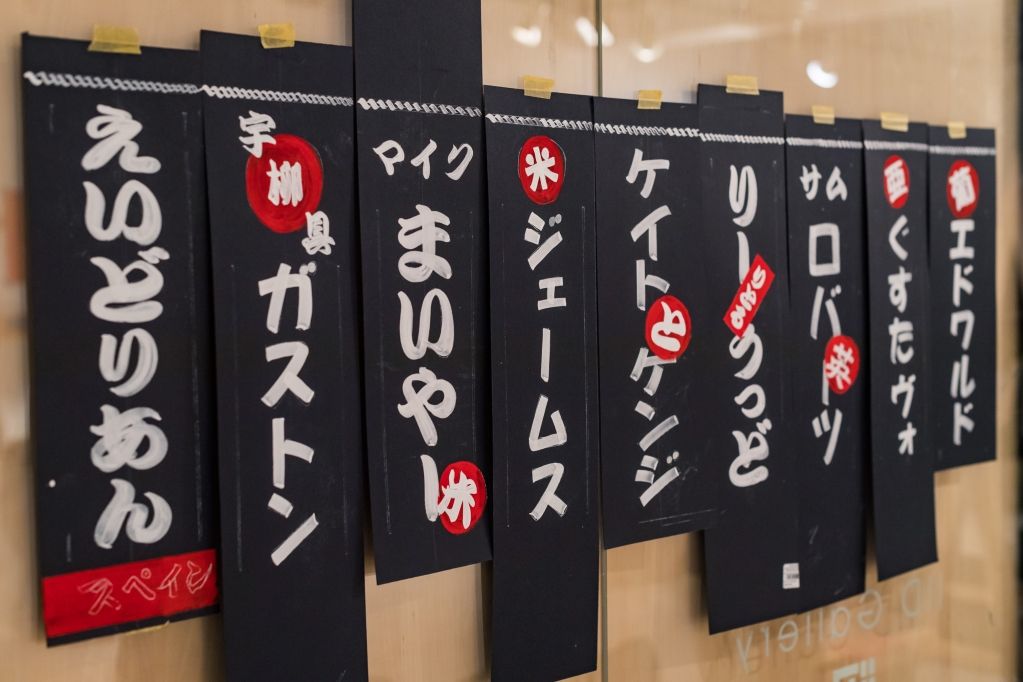 Our final act was to take down the beautiful banner from original Letterheads Mark & Rose Oatis. The case that is used to transport this now has an 'honours board' on the inside to document all the meets it attends. Next up will be Porto, 1-4 August. See you there!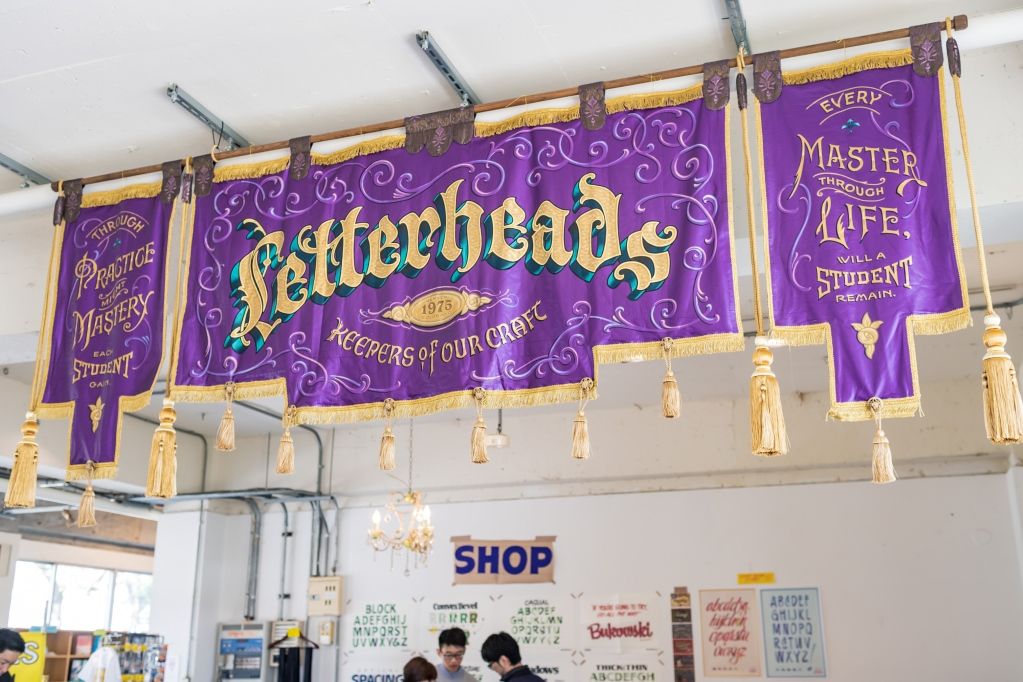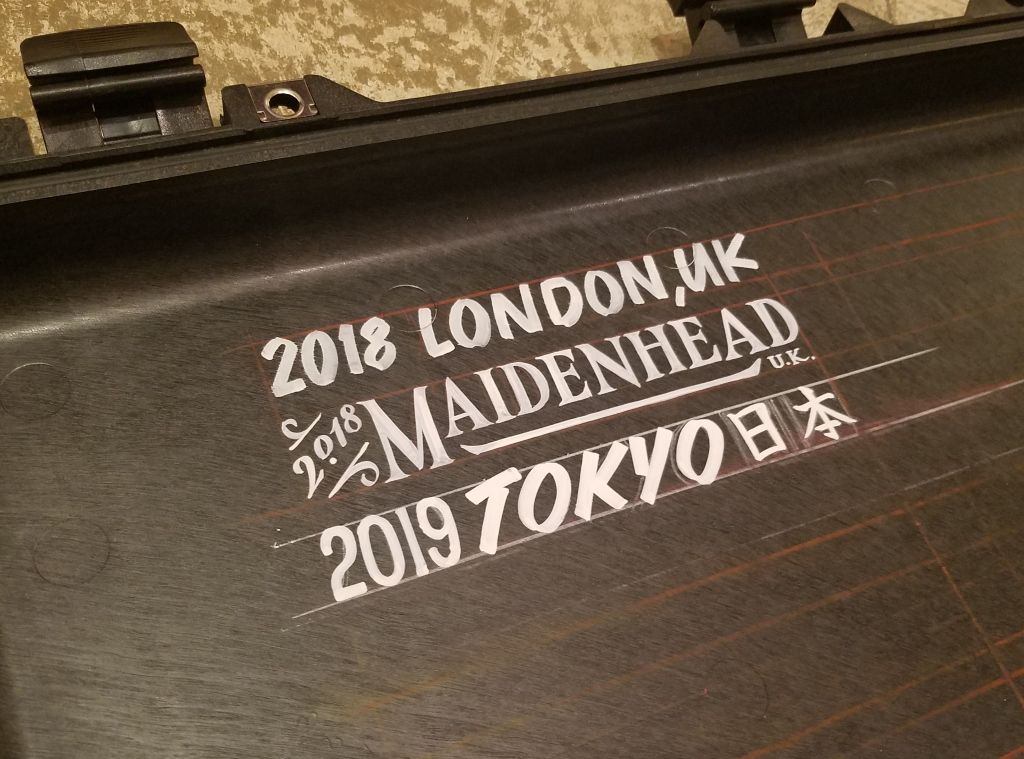 More Letterheads
Future Meets and Other Events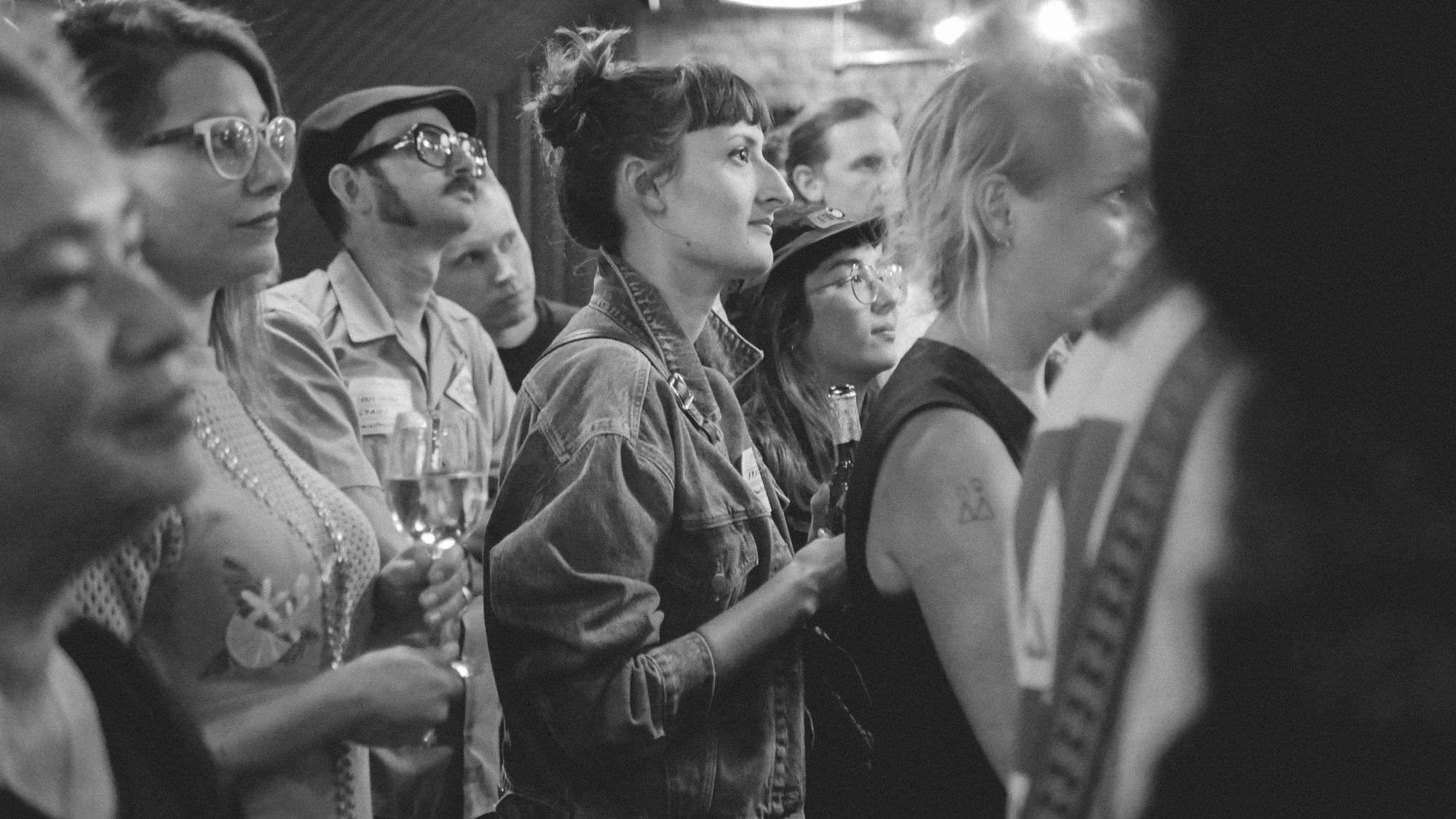 Other Event Reviews