Painter Kafeel: Keeping it Hand-Painted in India
Delhi sign painter Kafeel rejected vinyl, kept it hand-painted, and now has a new global clientele.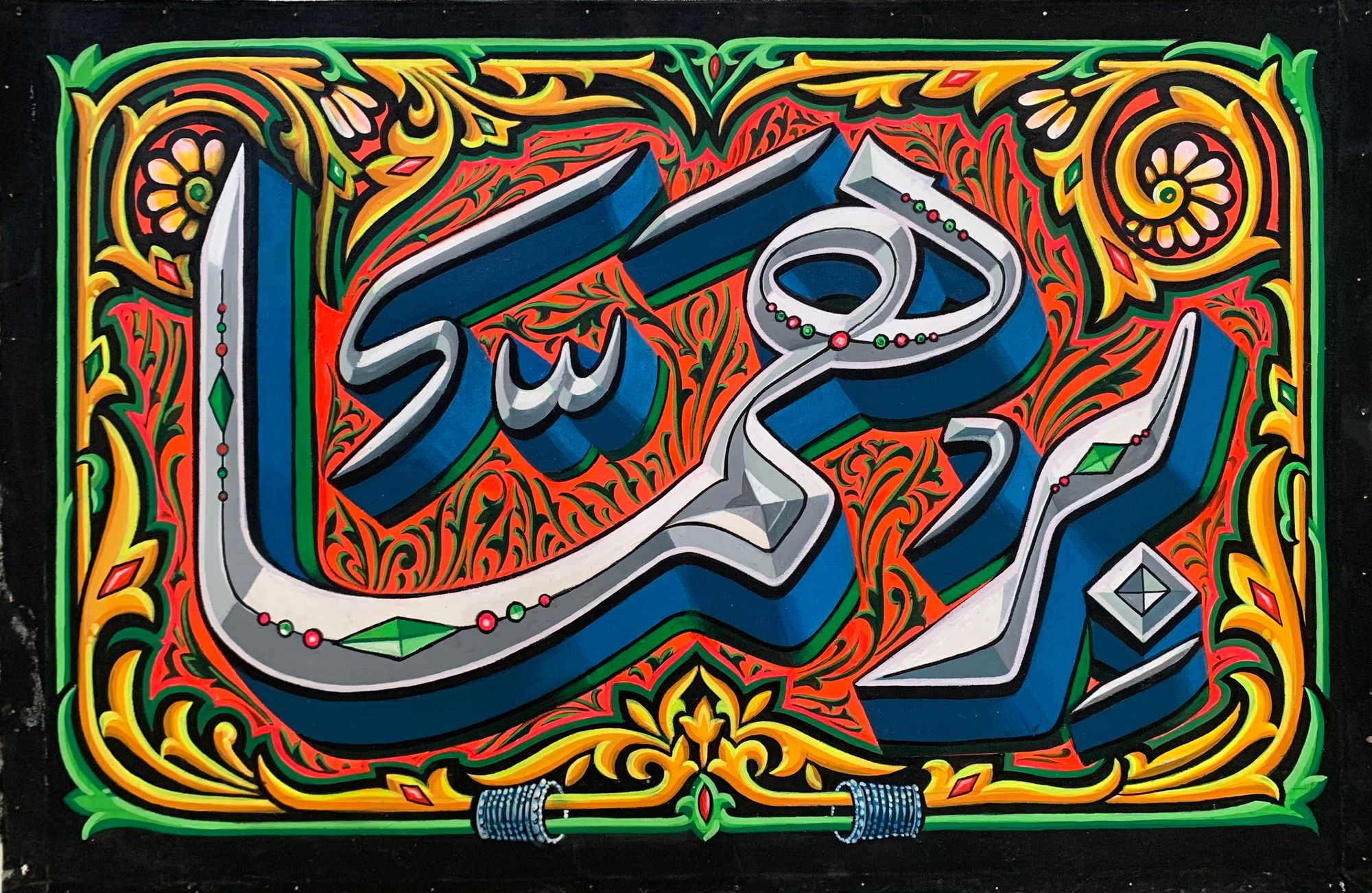 Painter Kafeel is an Indian sign painter in Delhi, and I first became aware of his work via the HandPaintingType initiative from Hanif Kureshi. In 2018 I invited them both to the London Letterheads event, where Kafeel wowed the 250 attendees with his outrageous skills—this culminated in one of his panels fetching the highest price in the charity auction. I invited Nisha K. Sethi to tell Kafeel's story, based on a video interview by Hanif.
Painter Kafeel: Keeping it Hand-Painted in India
By Nisha K. Sethi
Artistry and craftsmanship can be seen beaming beneath layers of dust, interwoven throughout the villages and urban landscapes of south Asia. The streets of India serve as endless sprawling canvases where hand-painted signs and cinema posters glimmer with vivid pops of colour and shadow that dot the alleys of every neighbourhood. Letterforms dip and arch their way across local shop facades with unimaginable detail and flair. One author of these hand-painted signs is an artist by the name of Painter Kafeel.
An Indian Sign Painter
Kafeel is a local 'sign walla' (one who paints signs) who has dedicated his life to mastering his craft. Working out of his humble Delhi studio, Kafeel has transcended the art of sign painting, using his brush to make letters dance.
Kafeel's distinct painting style truly stands apart with its use of intricate shadows, blends, bevels, and ornamental lettering . It has taken years, and a steady hand, to develop this characteristic technique. However, despite being regarded as one Delhi's top sign painters, Kafeel experienced an existential crisis when vinyl (flex) signs came onto market. This new technology threatened the future of all 'analog' sign painters, and Kafeel felt it inevitable that he too would have to put down his brushes to avoid becoming obsolete.
Despite these technological developments, and the resulting market pressures, Kafeel was determined and worked to preserve his beloved artform. Now, he is one of the last of his trade; highly sought after and well respected. Kafeel is not not just keeping the art of Indian sign painting alive, but pushing its boundaries and developing lettering styles that have become globally iconic.
A Dedicated Student
Painter Kafeel was born Kaphil Ahmed in 1957 in the Uttar Pradesh state in Northern India where some of his earliest and fondest memories are as a young student learning to perfect his handwriting. He credits his primary school teacher Niyamatullah Ansari who encouraged him to practice extensively, beginning with Urdu and then Hindi and English. Kafeel attributes his life as an artist today to that diligent practise in his youth.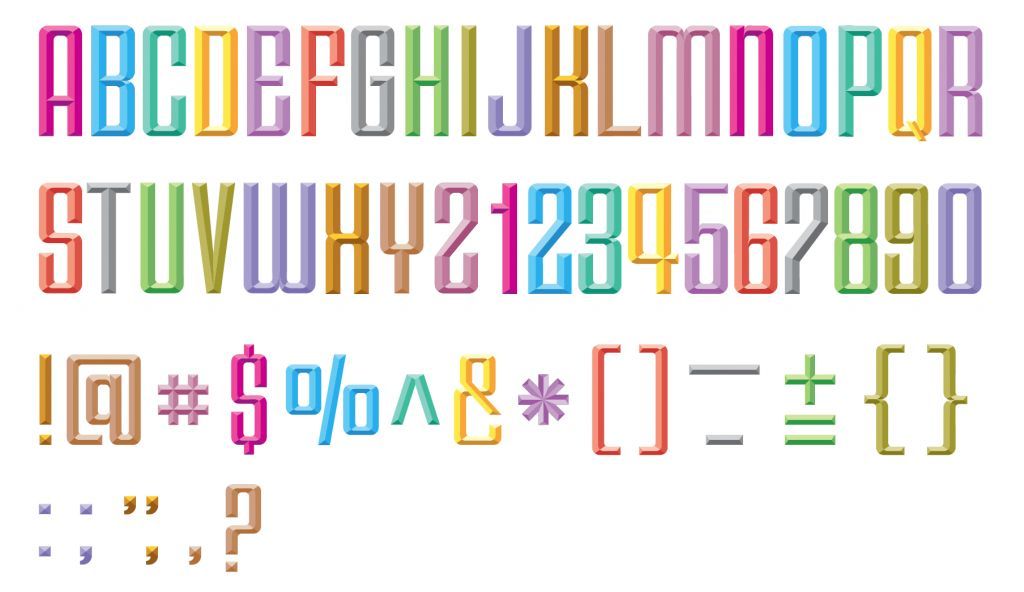 Outside of school, Kafeel recalls his time shadowing a local artist:
"I used to stand and look at his work for hours. He used to ​observe my attentive nature and never asked me to leave, noting and understanding that I was most interested in his work. His name was Javed Sabeer Raza and later he would pass on knowledge to me​."
Kafeel was not even ten years old, but his relationship with Mr. Raza came to shape the beginning of his artistic career. At first Mr. Raza tried to dissuade Kafeel, saying that working in the arts was "not meant for him" because his father was a businessman and he came from a well-to-do family. However, Kafeel was determined to learn and spent more and more time studying what Mr. Raza had to offer. Eventually Kafeel grew to respect him, not only as a mentor and teacher, but as an older brother.
A Chance Encounter
Most Indian sign painters enter the trade through family connections, typically having the skills passed to them by their fathers, but Kafeel's story was a little different. His father was a Hafeez (priest) at the local Mosque where he taught Namaaz (prayers) and later opened a general store. Kafeel's handwriting skills were put to use there, producing labels for bottled spices:
"I cut paper pieces into rectangular shapes, pasted them, and wrote on them—coriander, turmeric, fennel seed, cumin seed etc—in Urdu and Hindi."
One day, an artist called Sabeer came to the shop for groceries and noticed the precise lettering on the canisters. The next day, he came back with two cans of paint, one black and one white, and two brushes. He offered to teach Kafeel how to write with a brush.
"He showed me how it was done and taught me to write with the brush the very next day. He told me 'you write very well' and that is the story of my apprenticeship with this master. After that, while still in my youth, I painted a few signboards for friends that had shops. I did everything for free."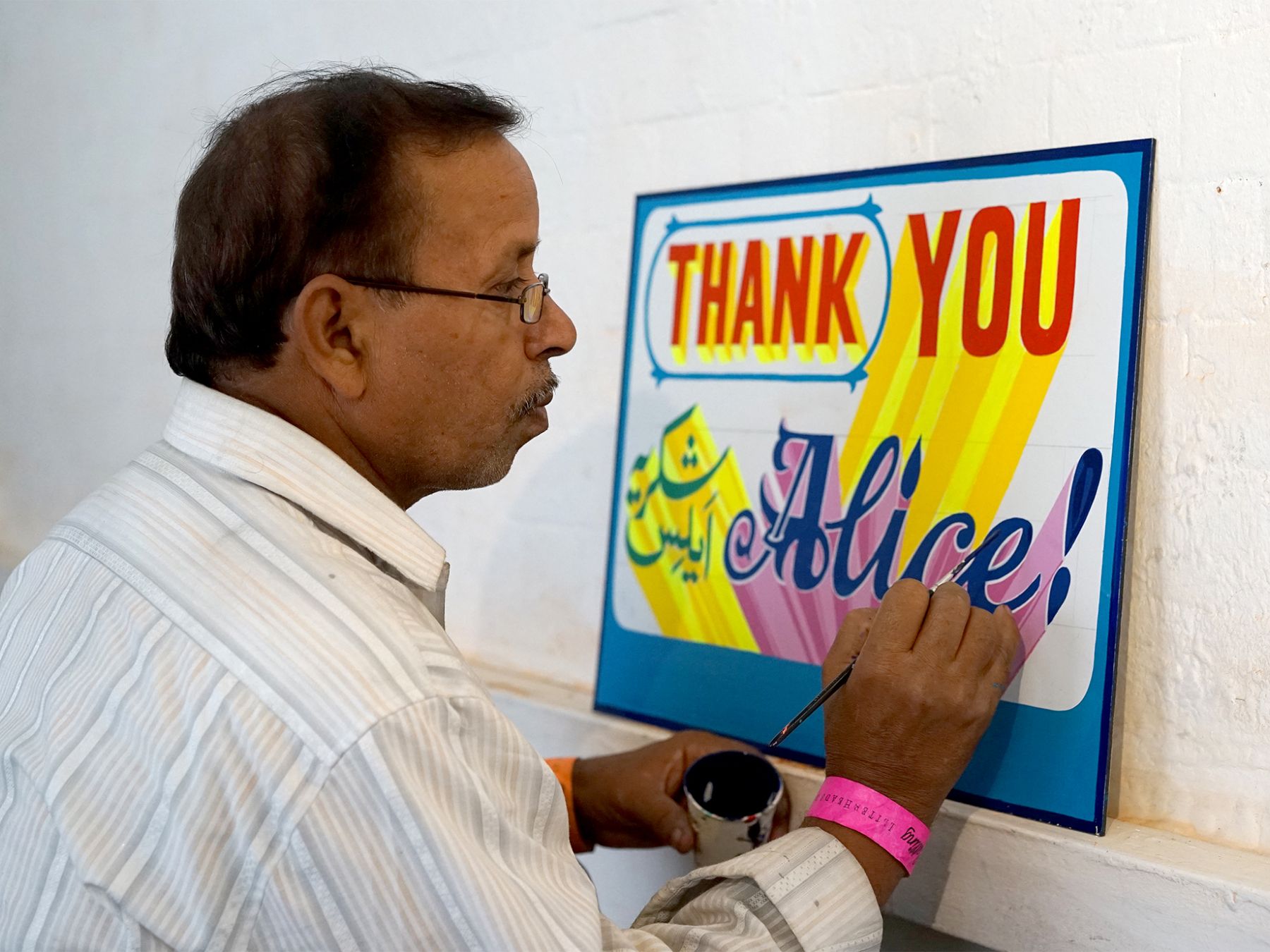 Hustling in the Big Smoke
After his marriage in 1980, Kafeel moved to India's capital, Delhi. He was on a mission to find work as a sign painter, but no-one was willing to hire an amateur. However, he was passionate about lettering and devised a plan to attract clients:
"Nobody was ready to employ me, but I was determined to work as a painter. Then I had an idea: I bought a new bicycle, decorated it with tassels, and cut and mounted two plates on which I wrote 'Painter... Artist... Hindi... Urdu... English…' I started making rounds of the city. People used to laugh at me and wonder what I was up to. But then, some of them became my clients, asking me to paint their shop's boards. Every day, I used to find a new customer."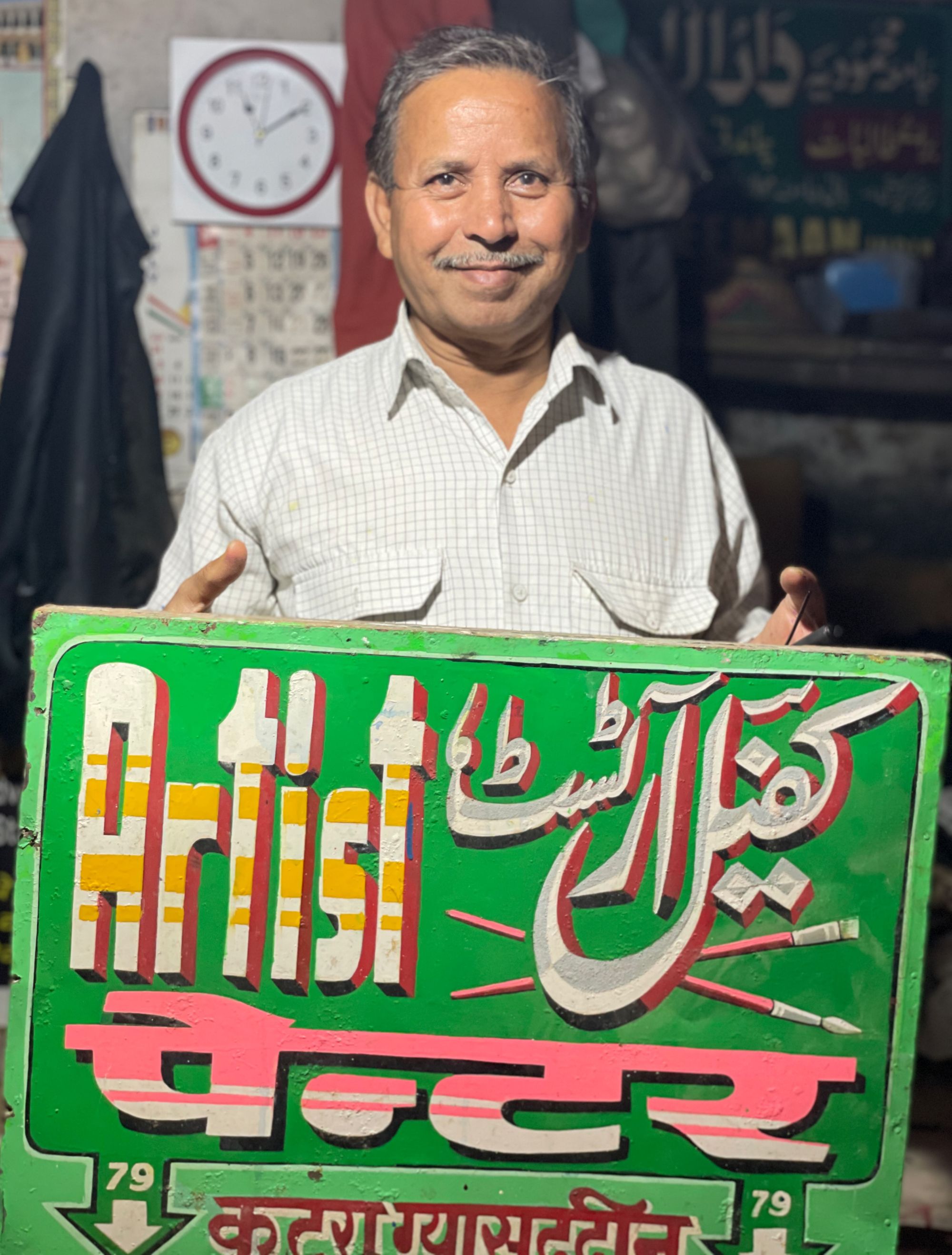 Kafeel's hand grew steadier with each project, and his skills quickly improved:
"Initially, my hand was not perfectly firm. But later, everything improved. The main thing was that I was able to earn money."
His persistence paid off and he was finally able to begin making a living as a sign painter. He was charging about 400 rupees (about $5) for each job, working in just one colour and keeping the signs quite simple. He recalls painting boards for all kinds of local businesses such as general stores, tailors, barber shops, and even juice stands advertising sugarcane juice.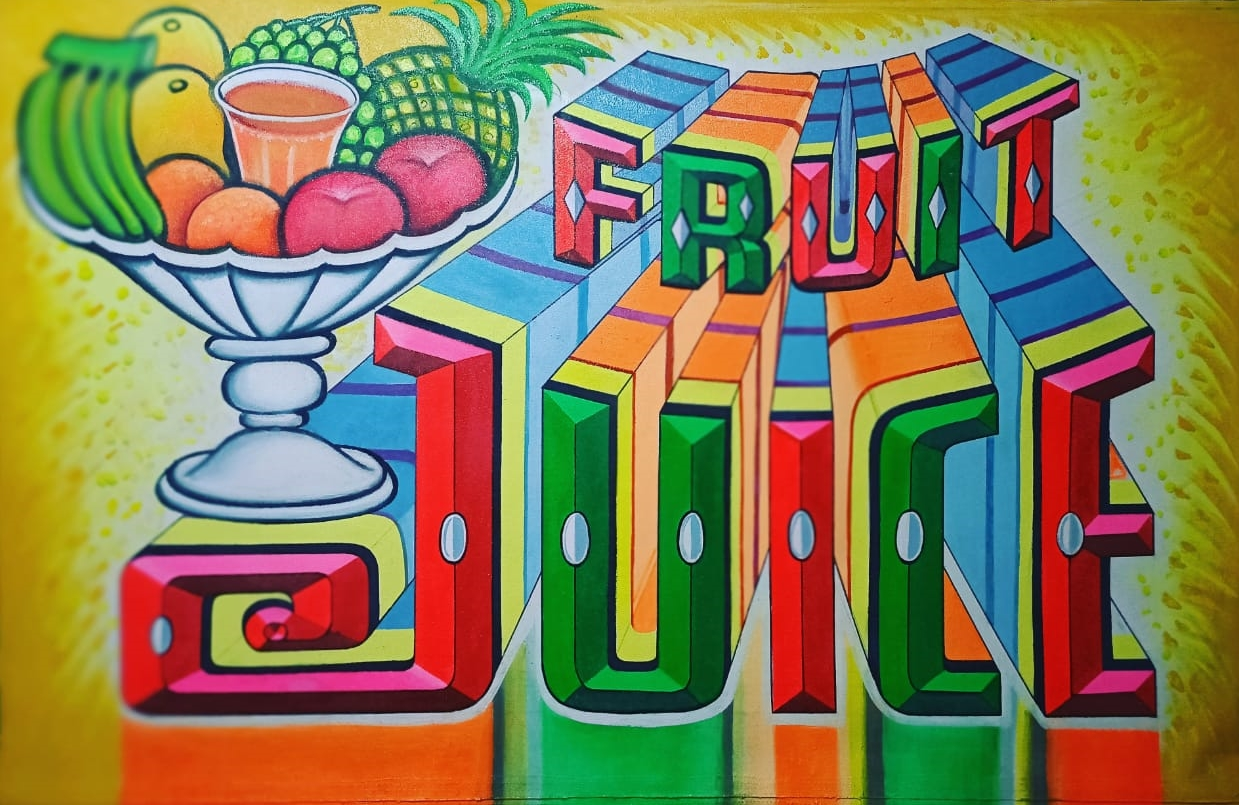 It wasn't long before Kafeel bagged a dream job painting a seemingly infinite number of signs for Thums Up, a huge Indian soft drinks company. He worked day and night for the company and was grateful for the steady income. This lasted about a year and led to more opportunities painting for other beverage companies. Kafeel says: "With this, I honed my skills, by God's grace."
Gaining Recognition
While in Delhi, Kafeel was constantly checking out the work of others, soaking up the plethora of different lettering styles:
"When I went to fulfill my orders, I would observe other artists' work, trying to identify which was the best in the locality. I was always determined to outdo the best one and, as a result, my work improved and people started to trust me."
One of the few sign painters that had helped Kafeel upon his arrival in Delhi was a man called Mr. Faiz. He was a seasoned lettering artist and Kafeel would regularly visit his shop. On one of these visits Mr. Faiz left Kafeel alone in the shop to run an errand which took longer than he'd planned:
"Two hours passed by and I was getting bored. I thought to myself that I would help with his work, a board he was painting in Urdu. When he came back much later I had finished the board with the borders and shades. He was so excited to see it, and asked which of his employees had done it."
Mr. Faiz refused to believe that Kafeel was responsible, and capable of such quality work, at speed and without direction. He challenged him to paint another sign to prove it, and the result delighted him so much that he immediately hired Kafeel to work in his shop.
"After that, he trusted me entirely and let me do everything, even the shading. He allowed me to choose the colour schemes, although most of the time I adopted his."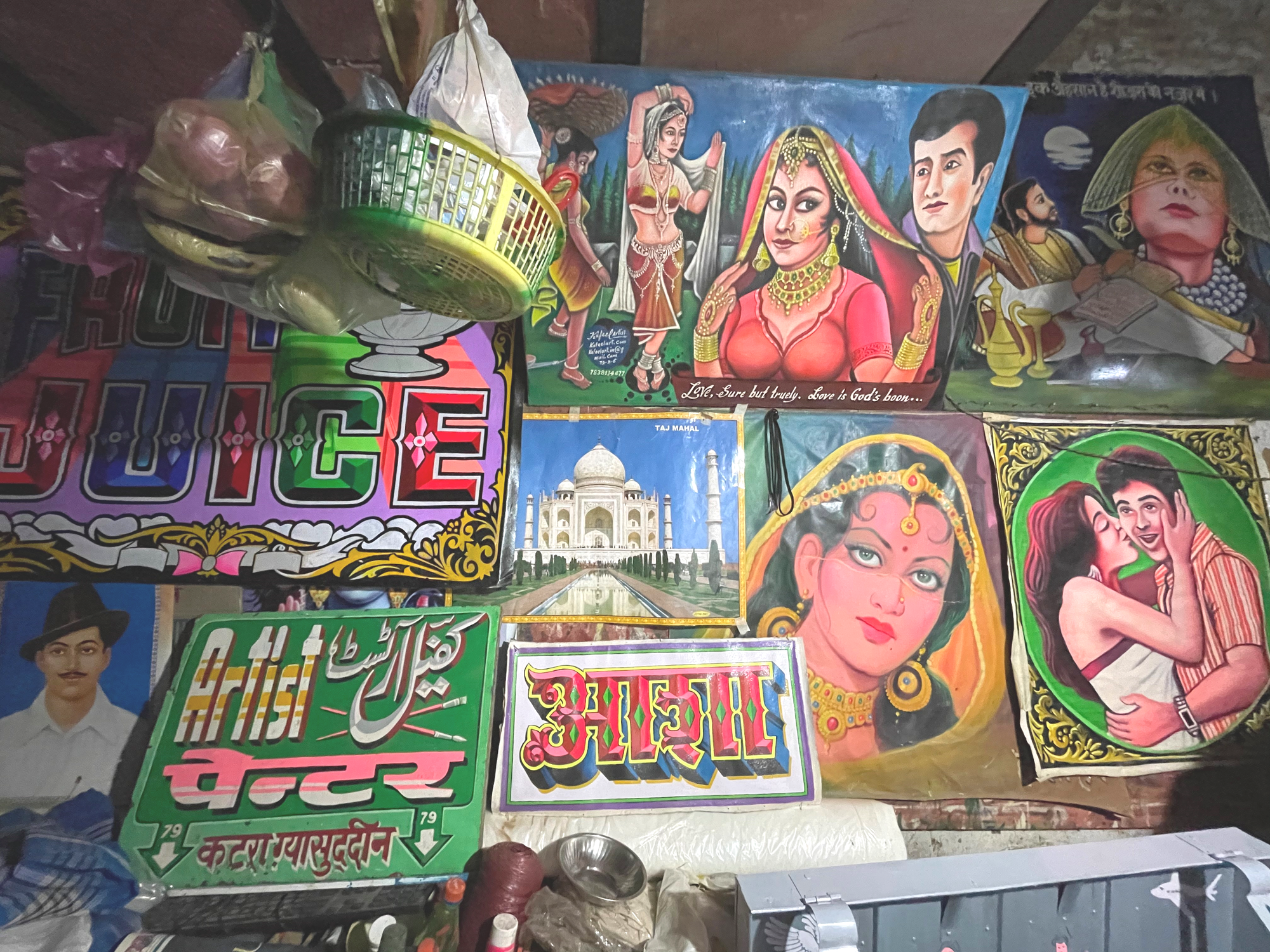 Kafeel worked for Mr. Faiz for the next 14 years, and in that time a great mutual respect grew between them. His work developed well beyond just shop signs; he was busy painting everything from banners for upcoming elections to giant cinema posters. The cinema work was a specialism within the trade, and Kafeel was hungry to develop this skill set. This took him to Mumbai where he sought tuition from a master of the craft, Mr. Khalid.
Resisting Change
Kafeel continued working as a sign painter until the demand for hand-painted advertising started to fade. A cheaper, faster replacement was slowly emerging as vinyl, or 'flex', signs gained a foothold in the market. As a result, the appreciation and demand for hand-painted signs led to a scarcity of work as Kafeel recalls:
"When the manual skills were becoming obsolete, I learned to deal with computers. I learned the trade and observed how the flex was done and stuck. I knew deep within me that painting by hand was on the way out."
Although he did shift his practice to computer-based digital work to keep up with the times, he was still motivated to keep painting signs by hand. He realised that this type of work was essential to his ethos and identity as an artist, and so continued his trade as a traditional sign painter, creating everything by hand from start to finish.
"The future was uncertain but I was determined to fight. As the world leapt towards computers, I could see people leaving sign painting behind due to their uncertainty about the future. But, I thought to myself, I shouldn't be pessimistic; I need to challenge this. My teacher taught me that one shouldn't be frightened of adversity."
New Markets
As a result of his grit and determination, Kafeel has gained notoriety as one of the few sign painters in India that still does everything by hand. This has allowed him to tap into a niche market that still respects and appreciates the techniques he has mastered.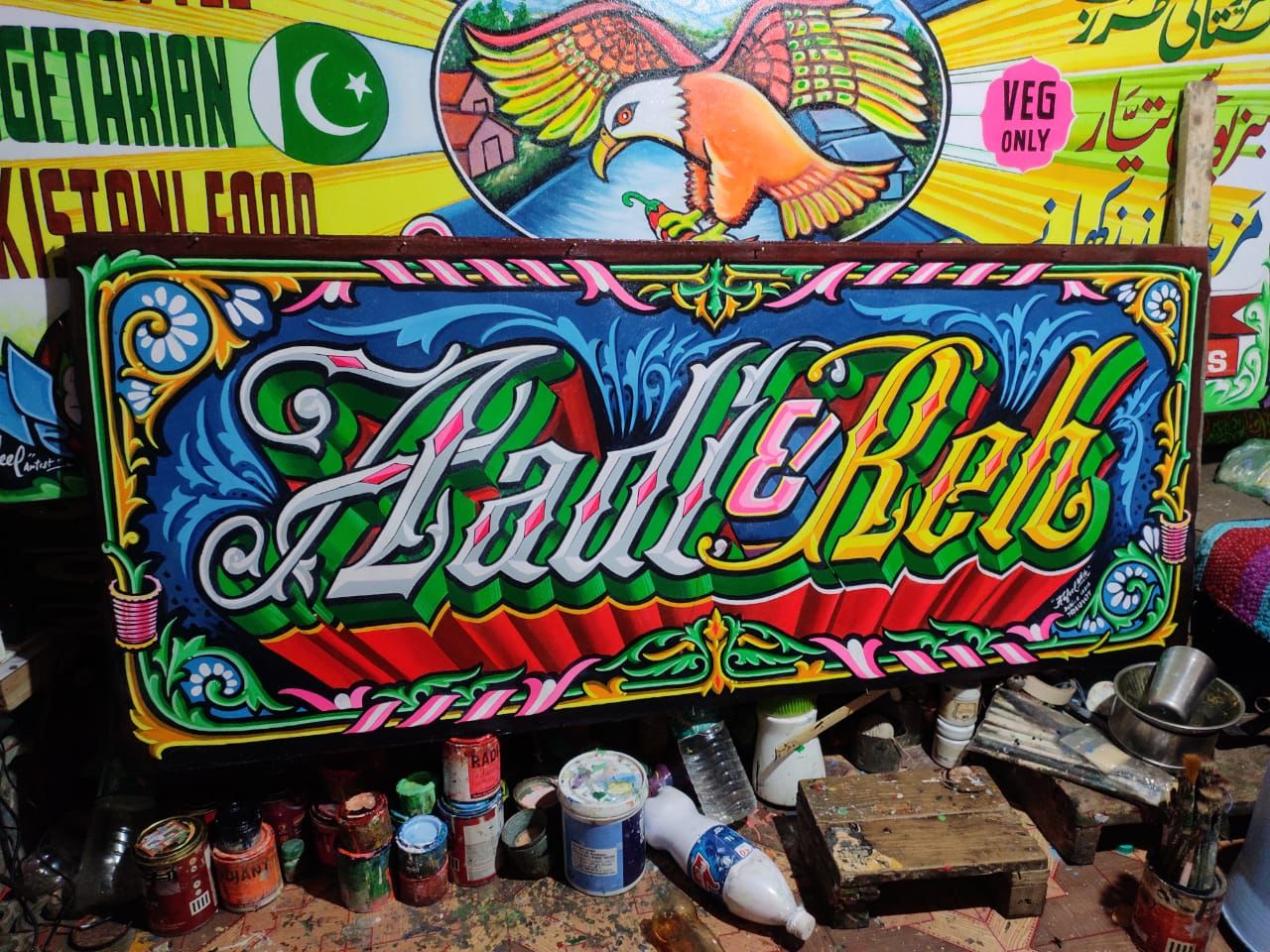 Traditional sign painting and hand-painted cinema posters were once close to extinction in India, but are now growing in popularity among a new generation. Social media has enabled Kafeel to reach a wider audience—with the majority of his work coming from international clients commissioning bespoke pieces. He has grown a global following of admirers that appreciate and support his work, and has no intention of hanging up his brushes anytime soon.
Kafeel accepts commissions and ships work globally. He can be contacted via his Instagram account
@painterkafeelartist
with requirements, including copy and any references to earlier work as a starting point to develop an original piece.
---
Written by Nisha K. Sethi / @nisha.k.sethi
Nisha is a Punjabi sign painter based in California and was a student of the late Doc Guthrie. She has travelled to India several times to shadow different artists and continues to incorporate truck art and Indian street elements into her work. Painter Kafeel has been one of these influences and continues to be an inspiration to her and many sign painters worldwide.
---
With thanks to Hanif Kureshi (@hanifkureshi) for his original interview and invaluable assistance in developing this article. Also to Archie Proudfoot (@archieproudfoot) for the photos of Kafeel's London Letterheads auction panel.
More Sign Folk
More from India