Missing in Action: Cyril Foster, the Trinidad Sign Painter
Lost, presumed dead, the search for Trinidad sign painter Cyril Foster comes good at the temple.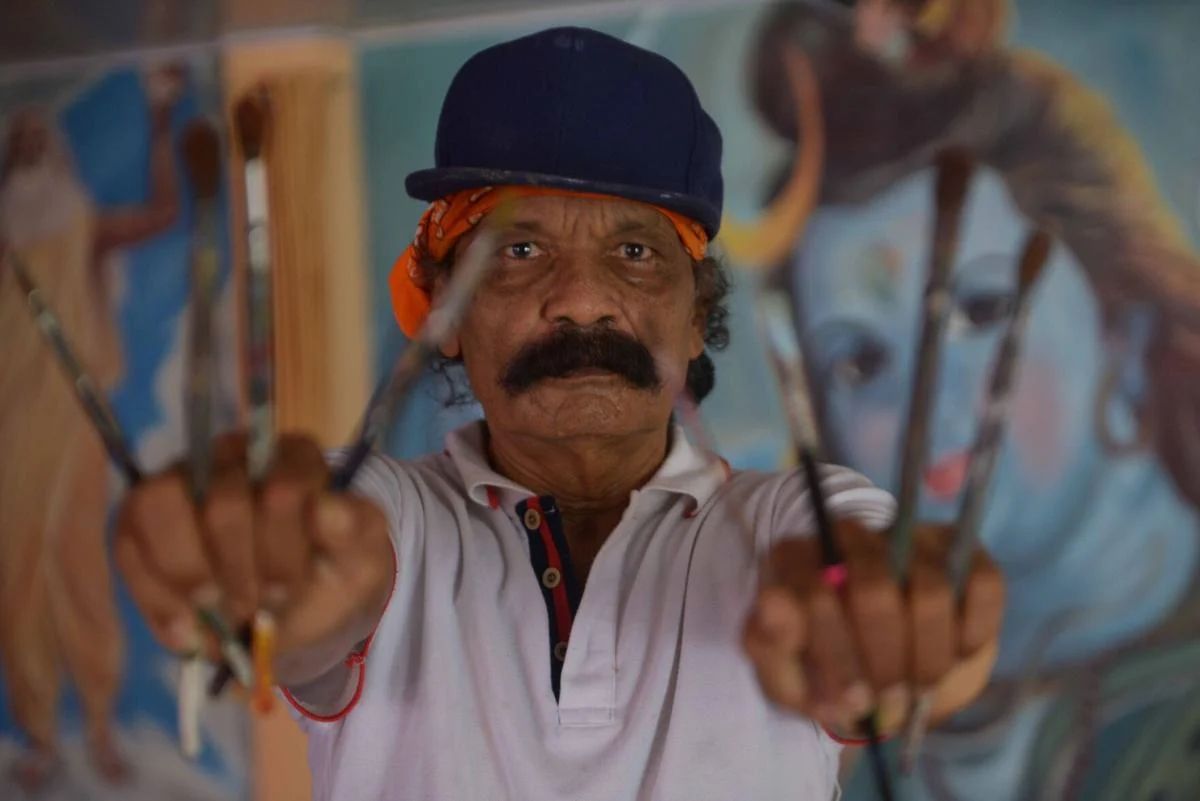 Last Autumn I chanced upon a story about a local sign painter on the pages of the Daily Express newspaper from the Caribbean island of Trinidad. It's a quite literal adventure in sign painting and its author, Richard Charan, kindly accepted my request to reproduce it here for your enjoyment.
The Last Sign Painter?
By Richard Charan
On a wall in the rum drinking section of VP Gooljar's junction shop in Barrackpore, is an unfinished mural that depicts the men who lived, worked, and died in this part of south Trinidad.
It shows them on bull carts and bison, tractors and locomotive carriages, the weighing scales and cranes, during the sugarcane harvest that employed them all.
The artist working on it had also painted the shop front promoting Mr. Gooljar's wares—everything from Puncheon to a posey, cutlasses to coal pots—done as precisely as a photograph.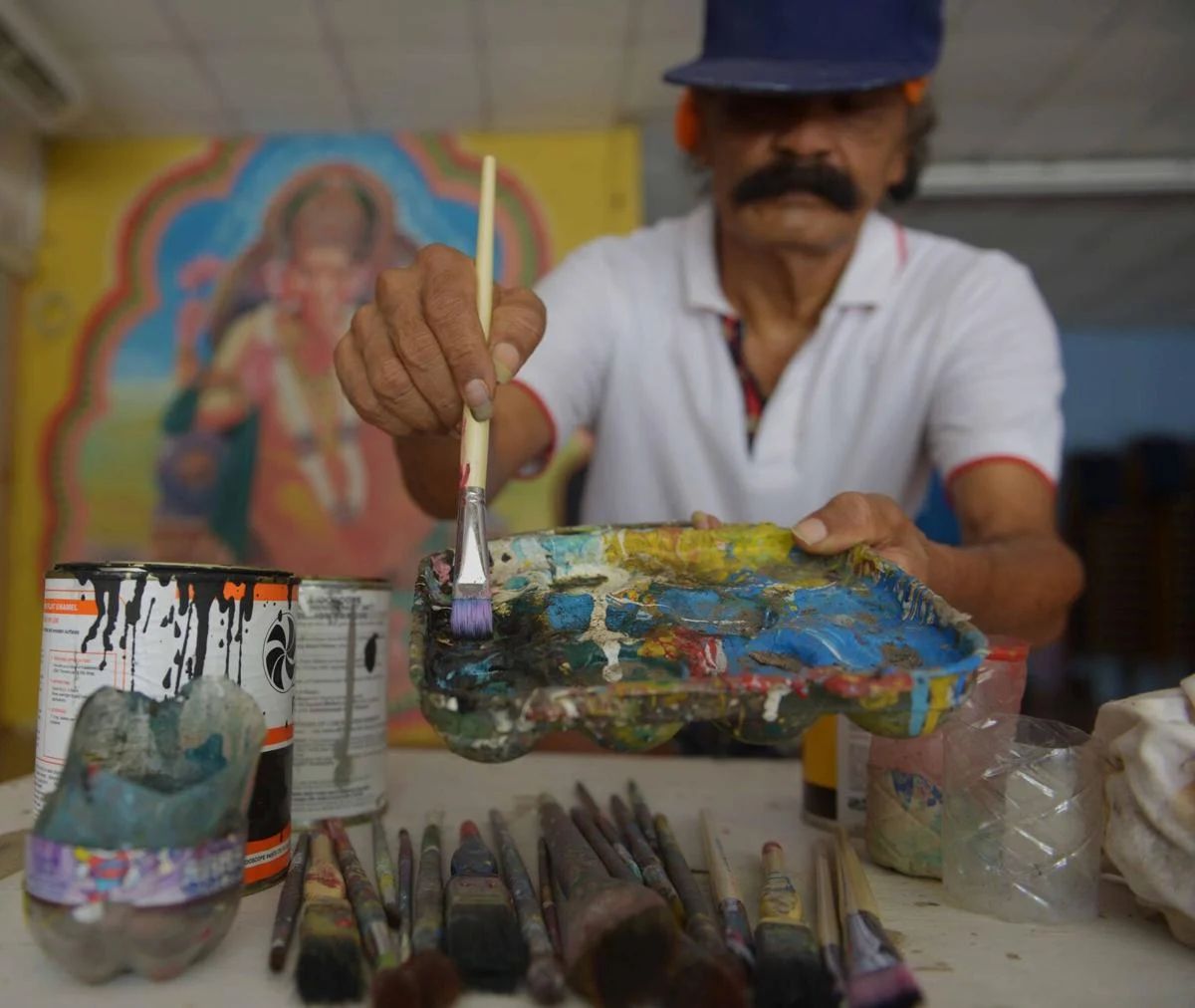 He was close to finishing the job, when the Covid 19 pandemic swept across the world in 2020, and ended life as we knew it.
With a curfew and businesses ordered closed, the painter packed up the cans, brushes and pallets, got on his bicycle, and rode away.
Since then, the people of Barrackpore have been looking for Cyril Foster.
We at the Express joined the search too, after seeing his work on the shop doors, recognising that he was likely the last remaining traditional sign painters, and one with exceptional talent.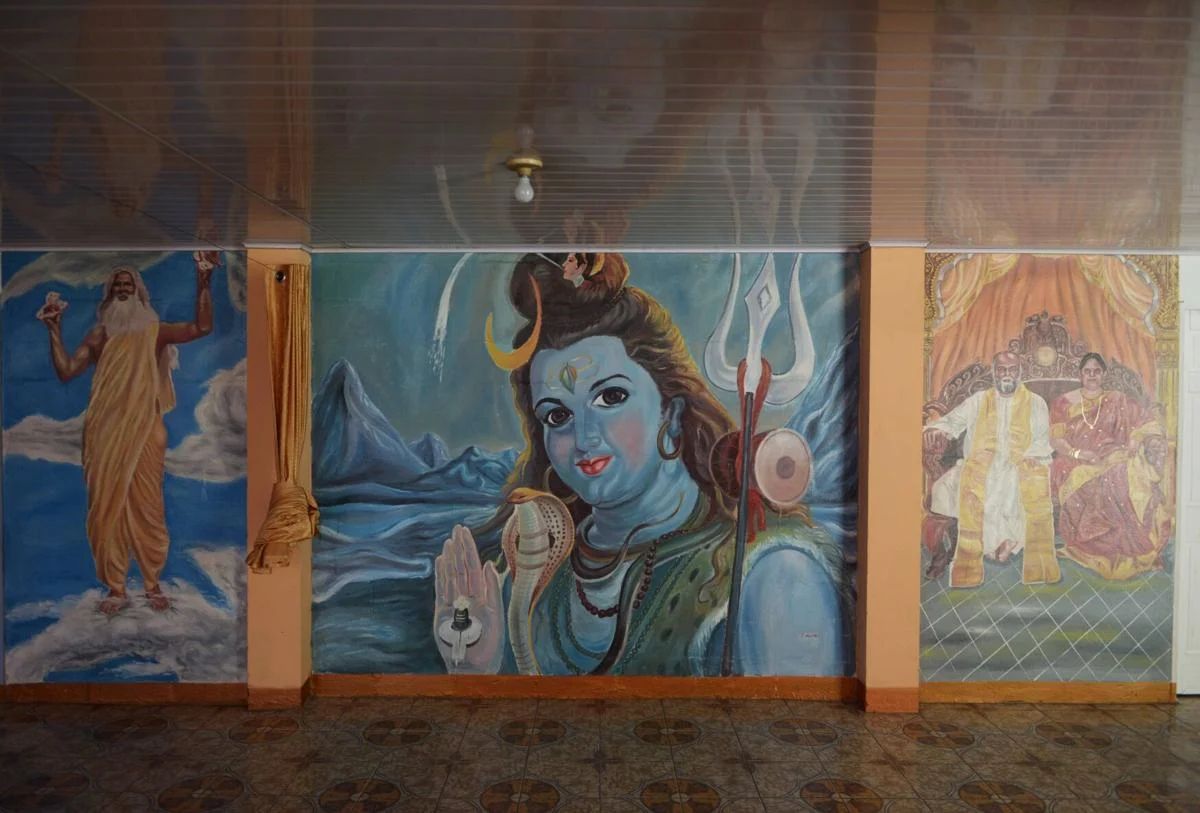 The village told us Foster had spent his entire adult life sketching portraits, creating original billboards, conjuring the likeness of Hindu incarnations of Gods on the walls of temples and private homes, bringing to life the murtis, and painting some rather curvaceous ladies on the walls of barrooms in Barrackpore and elsewhere.
But we all thought Cyril was dead.
The doubles man, the pepper roti man, and the pumpkin vendor, had all concluded that he caught the Covid, was taken to the Couva Hospital, and then to a cemetery.
We could not find him at his family's home in Digity Village, and no one could recall him being around.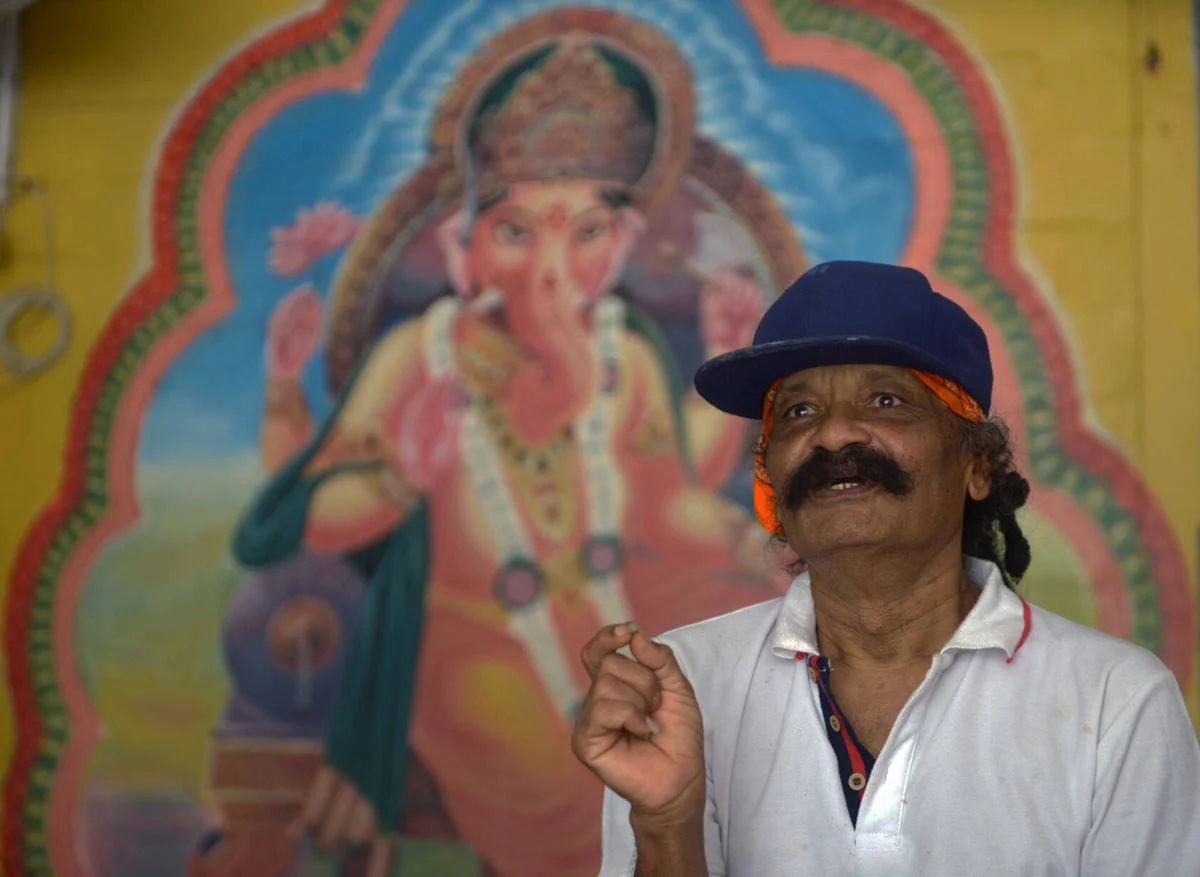 Cyril's cousins had not seen him for months, and his phone was off.
Some acquaintances at a house he frequented on the oilfield road near the recreation ground, had no clue.
And he had neither wife nor children.
Here was a man known to all, but whom no one could find.
We found him.
Since Cyril vanished from Barrackpore, he has been the artist-in-residence at the Jeewan Sudhar Ashram and Oneness Centre, at the Teemal Trace, Clarke Road, Penal, the impressive temple of Swami Bhagavan Ananda.
Over the past two years, Cyril has transformed the temple walls and its murtis, and painted portraits of the Swami (Bhagwandass Seemungal), who is considered the spiritual advisor to many.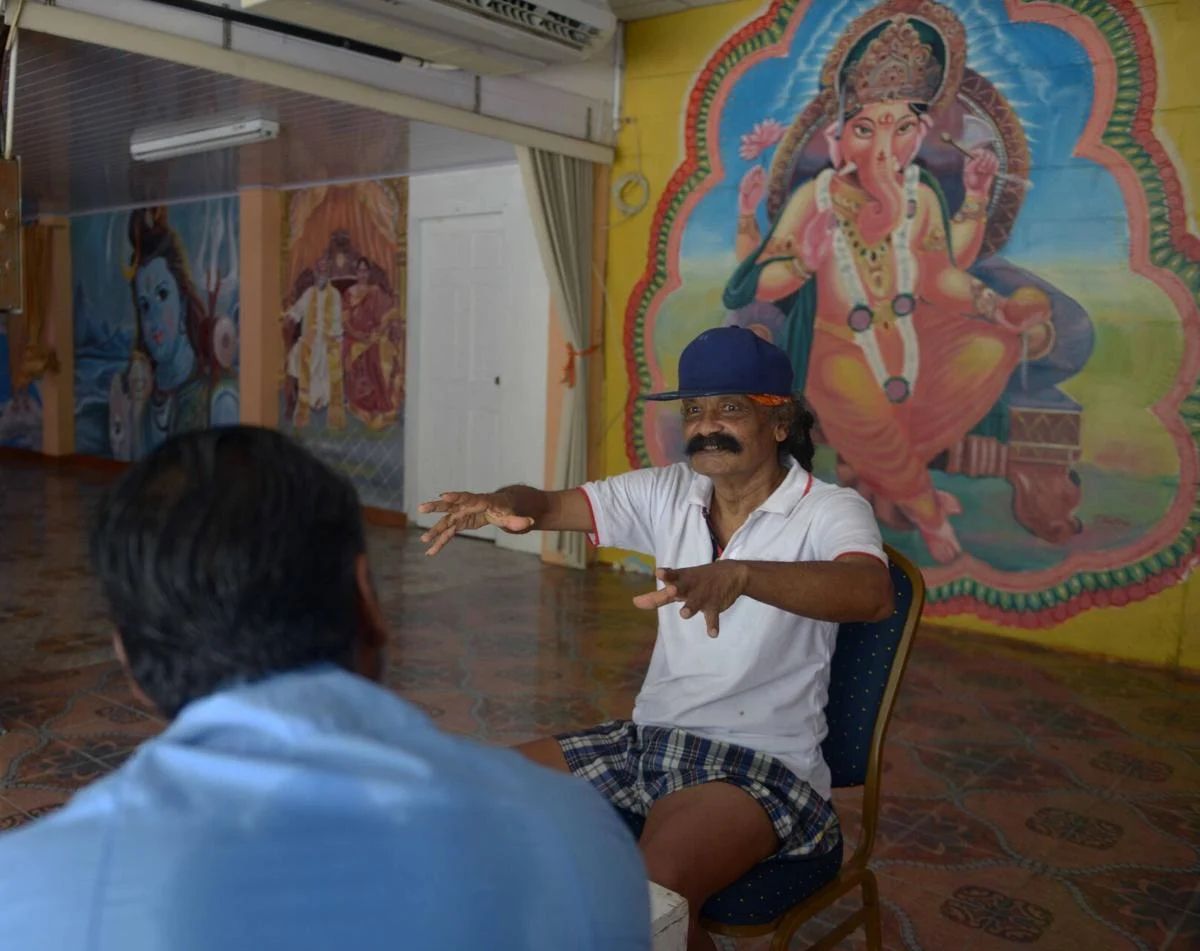 When we showed up uninvited last Saturday, Cyril turned out to be exactly what we envisioned—paint splattered clothes, a fistful of brushes, dreadlocked hair hidden under a baseball cap, eyeing us warily as he stroked a Groucho Marx moustache.
Cyril did not have any interest in talking to us. He saw no worth in being recognised or acknowledged.
But Swami Ananda convinced him to allow us into that creative mind.
Cyril is 50 years old.
At age four, he was already sketching, reproducing images of Napoleon Bonaparte in the borders of a big book belonging to an uncle.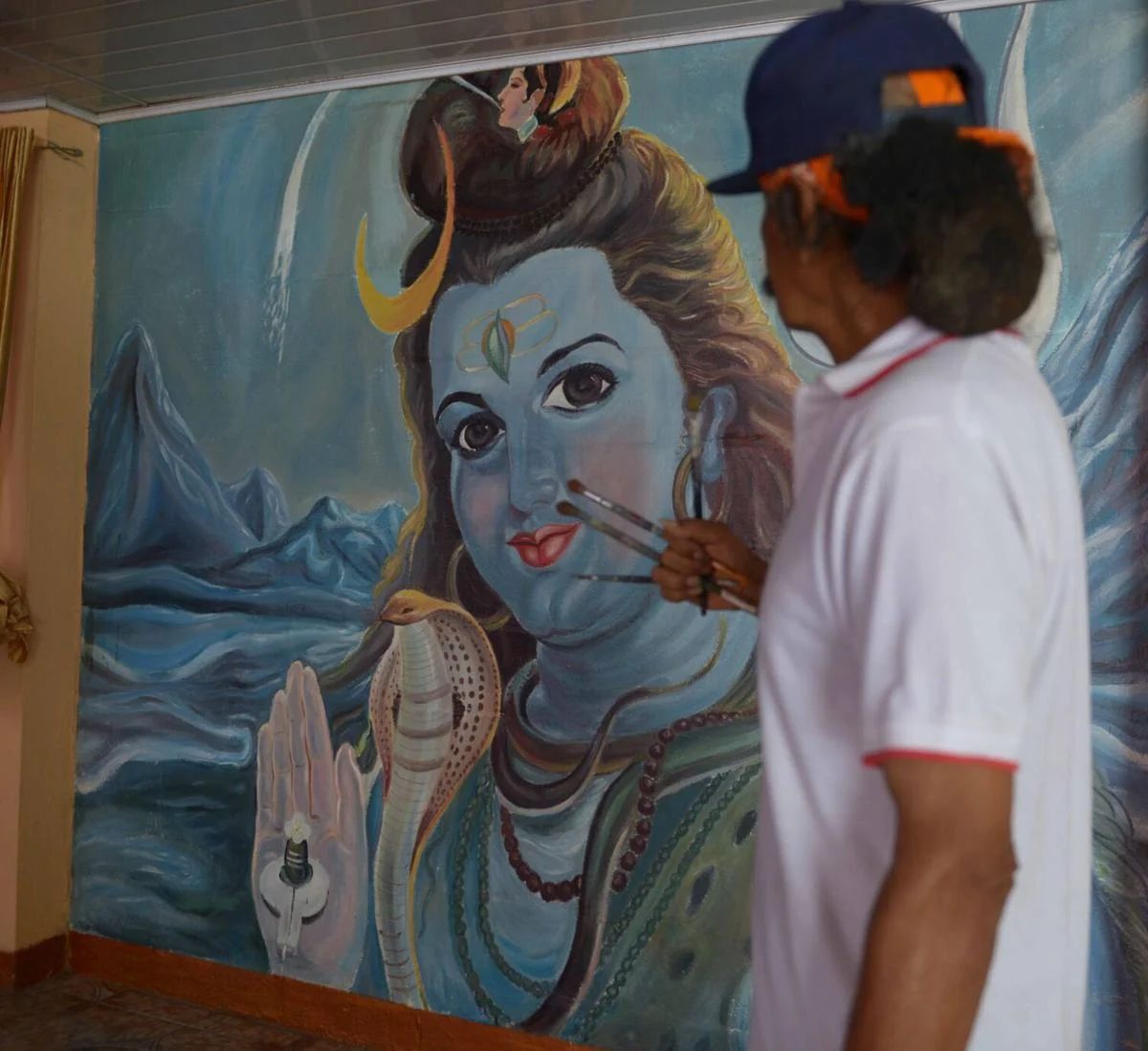 He improved those skills over the years, and into secondary school, but never once turning to an art teacher or a tutorial. It was all self-taught.
And Cyril followed no other occupation, taking commissions at the village and town shops and bars across the south of the island, to paint lettered signs and products on buildings and wall, while walking about offering to sketch a stranger's likeness for a fee.
As his unique technique improved, so did his reputation.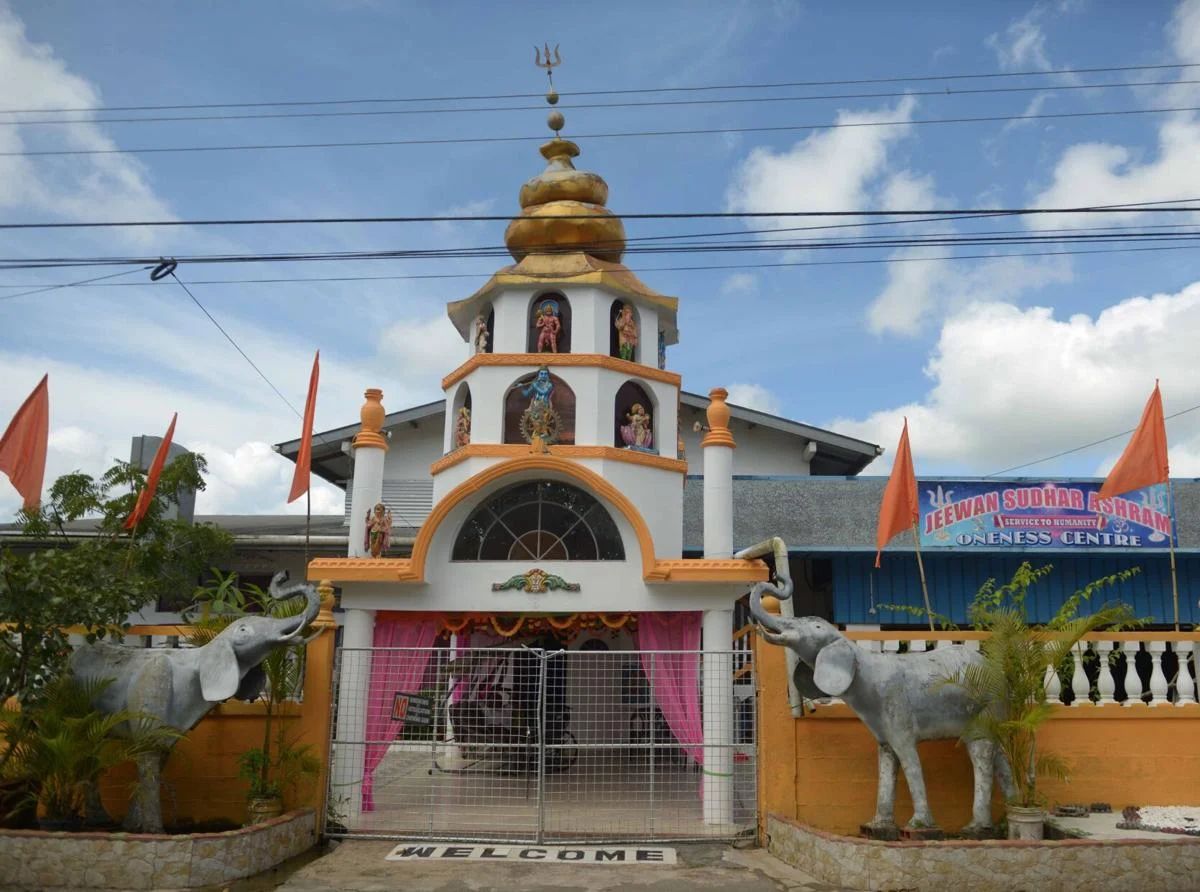 "I would always say to people, whatever you could think dream or imagine, I could paint that for you. Just tell me."
He tried explaining what his mind's eye saw when he pressed a brush against a wall, but could not.
We asked him about companionship.
The art, he said, was all he ever needed.
"It possessed my mind. I found mental pleasure in it. It has been my happiness."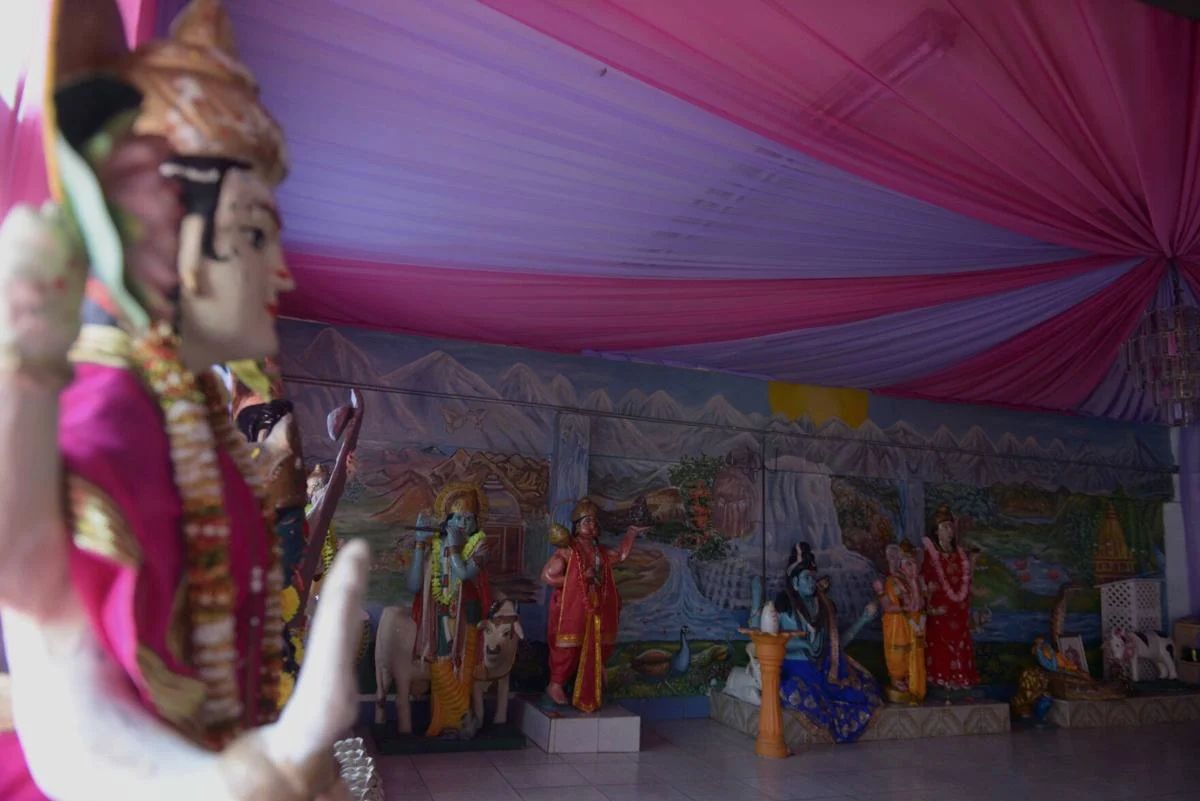 He never interacted with other artists, since their critique was also unimportant. Once the people were please, he had done his work, he said.
He also never delved into graphic art, or printing. Every single creation came from a brush stroke, and every piece was an original, never to be duplicated.
And of all the work he had done, Cyril said it was the scene from his childhood mind, and painted on the walls of the Happy Hours kindergarten school many years ago.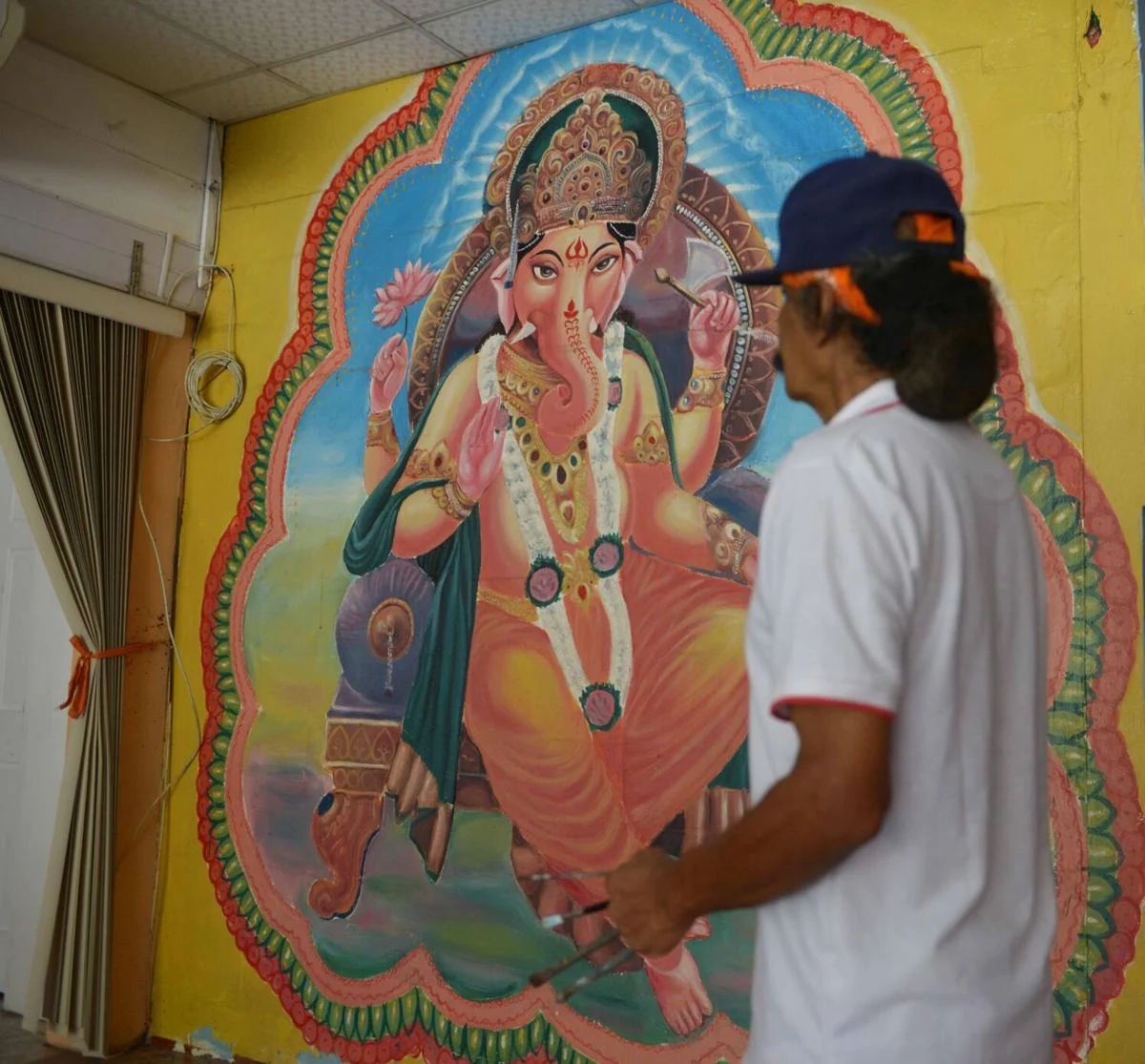 "Adults are cruel, and the world they have created for them to live in, is filled with pain and suffering. But what about the children? How do they see the world? So I asked myself, when I was small, what inspired me? Beautiful things. So this is what I painted, an enchanted scenery, so the children could have this when they came to school in the morning. Whatever they endured at home or in the classroom, this was something to make them happy."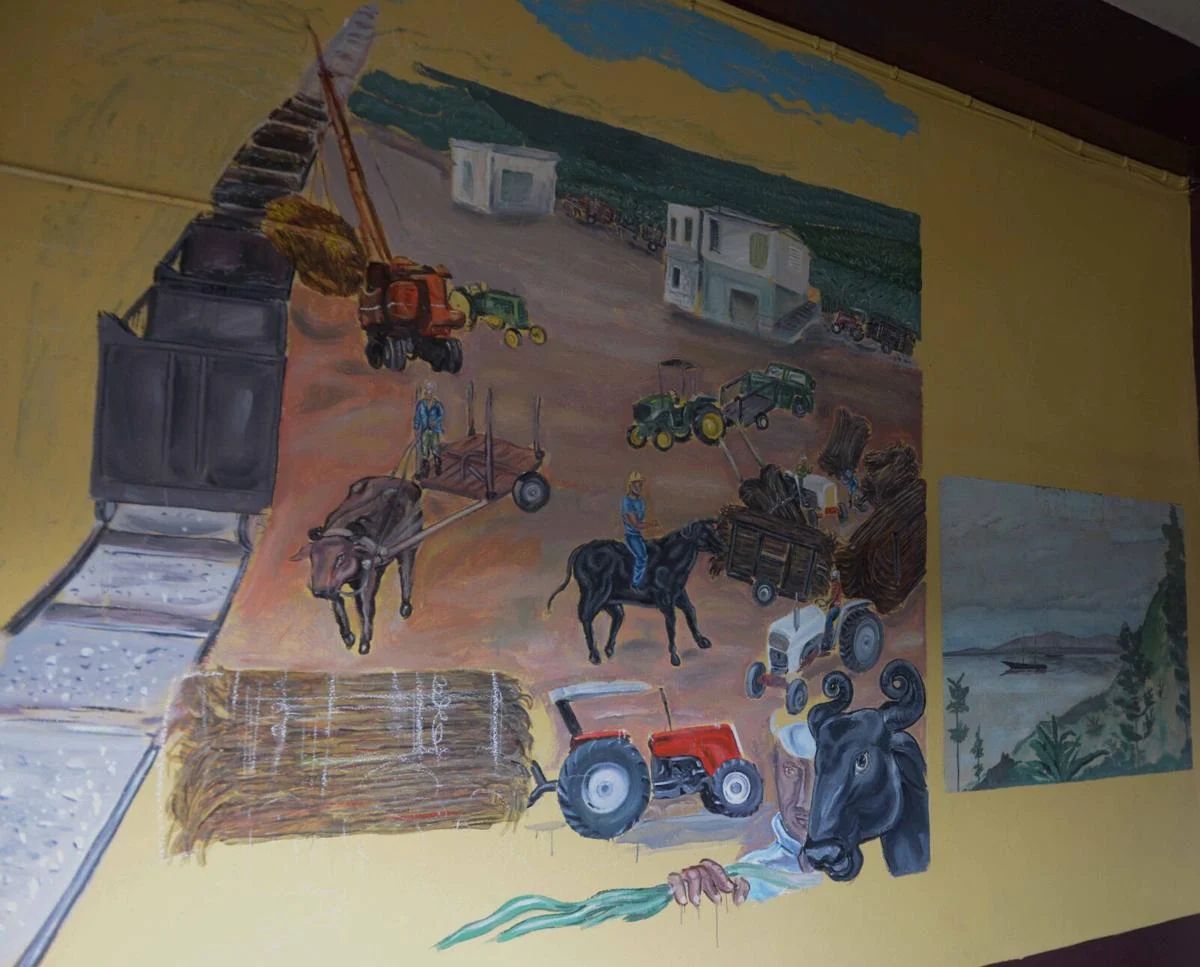 Cyril also was proud of the mural he was working on at VP Gooljar's shop.
It was meant to pay homage to the people of this often ridiculed part of Trinidad, he said.
"I drew it all from memory. We often watch Westerns (movies) and admire what those men did. The thinking behind (the painting) was wanting to show the pioneering spirit of the men from this area, who worked hard, and suffered all manner of trials and tribulations, to make a life, to send their children to college, children who also worked hard, and came back to build big houses and make good lives."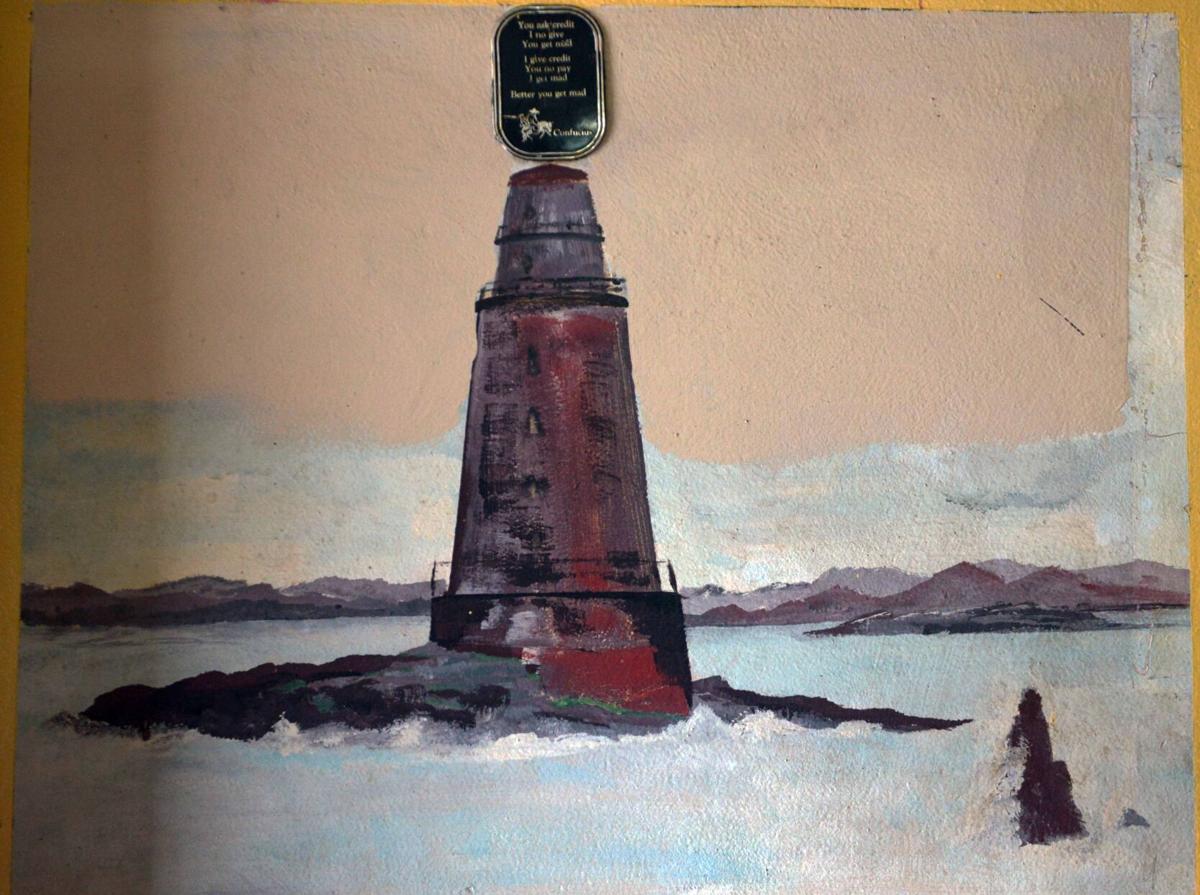 Cyril's work at the temple, is not yet complete.
When it is, he plans to get on that bicycle, ride back to VP Gooljar's shop, and finish what he started.
---
Written by Richard Charan / @trinidadexpress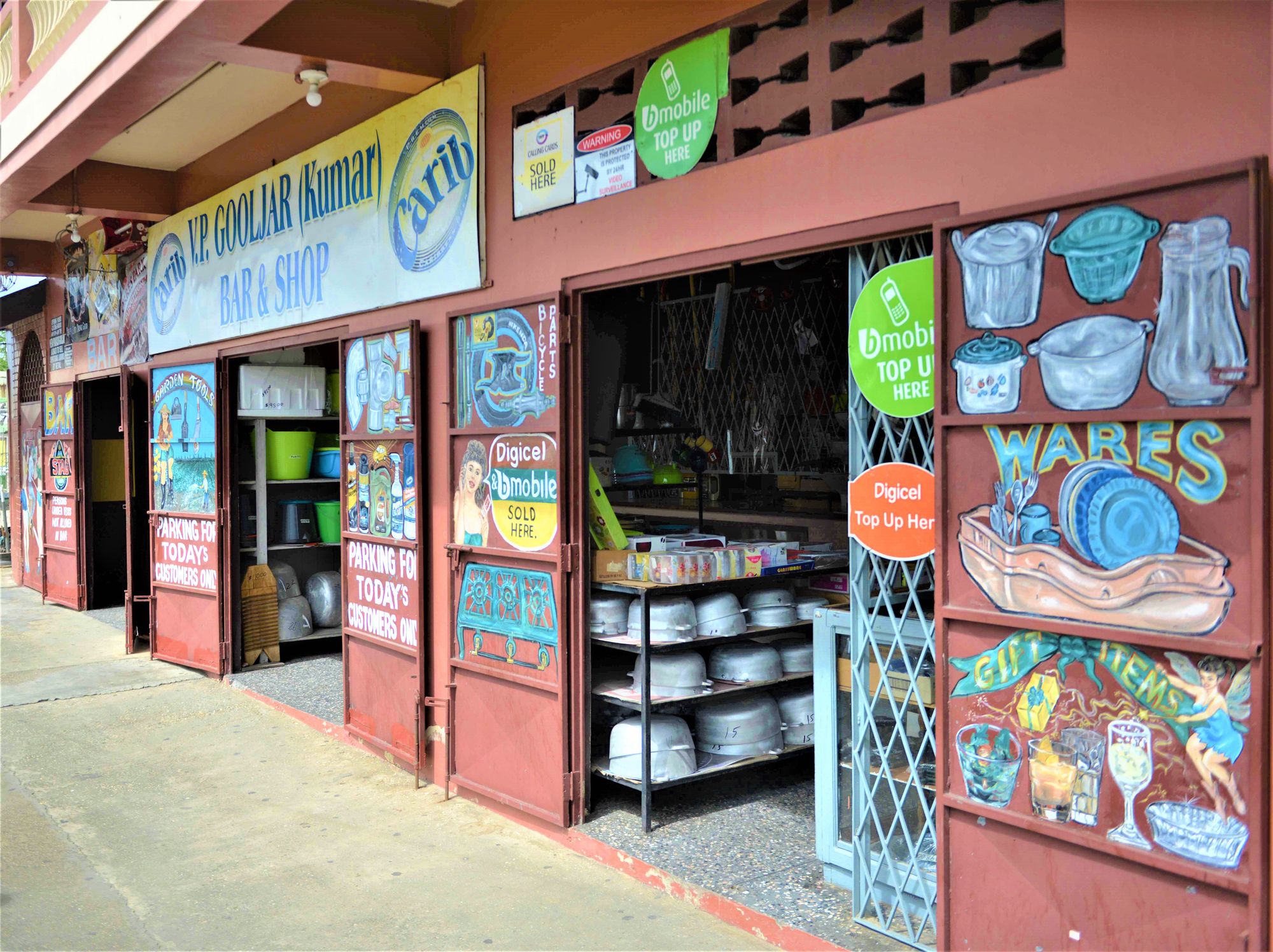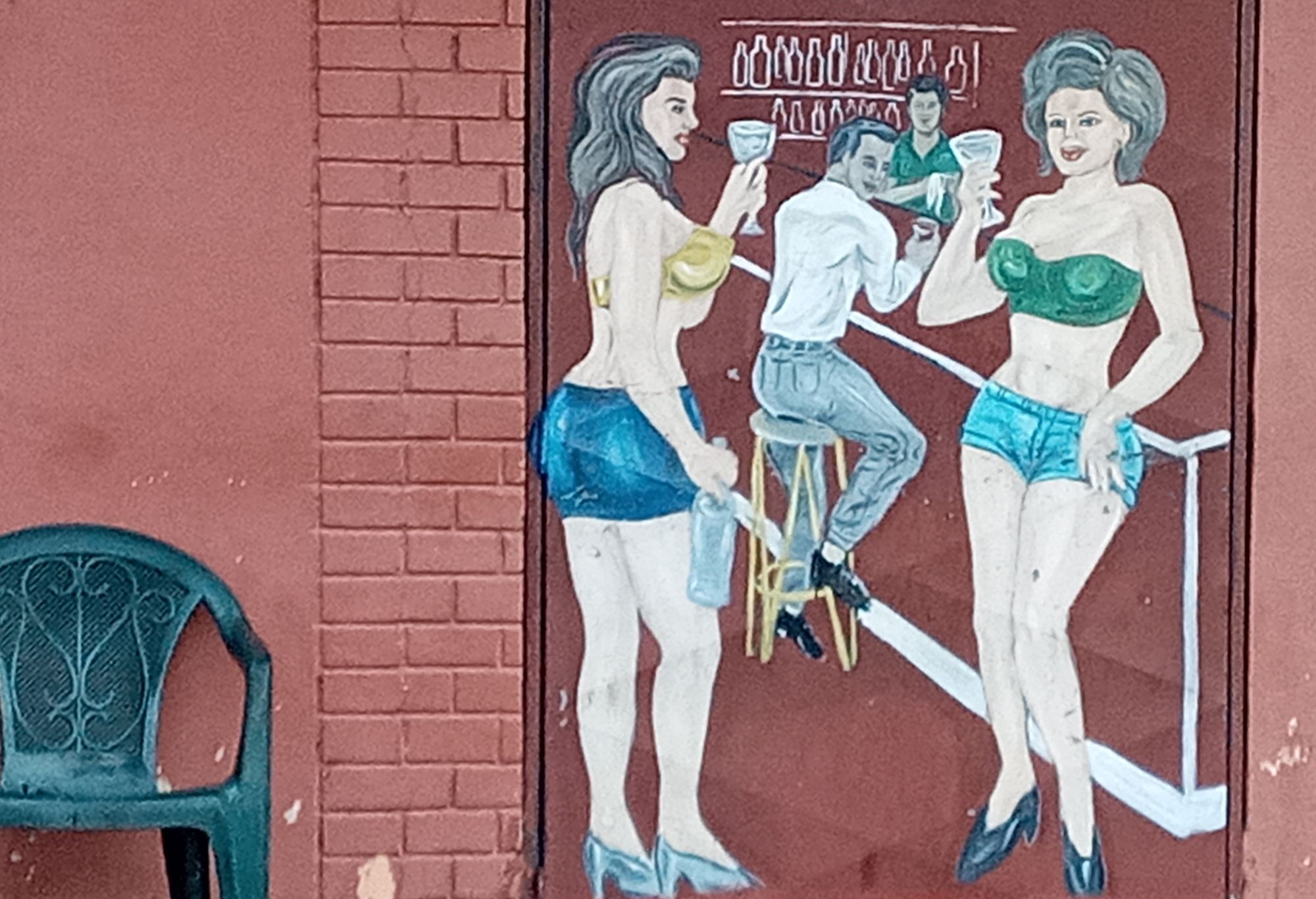 More People