Craft & Creativity: The Making of Ludlow and Blunt
David A. Smith and Danny Cooke on 'The Making of Ludlow and Blunt', an incredible artwork and film.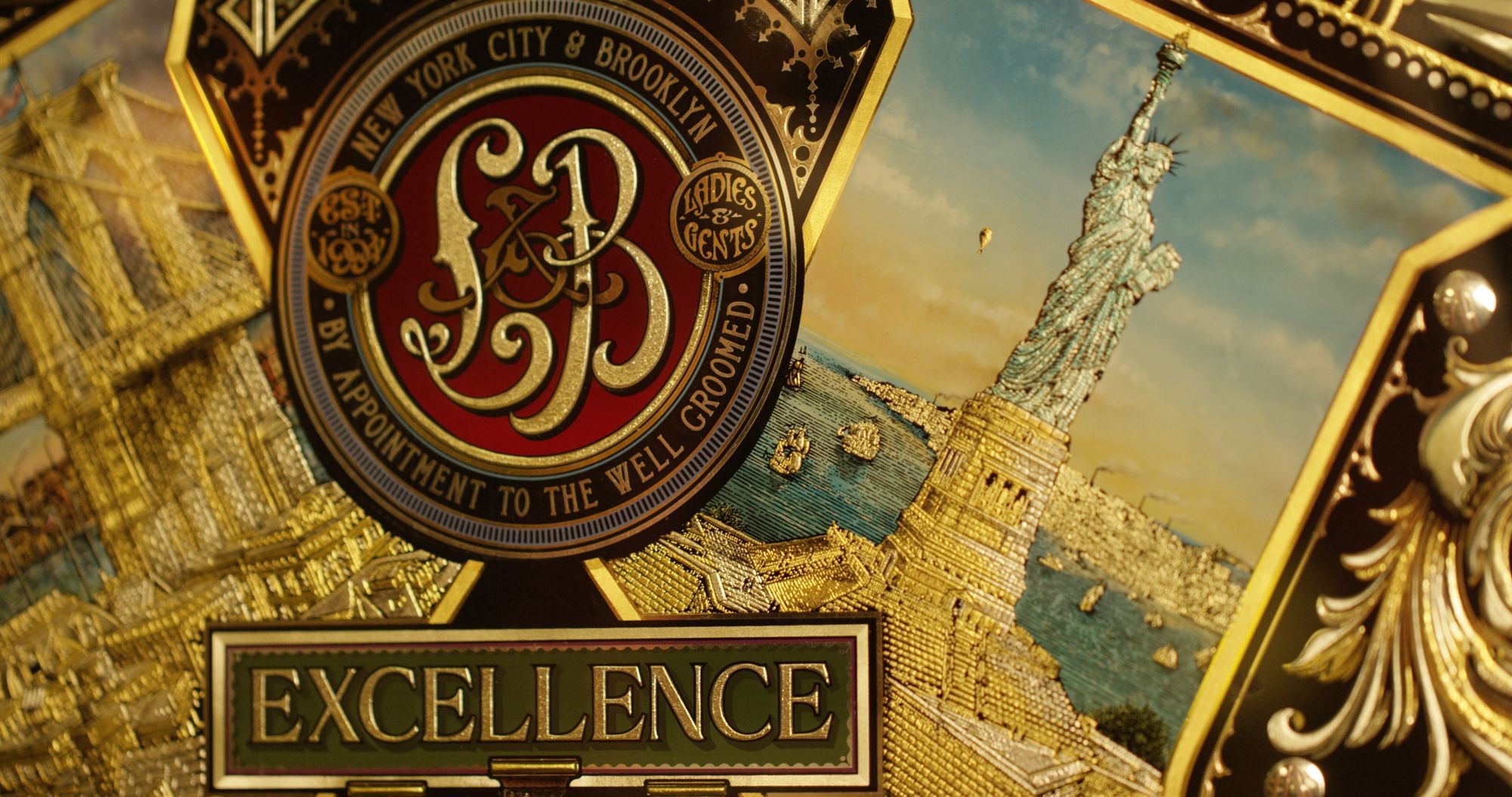 There can't be many sign painting commissions that take five years to complete, but that's exactly what happened with David A. Smith's recent work for New York barbers Ludlow and Blunt. The result is an elaborate piece of reverse glass work set between two mirrors in a bespoke carved frame—it will no doubt be a frequent conversation starter with customers sitting down for a beard trim or single grade buzz.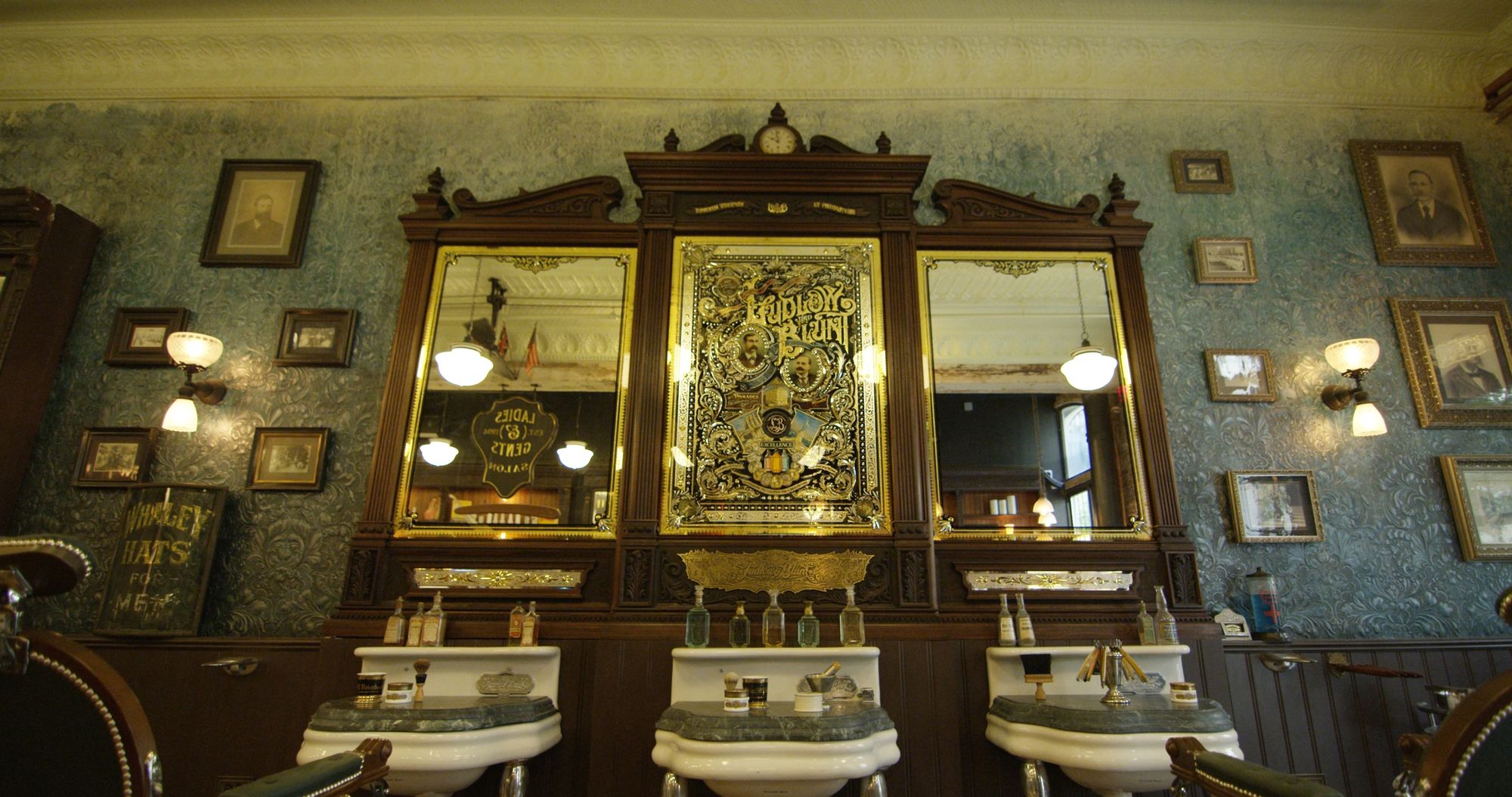 The conversation about the work itself began back in 2014 when David and Russell Manley at Ludlow and Blunt started talking about a piece for his salon. It is now installed, and the entire process has been captured on film by David's long-time collaborator Danny Cooke. (Previously the pair have produced The Making of John Mayer's 'Born & Raised' Artwork and David A. Smith - Sign Artist.)
The finished film, David A. Smith - The Making of Ludlow and Blunt, is below, and I caught up with David and Danny to find out more about the project and the film. Following the video are some highlights from this conversation.
Time and Technique
David used an immense array of techniques to create the piece, and found that for some of these it was "a learning curve" despite his many years' experience.
These techniques included: sign painting; gilding (oil and water, verre églomisé, and blending); screen printing; acid etching (two tone, and deep); glue chipping; brilliant cutting; deep sandblasting; kiln firing; abalone inlays; waterslide transfer application; airbrushing; cross hatching; oil painting; pen and ink drawing; portraiture; and pointillism. In addition, external craftspeople were brought in to add wood carving and brass engraving.
David lost count of how much time he spent on the piece, but over the five years he estimates something in excess of 4,000 hours. That's 500 8-hour days. This was all done "between other projects and teaching students gold leaf workshops"—quite the side hustle! Some of the time was spent planning and then, towards the end, obsessing over the details:
"I had the effects and processes worked out in my mind. There was an order for everything that needed to be made... By the end, it felt like surgery, trying to add every bit of detail into every square inch."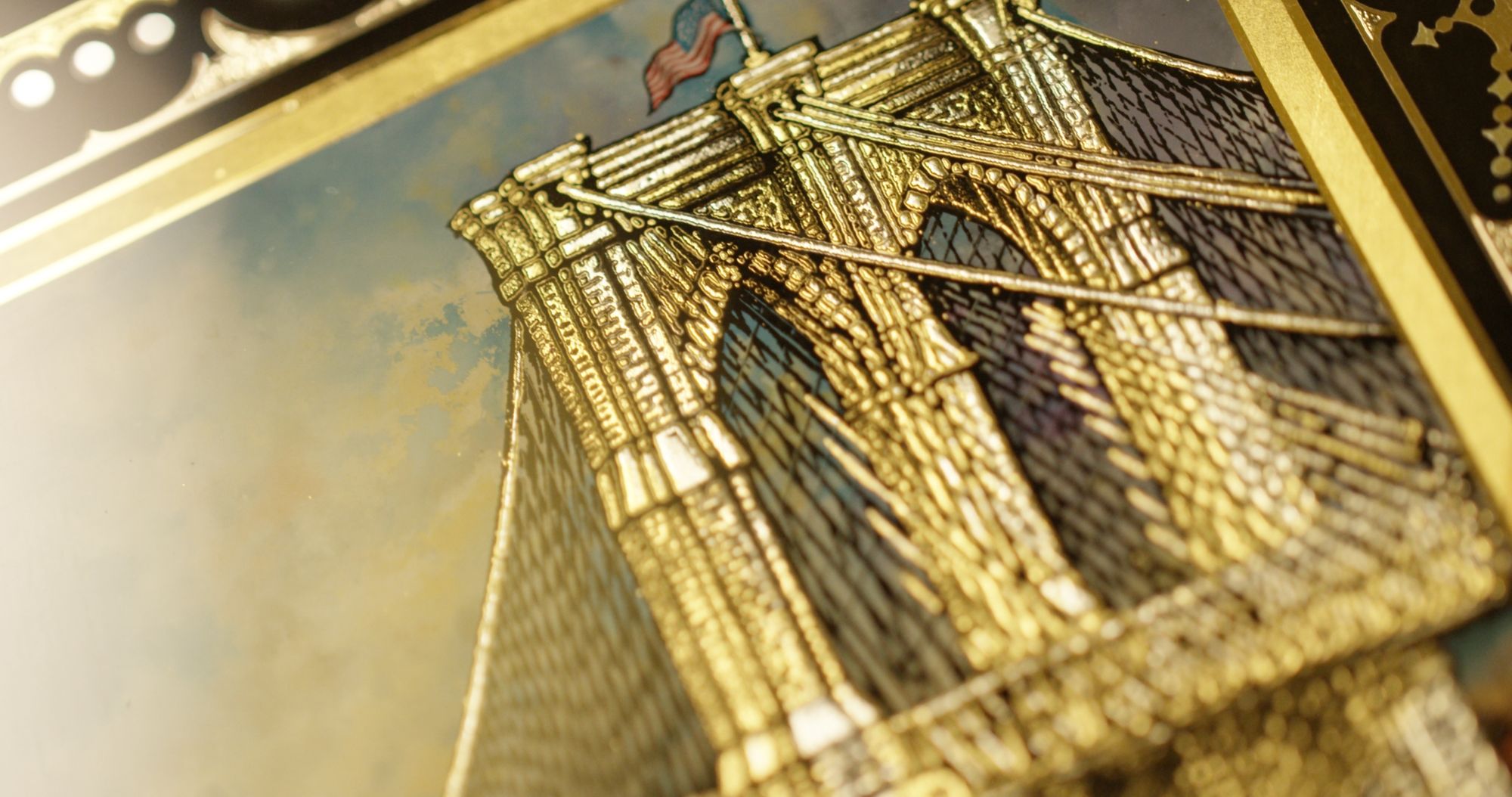 The piece itself is a completely original artwork, loaded with the iconography of New York, including landmarks such as the Statue of Liberty and Brooklyn Bridge.
"The initial design was created from a thumbnail sketch from my mind. I then moved on to drawing in a tighter more rigid layout, and making it more pleasing on the eye. The design always needs to flow, but it's crucial that it must also read well."
The building that houses Ludlow and Blunt also features, alongside their history and that of the trade itself. There are countless details, each sucking the viewer in to see more.
Capturing the Quality
Early on in the project, David decided that he wanted a film made to capture the creation of this unique artwork. He brought in Danny Cooke and, like the work being captured, the film took planning, time and patience:
"We had a rough idea of where the film wanted to go from the very beginning: the pace, the feeling, and the shooting style. The only thing that wasn't really nailed down was the length." — Danny Cooke
Ultimately the length emerged as the final footage was edited together. There was an emphasis on the quality of the shots, to reflect the artwork itself, and the duration of the project made this particularly difficult, as Danny describes:
"The biggest challenge was keeping a consistent quality over such a long period of time [five years] filming. I wanted the beginning stages of filming to match the end stages. Every part of the piece is unique and, to show this effectively, light played a huge consideration in setting the scenes."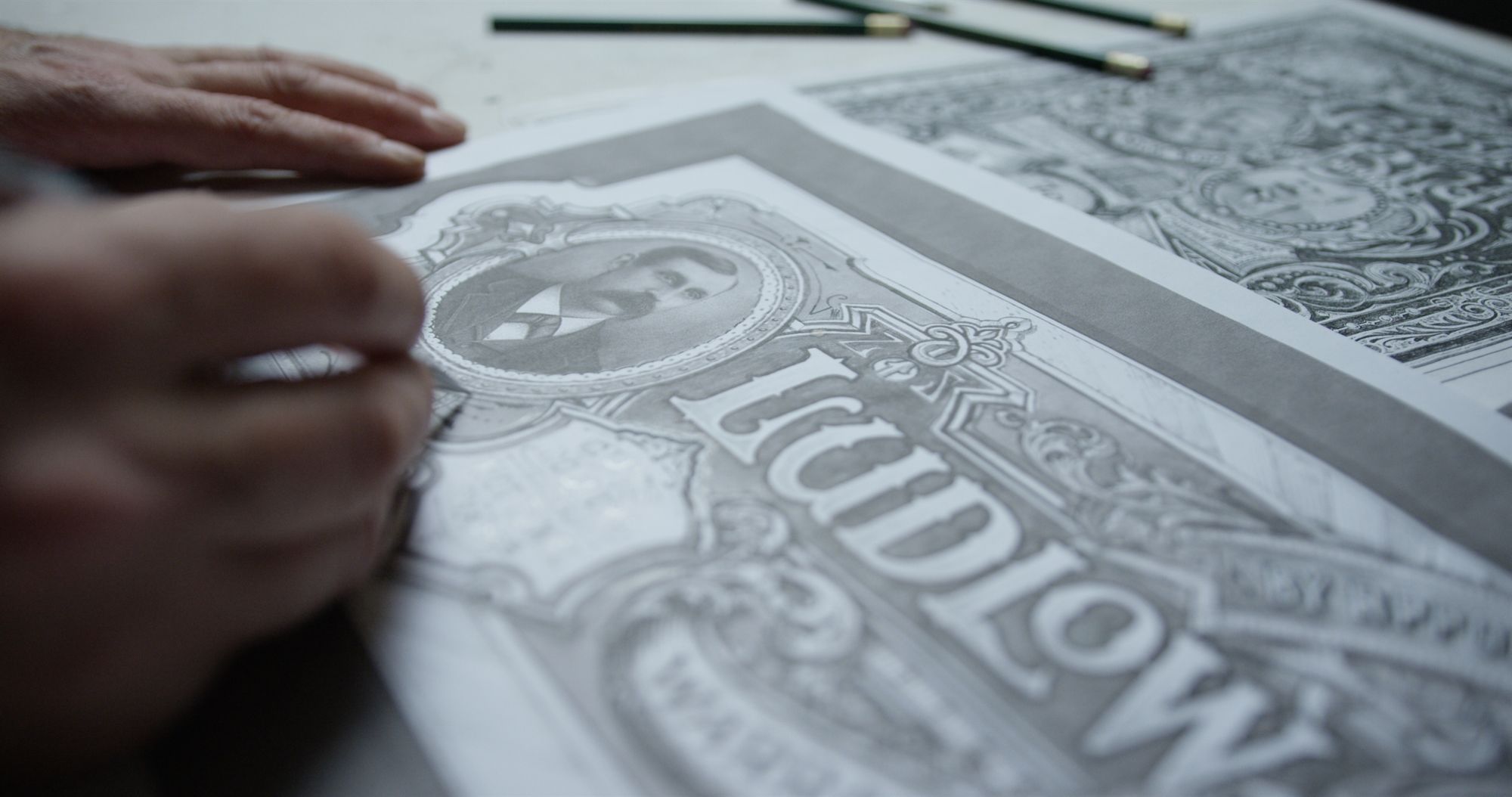 To produce the film, there were 28 visits to David's studio alone, with trips to France and New York on top of these. Danny recalls the fear of being so close to such fragile work:
"It was a scary experience working in David's workshop. It always is, having heavy equipment so close to the artwork can be frightening; one wrong move and we might end up with some smashed work! Also, when filming glass I'm always worried about reflections!"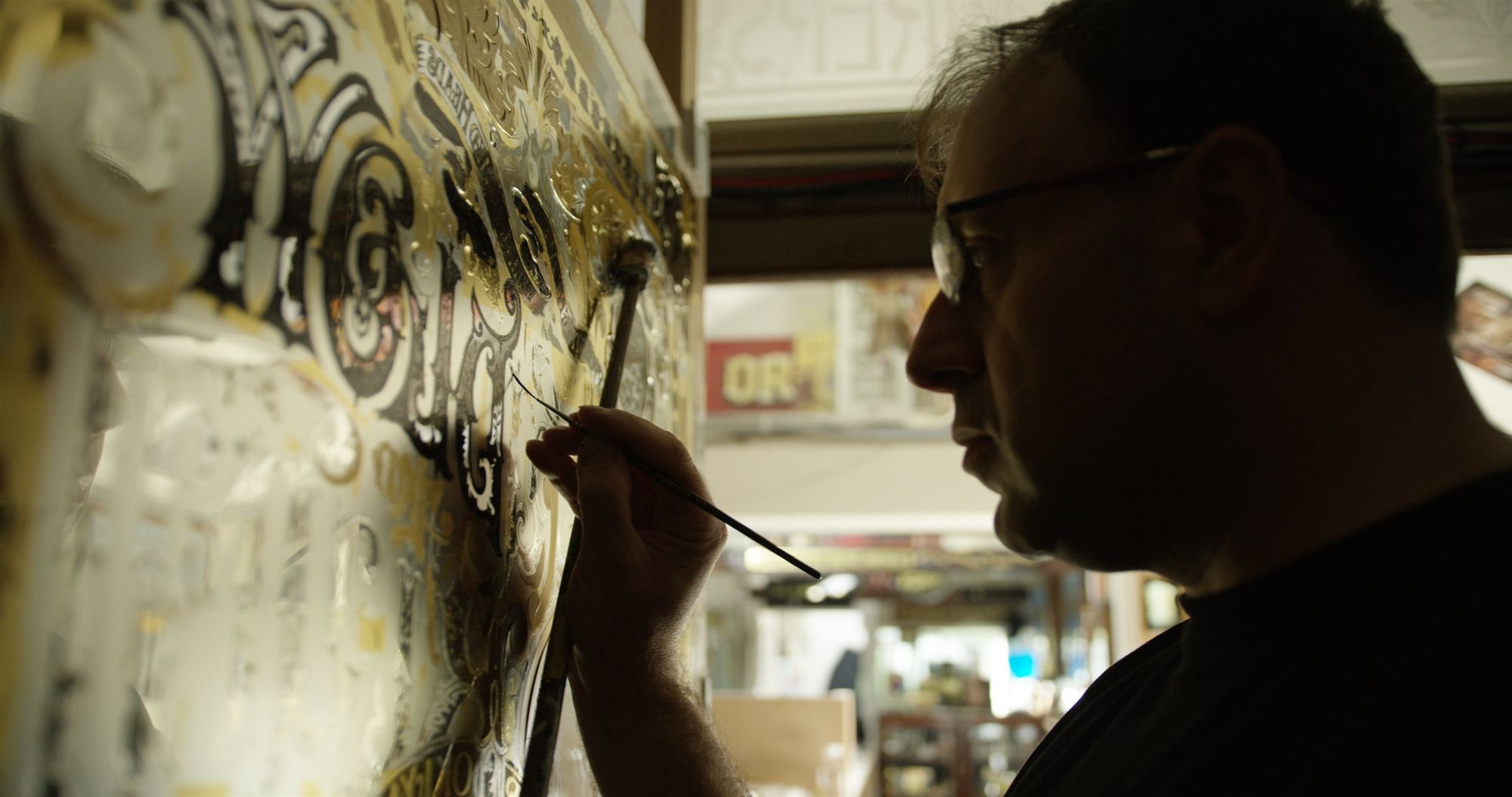 When the first rough cut was made, they began to script David's narration, which was then brought together with the sound design. One of the outstanding finishing touches is then the incredible set of custom credits, once again stopping at nothing to deliver a film to match the quality of David's work.
Credits
Film by Danny Cooke / @dannycooke
Artwork by David Smith / @davesmithartist
Wood frame by Arron Dart / @arron_dart
Engraved plaque by Rick Simmons / @bespoke_engraver
Special Thanks
Gold Leaf Supplies / @goldleafsupply
Wehrung Billmeier (W&B) Gold Leaf / @wbgoldleaf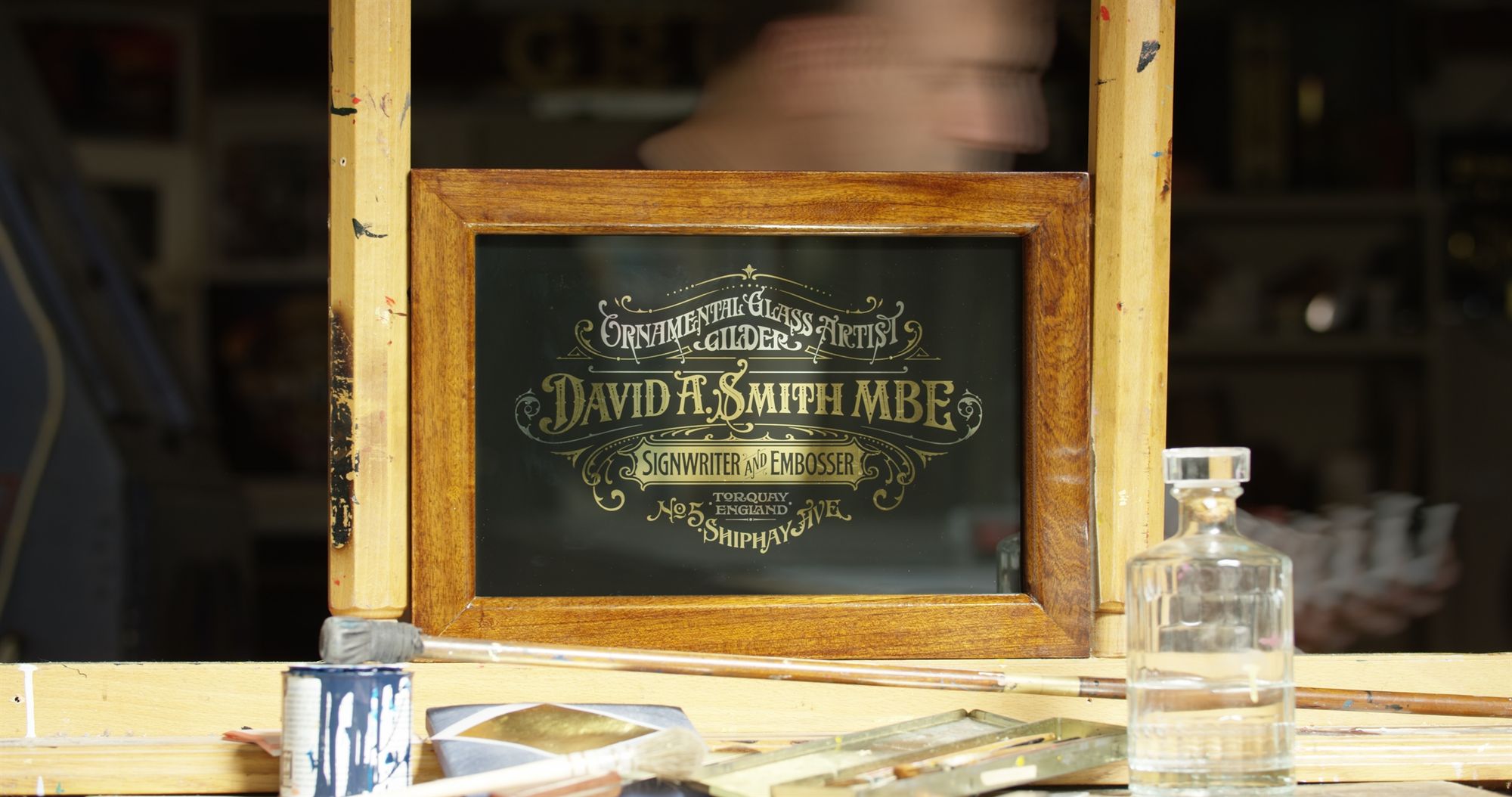 Thank you to David A. Smith and Danny Cooke for taking the time to share their reflections on this astonishing project. Now let's go back and watch the film again!
---
More Sign Painting & Lettering Films