Signwriting & Type's Enduring Relationship
Type Tasting's Sarah Hyndman on the recurring role of signwriting in the development of typefaces.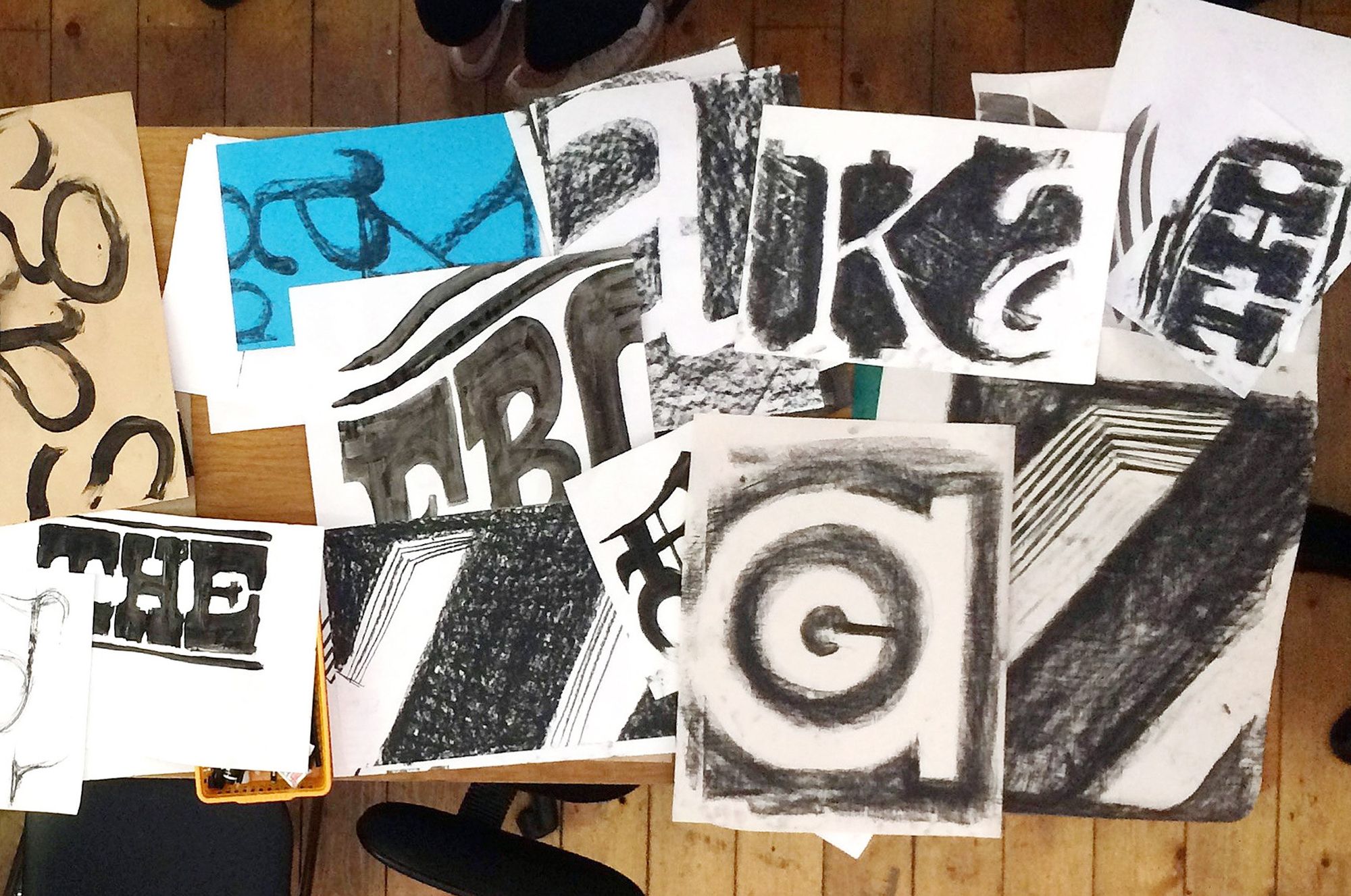 Ahead of our new workshop collaboration with Sarah Hyndman at Type Tasting, we invited her to share some of the research that will underpin this one-day participatory session. 'From Brush Strokes to Typography' is Sarah's examination of the enduring relationship between the signwriter's brush and type design...
Take a closer look at typefaces in context of history and you'll discover that the signwriters' brush has profoundly influenced the development of typefaces in Europe and North America. Typography and signwriting have developed in parallel, yet they are taught in different ways; typography is typically learned through academic study at university, whereas signwriting, where it is learned in formal settings, is passed on through vocational courses and apprenticeships.
Here are some of the connections that we'll explore together in the workshop through a series of hands-on activities.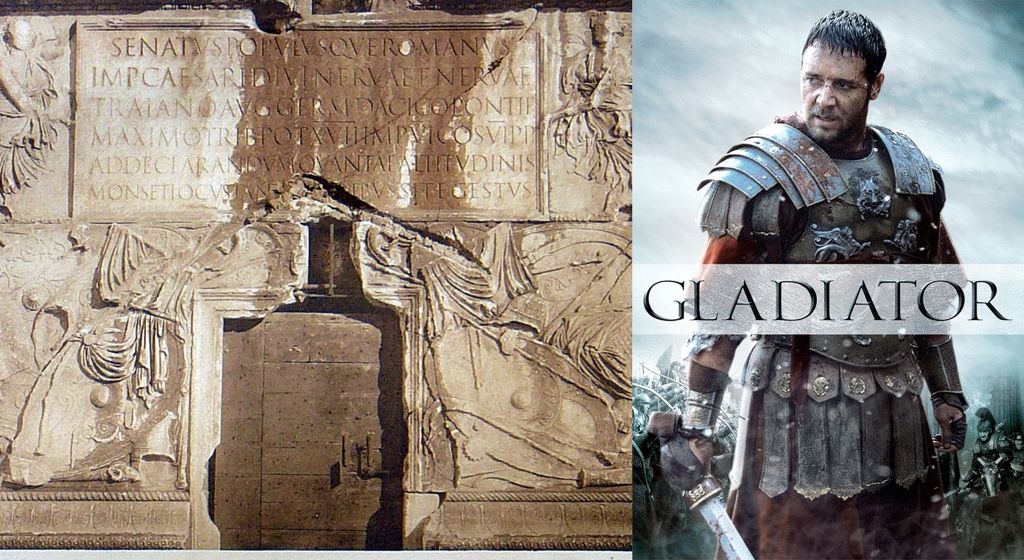 Serifs were invented by Roman sign writers
For a long time it was thought that serifs were shaped by the chisels used by stone cutters in ancient Rome, as seen in the square capitals used on Trajan's column.
However, priest and calligrapher Edward M. Catich presented compelling evidence to prove that the shapes of these letters, in fact, came from Roman signwriters using flat brushes. The stone carvers then followed these shapes when they cut the letters into the stone, preserving them long after the paint had been weathered off.
This means that serifs were created by Roman signwriters over 2,000 years ago, and were then adopted by humanist printers in the 15th century. The ubiquitous 'movie font' Trajan (as seen on movie posters from Gladiator to Titanic) uses letter forms based on the inscription on Trajan's column. It was designed in 1989 by Carol Twombly who worked from the research of Edward Catich.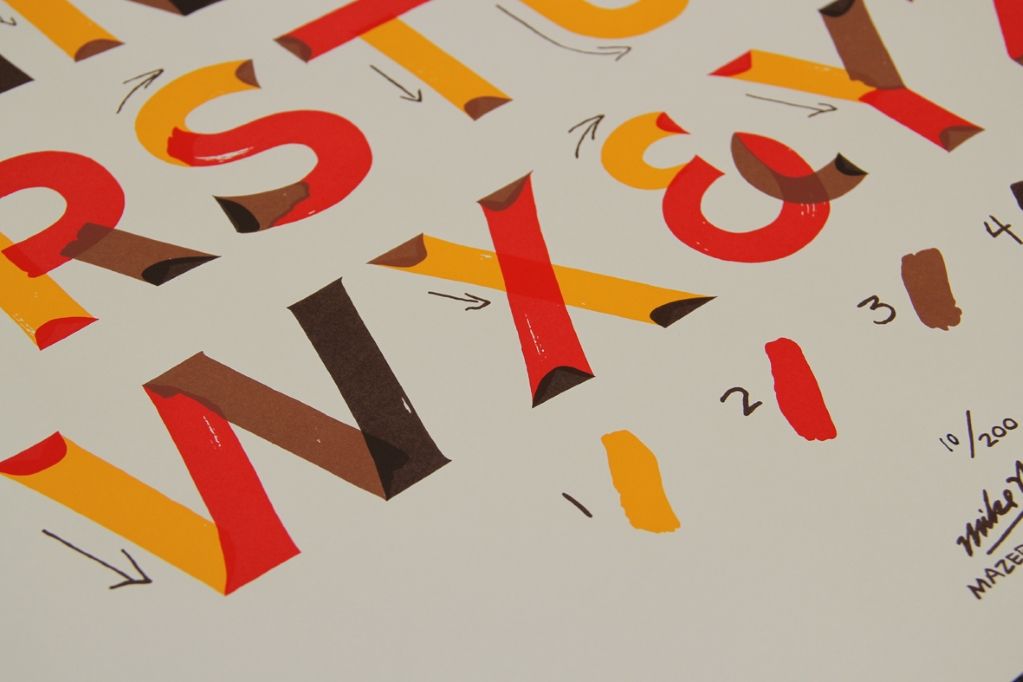 The geometric sans serifs loved by tech companies come from the 1700s
Geometric, monoline sans serif lettering appeared in Britain towards the end of the 1700s. One of the earliest examples is a drawing of inscriptional letters from 1779 made by John Soane when he was in Rome according to James Mosley, former librarian of the St Bride Printing Library. These were soon taken up by signwriters and could be seen adorning buildings throughout Britain by the end of the 1700s.
It took over three decades before printers started to offer this style to customers, when it first appeared in a Caslon specimen catalogue in 1816 and was called '2-line Egyptian'. Mosley suggests that the lettering from the 1700s was the origin of all sans serifs of the 19th and 20th centuries "from the Caslon 'Egyptian' of (about) 1816 to Futura, Univers and their descendents". These were soon taken up by signwriters and could be seen adorning buildings throughout Britain by the end of the 1700s.
However, these new sans serif typefaces were considered too ugly for early 19th century tastes. In his book The Visual History of Type, Paul McNeil suggests that they were given the name 'grotesque' as a disparaging term, and it would be almost a century before they appeared in regular use.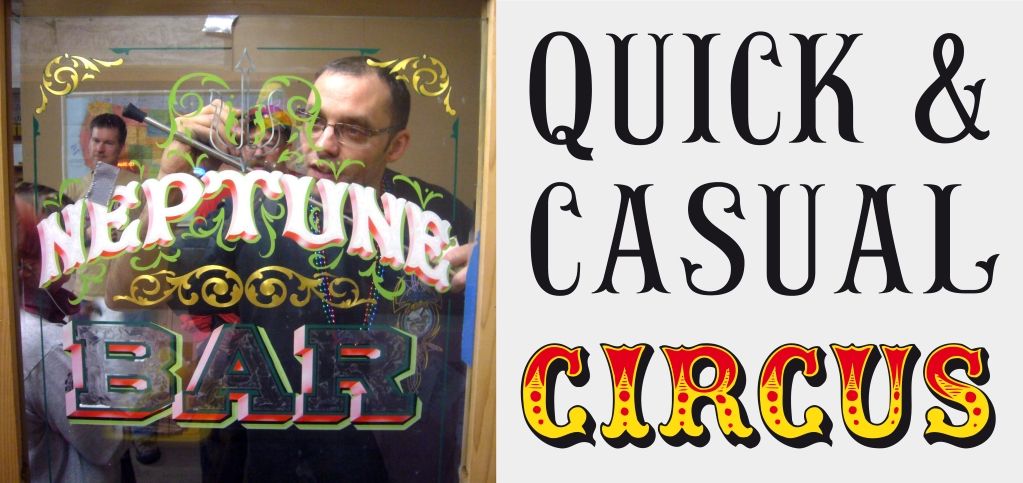 Ornate 'circus' type styles began as quick lettering
The highly ornamental lettering replete with loops curls and hooks that we associate with the Victorian carnivals and circuses first became popular as a quick and easy signwriting style in Britain. It was the 'fast food' of the signage world in the 1800s.
Sign writer Ash Bishop of the Brilliant Sign Company (shown at work) explains that it's much quicker to end each stroke with an artistic twirl of the brush; compared to the time it takes to form a neat and perfect corner. In the bustling Victorian era a busy signwriter needed to work as efficiently as possible, and as a result this style became commonplace on high streets throughout Britain.
It was quickly adopted as an ornamental style as it fitted with the tastes of the day — the Victorians considered extreme ornamentation to be simply "good manners". Type foundries followed the signwriters by offering Tuscan style typefaces in their catalogues, and these soon spread to North America where wood type printers like Hamilton Wood Type embraced them.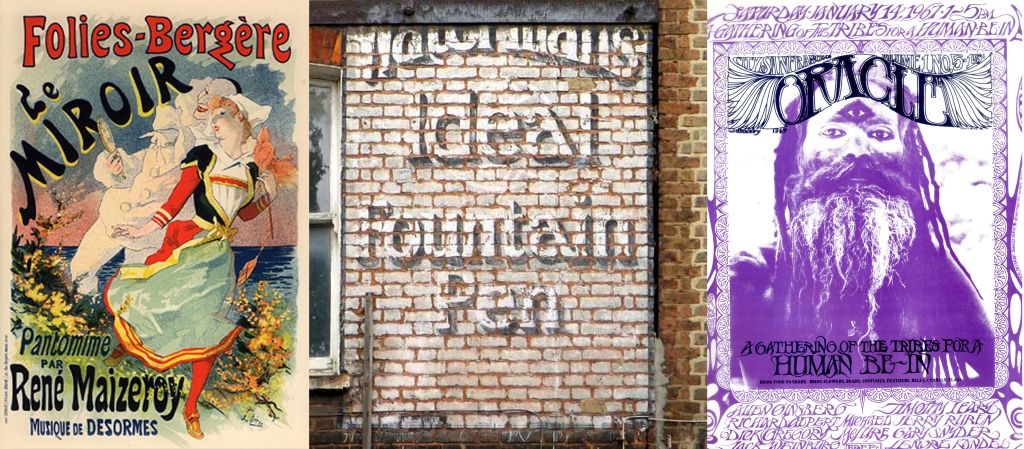 The letter styles linking Art Nouveau to Psychedelia
Youth-inspired social upheavals throughout Europe from the early 1890s resulted in a style of lettering Steven Heller and A. M. Cassandre describe in Eye as "curvilinear alphabets with eccentric calligraphic conceits". At this time, printing had become a commercial industry, and many designers turned to handcraft skills in a reaction against the commercialisation. Their Art Nouveau letterforms flowed straight from the brush.
The influence of the flowing lines and nature-inspired shapes of the Art Nouveau movement soon became mainstream. They can still be seen today on the signage of the Paris Metro, and in the painterly feel of letters like the 'e' and the 'a' of 'Ideal' to be seen in this North London ghost sign.
Attitudes quickly changed after World War I when designers started to look to the future and rejected these ornamental reminders of the past.
However, counterculture movements repeat and they trigger dramatic cultural changes. These amorphous Art Nouveau lettering shapes reappeared in the 1960s when they were embraced by Californian artists who used them on psychedelic posters and album covers to represent the music, sex and drugs lifestyle of the hippy movement.
Sarah Hyndman is available for a variety of educational and inspirational experiences via her
Type Tasting
initiative. Her latest research is published regularly via
her Patreon
.