Panels, Paints and Pints at Barcelona Letterheads
Barcelona Letterheads was a first meet in Spain for sign painters, calligraphers and lettering artists.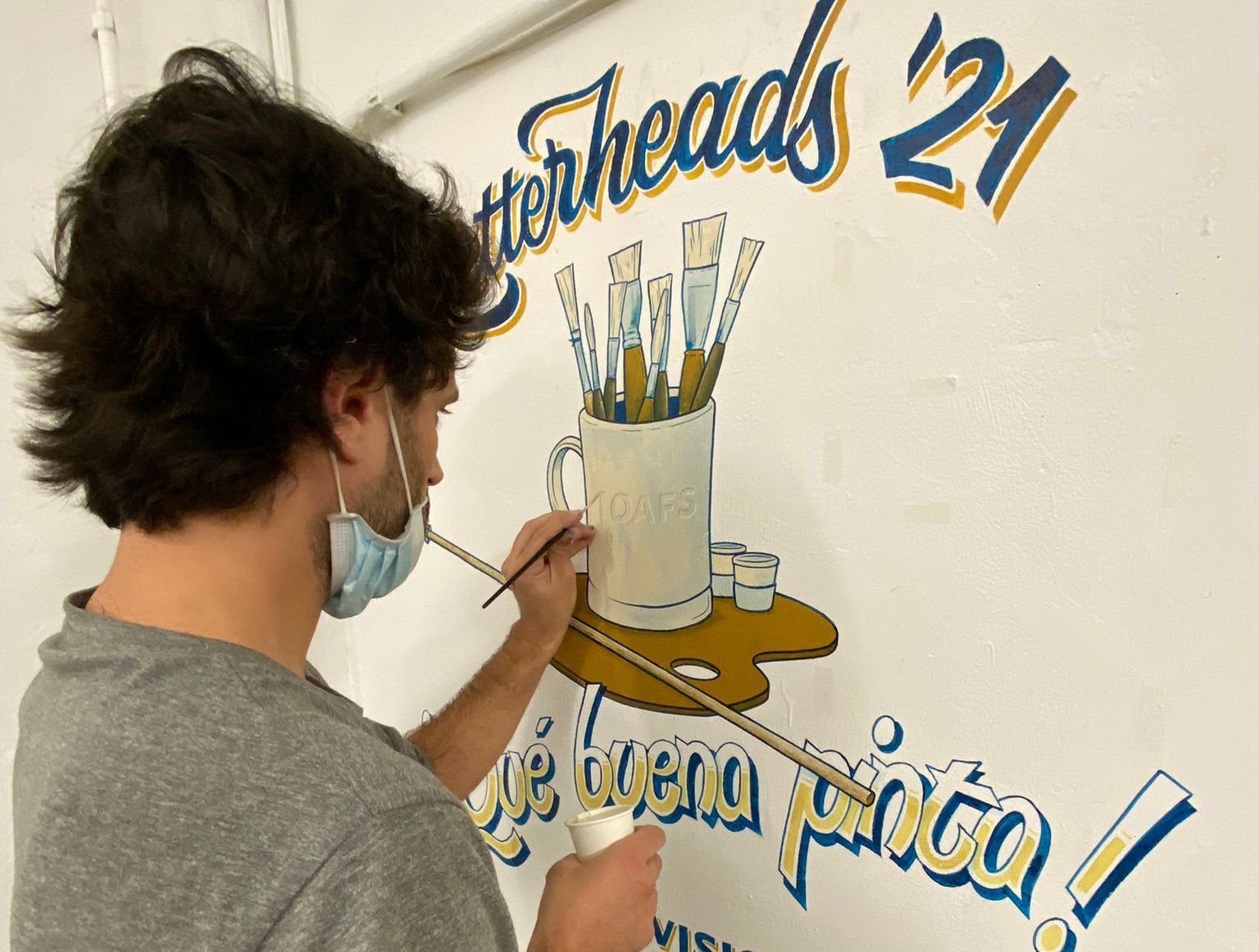 Spain's first international Letterheads took place in Barcelona at the end of November, with 30 participants gathering in Gràcia for the weekend. Most of these were newbies with the more experienced hands offering guidance throughout. In addition to a couple of more formal workshops, there were plenty of impromptu demonstrations and sharing of techniques.
The event name ¡Qué Buena Pinta! has a double meaning in Spanish, 'what a good pint' and 'how good looking' so it worked on both these levels with everyone's souvenir glass getting filled and re-filled across the weekend. We also got the Spanish translation of I.O.A.F.S. sorted: E.S.U.J.R. — ¡Es Solo Un Jodido Rótulo!
The event was made possible via sponsorship from A.S. Handover and BCN Visions who hosted us. Thank you to Daniel and Patricia for helping to organise everything, Ivan and Oriol for your workshops, and every single person that came along and got involved.
Below is a gallery of pictures from the event, and more can be found via the #BarcelonaLetterheads hashtag on Instagram.
"Barcelona Letterheads was amazing. Lo mejor as they say in castellano." — Studio Miras

"Y esto es el resumen de un buen fin de semana! Hace tres semanas ya que celebramos el primer Barcelona Letterheads en BCN Visions . Un auténtico placer haber podido compartir letras, pinceles, colores, libros, cenas, cervezas… con gente tan increíble! Muy contento de volver a coincidir con viejos amigos y mucho más de seguir conociendo a los nuevos. ¡Espero que sea el primero de muchos!" — Jon Zabalegui
Translation: And this is the summary of a good weekend! Three weeks ago we celebrated the first Barcelona Letterheads at BCN Visions. It was a real pleasure to share letters, brushes, colours, books, dinners and beers… with such incredible people! I was very happy to meet old friends again and even more getting to know new ones. I hope it's the first of many!
Plans are afoot to make the event annual, moving to different locations in Spain each year.