Letters out on the Tiles in London
A chat with Hana Whaler and Jake Tyler about their work on Tactile and the Alphabetics Anonymous team.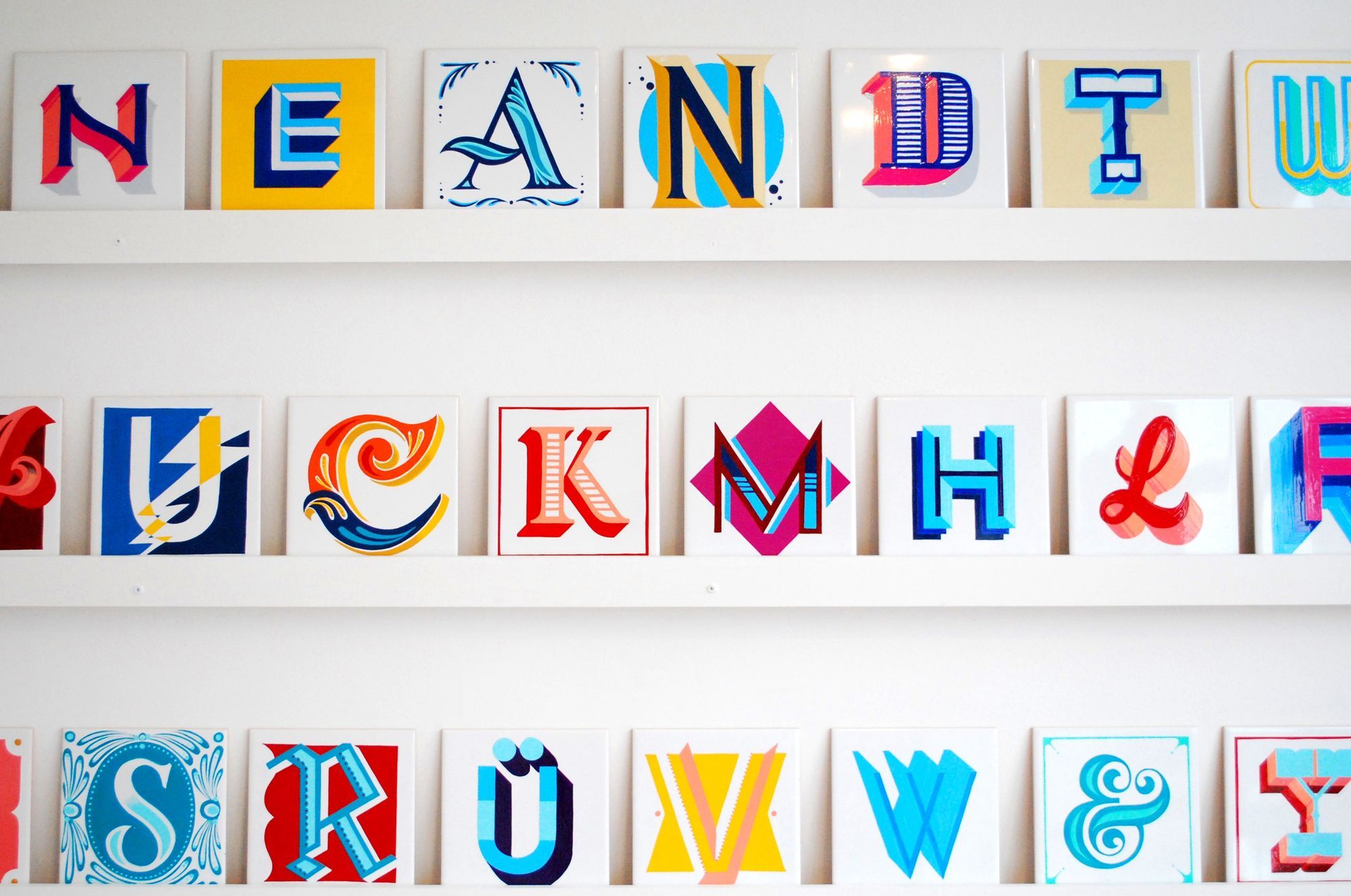 Now in its third year, Tactile is a creative collaboration between sign painters Hana Sunny Whaler and Jake Tyler. Ahead of this year's London show we caught up with them to find out more about how it got started, and what to expect from Tactile Mk.3.
Tell us a bit about yourselves and how you got into the sign game.
Hana Sunny Whaler (HSW) – "I come from a background in drawing, and discovered sign painting whilst studying illustration at Falmouth University. In my final year, the film Sign Painters came out colliding with a number of interests and inspirations I'd had for years within my work – cities, graffiti, Beautiful Losers (film), folk art, fairgrounds. Everything aligned nicely, including meeting Jake, and through a lot of hard work meeting supportive and passionate sign-people (and a dose of luck) I continue to surf the sign painting wave I leapt on in 2014."
Jake Tyler (JT) – "A lot of my fascination with letters and design came from graffiti and skateboarding, I remember I used to invent skateboard brands when I was a kid and having a lot of fun making up and drawing their logos and graphics. That I guess pushed me in the obvious direction of graphic design which I studied at University. That's where I met Hana and we quickly began to share a passion for lettering and sign painting. Things have progressed over the last four years since moving to London and I now work on a nice balance of design and sign painting projects from my studio in Deptford."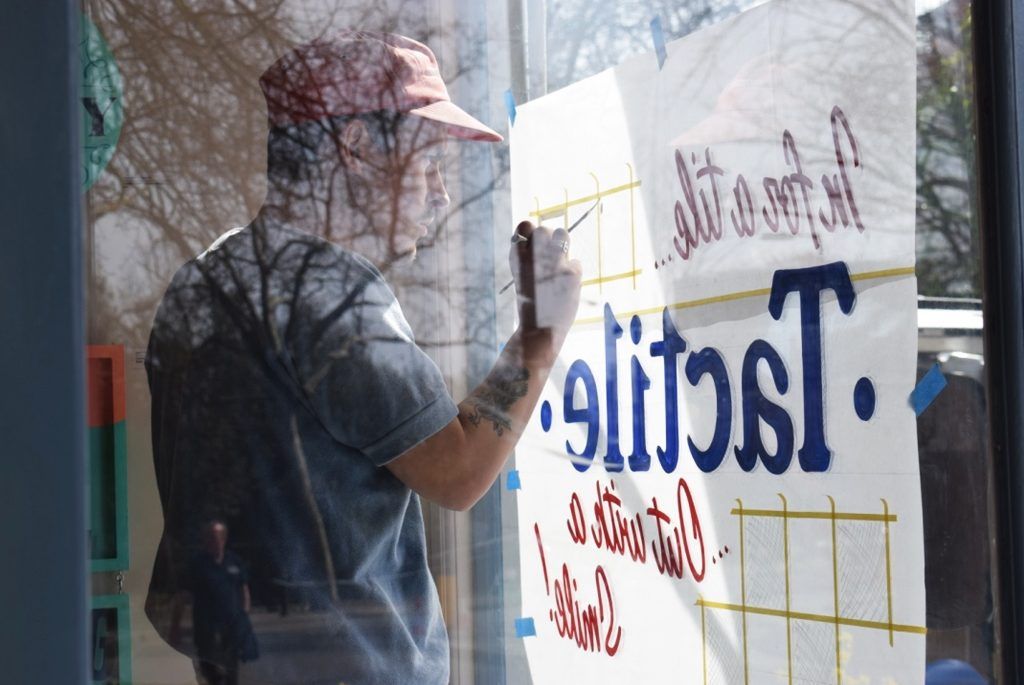 For those new to Tactile, can you give a brief insight into what it is, and how it originally came about?
HSW – "Tactile aims to bring together sign painters and lettering enthusiasts, raising the profile of sign painting to Joe public in an accessible and playful way for all involved. The format usually consists of a letter tile exhibition and open studio where we paint commissioned letter tiles that people can order on the spot. We then tack all kinds of stuff onto this, inviting our fellow sign mates to contribute and join in."
After collaborating with Jake on screening Sign Painters in Falmouth, we reconnected few years later in London. Around this time I managed to land my mate's event space in Hackney for free after I painted him a sign. We came up with the concept of letter tiles purely because he had stacks of leftover bathroom tiles from the renovation of the space – and so Tactile was born!"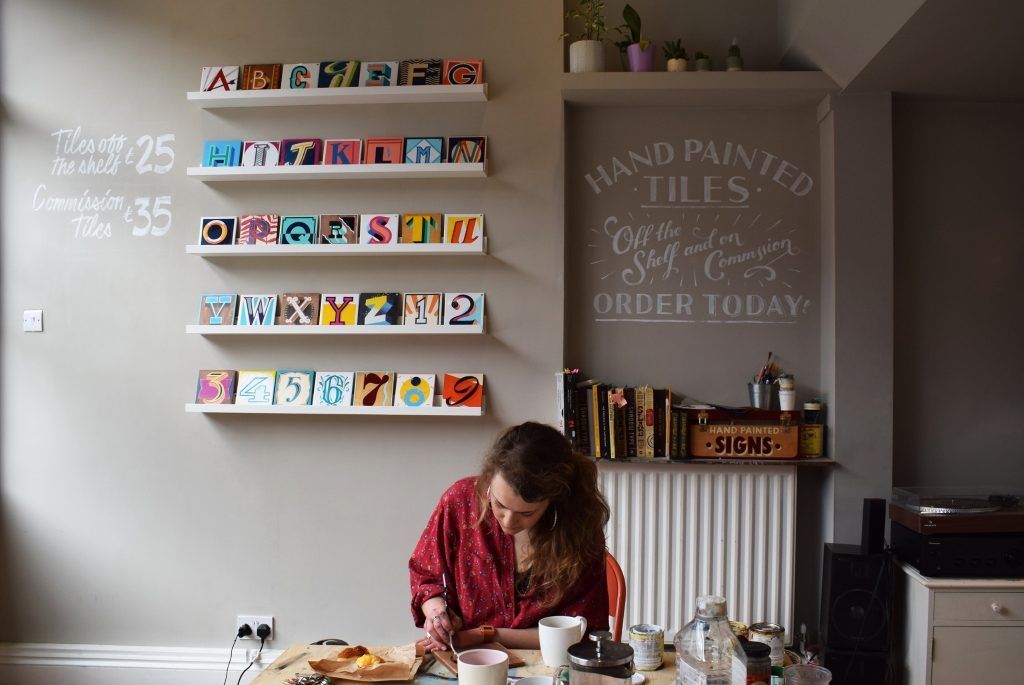 Having completed two previous Tactile events, what have you learned, and gained, from the experience?
JT – "Tactile has given us the opportunity to meet and work with local businesses across London and to hook up and collaborate with the community of sign painters we have been fortunate enough to become a part of over the last few years. As a result of the 2018 event at Blue Shop Cottage we were commissioned to paint a mural just down the road from the venue in East Dulwich that was a collaborative project between Alphabetics Anonymous and Blue Shop.
A highlight of that job was meeting a retired local sign painter from East Dulwich who had at one point painted over 30 shop fronts down Lordship Lane! He was very happy to see something hand-painted back on his high street."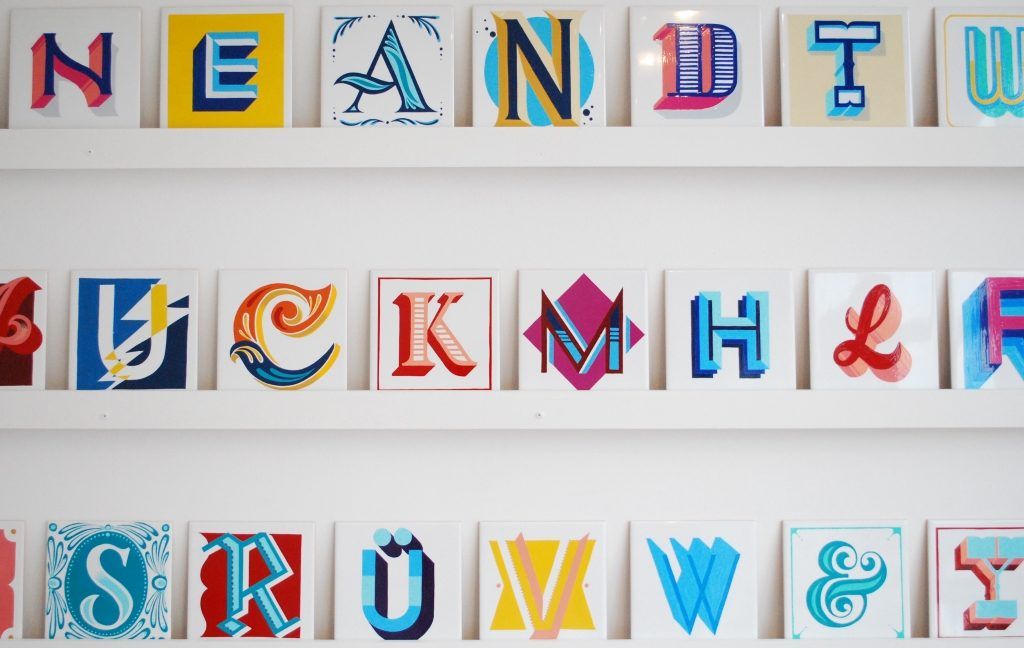 What do you have in store for people at this year's third Tactile?
JT – "This year's main feature will be the international letter tile wall, showcasing the work of 50+ sign painters from across the globe. We will also have a live mural that will be painted over the week and a film and panel discussion evening [4th June] with you guys at Better Letters."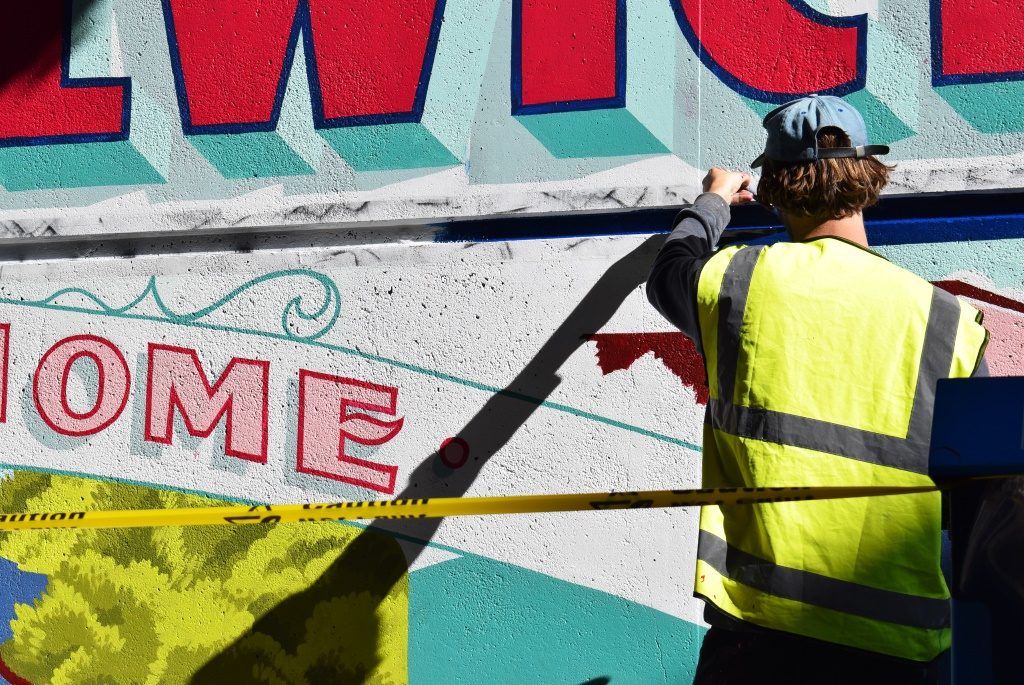 What's the story behind Alphabetics Anonymous, and how is that connected to Tactile?
HSW- "Alphabetics Anonymous was founded shortly after our Tactile 2018 event. Instigated by Toucan Signs, it is formed of a group of London-based sign painters. It began as a support group – somewhere to turn for advice, tips and complaining about carrying sign kit on public transport. As the group gathered momentum we began taking on larger mural projects as Alphabetics Anonymous. We also regularly host paint jams at each others studios, share jobs and aim to maintain a collective professional standard between us – and have loads of fun in the process!"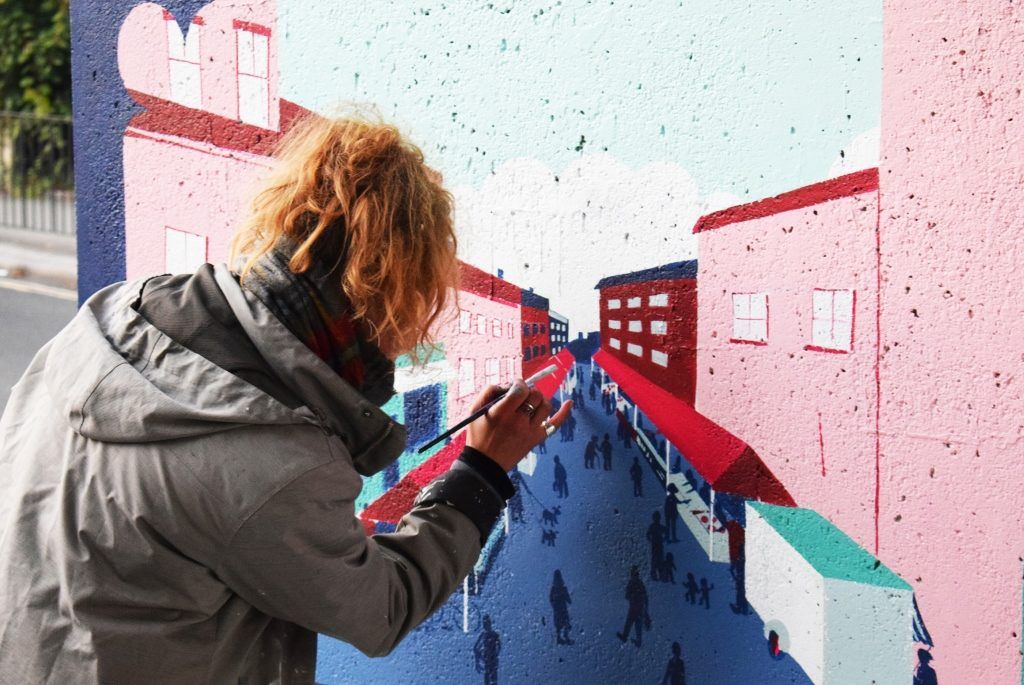 How do you find being among the younger 'new generation' of sign folk?
HSW – "We are in a unique position to be able to look up to the older generation who hold so much knowledge and experience. The fact they are willing to share and encourage us after seeing the trade's resurgence, I feel lucky to be made so aware of how things can take a turn. It inspires me to keep keen, be able to adapt, and continue in their legacy, pushing things forward together as a dynamic young community of sign painters."
JT – "Stepping into the sign painting world as part of this generation has been really exciting. Now there isn't so much formal training available and people are finding the trade through different means, which brings a fresh perspective into the mix. I think as long as we continue to value the skill and traditional methods of previous generations the future will hold a lot of prosperity."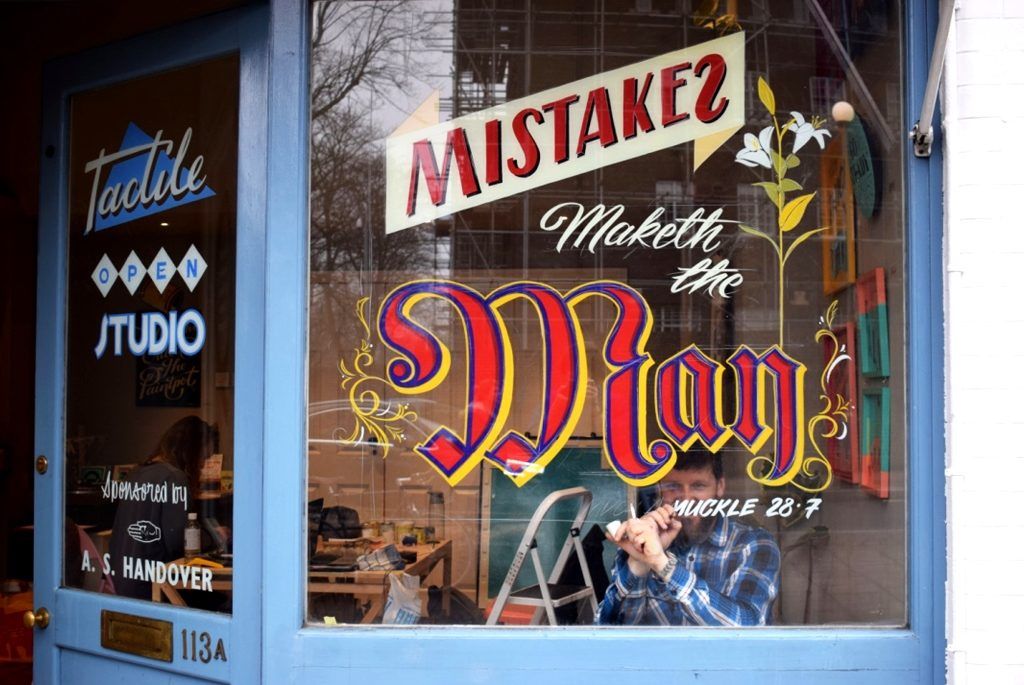 What are your hopes for the future of Tactile and Alphabetics Anonymous?
HSW – "Regarding Alphabetics Anonymous, we are aiming towards more 'beginning to end' team jobs, where we can conceive, design and execute whole projects. More big fun beautiful murals of course, and we hope in the next year to put on a group exhibition of some sort."
JT – "As for Tactile, to keep learning, sharing and expanding our network of inspiring sign painter friends. Perhaps taking Tactile on holiday out of London and into unexplored lands with early thoughts for 'Tactile on Tour'… oh and does anyone have a 26m wall to donate for next years show?!"