Eleanor Crow's Brushes with London's Shopfronts
Eleanor Crow captures London's historic shopfronts in watercolour, and now they're published in a book.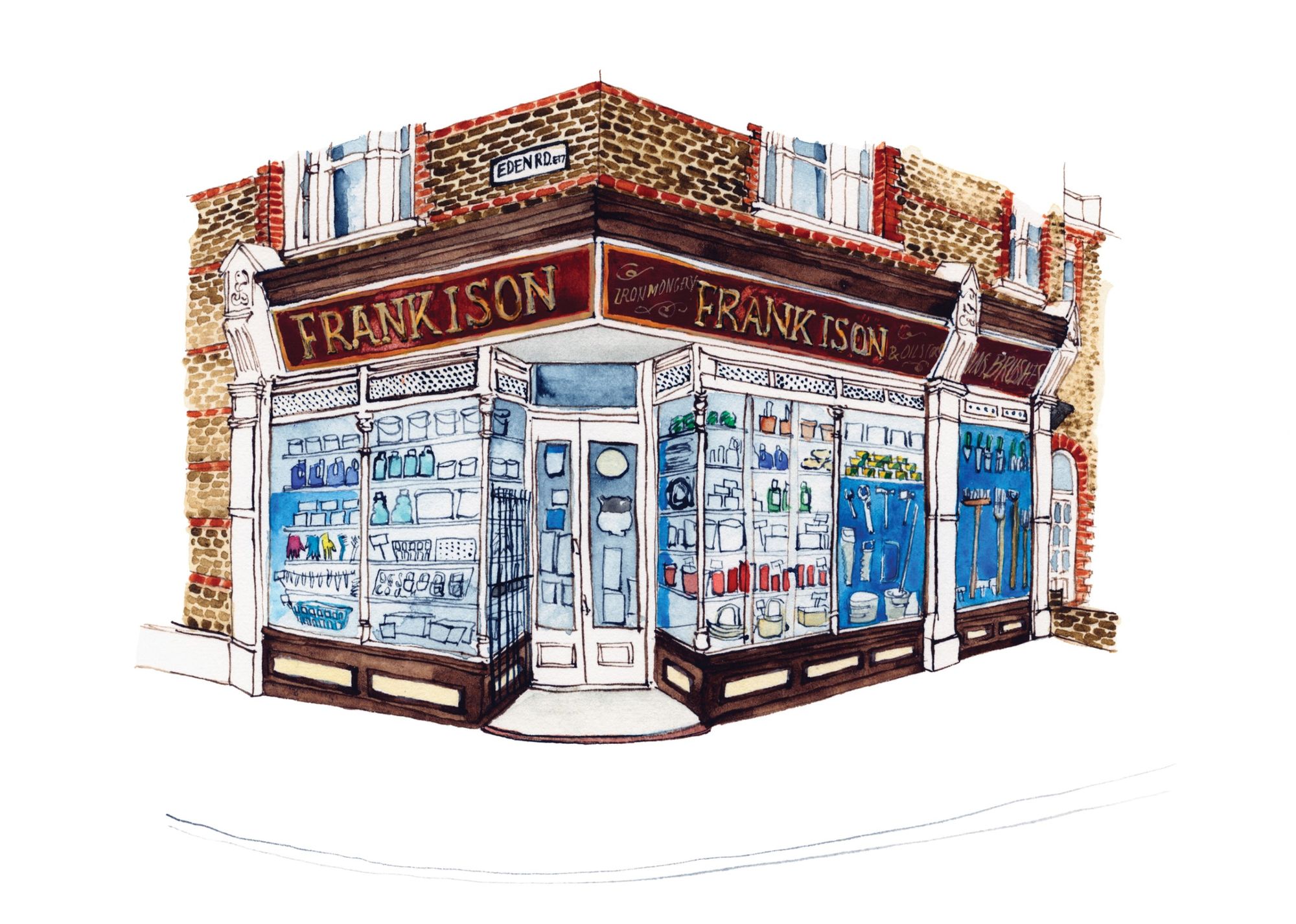 One way of exploring London's commercial history is through its signs, notably the huge range presented by its shopfronts. Some of these have remained in use for many years, many have faded into ghost signs, while others have been time-capsuled by the erection of new, and often garish, modern creations.
It is easy to take these shopfronts for granted, or to become blind to them hiding in plain sight. However, by looking up (from our phones!) and studying them, we can uncover a rich, and enduring, source of inspiration. As her exhibition of watercolours opens at Townhouse Gallery, and accompanying book is published, I caught up with Eleanor Crow who has dedicated herself to the study and painting of shopfronts across the capital, many of which hold fond memories for me.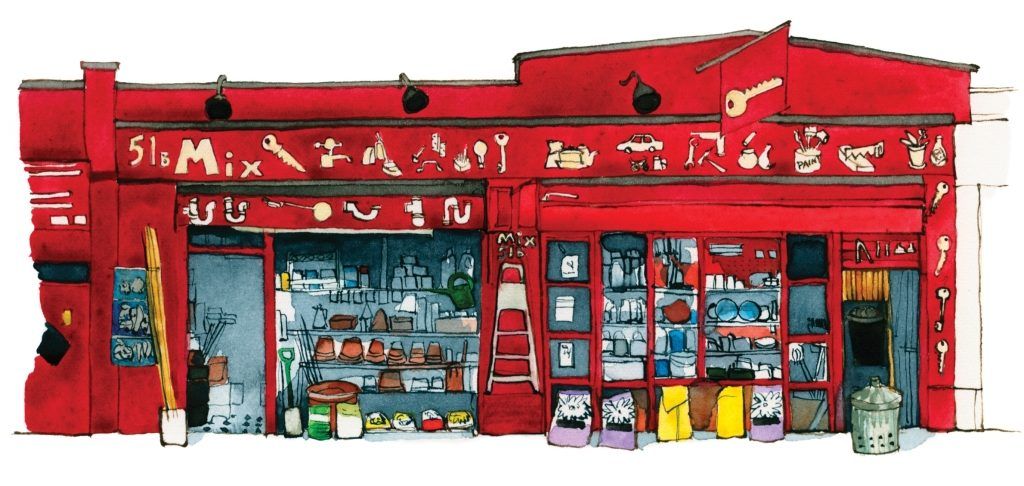 Eleanor is an artist, book cover designer (currently at Faber) and educator, and has lived in London for 23 years. She was always attracted to shops and their signs, but it was ten years ago that she first started to draw them. She has now painted 150 in total since her first which was the (now closed) Tea Rooms on Museum Street. But what draws her to particular signs, given the overwhelming number on offer in the city?
Initially, it's always the fascia signage that attracts me. Whether it's skillful signwriting or 3D forms, and whether historic or contemporary. That and the colours, tiling and of course the window displays. Many ironmongers feature brilliantly inventive homemade lettering, as well as elaborate and inventive displays of goods. KTS the Corner on the Kingsland Road is a favourite, as is Mix on Blackstock Road. I also love the traditional gilded lettering on many historic chemists, such as on Walden Chymist, in Belgravia.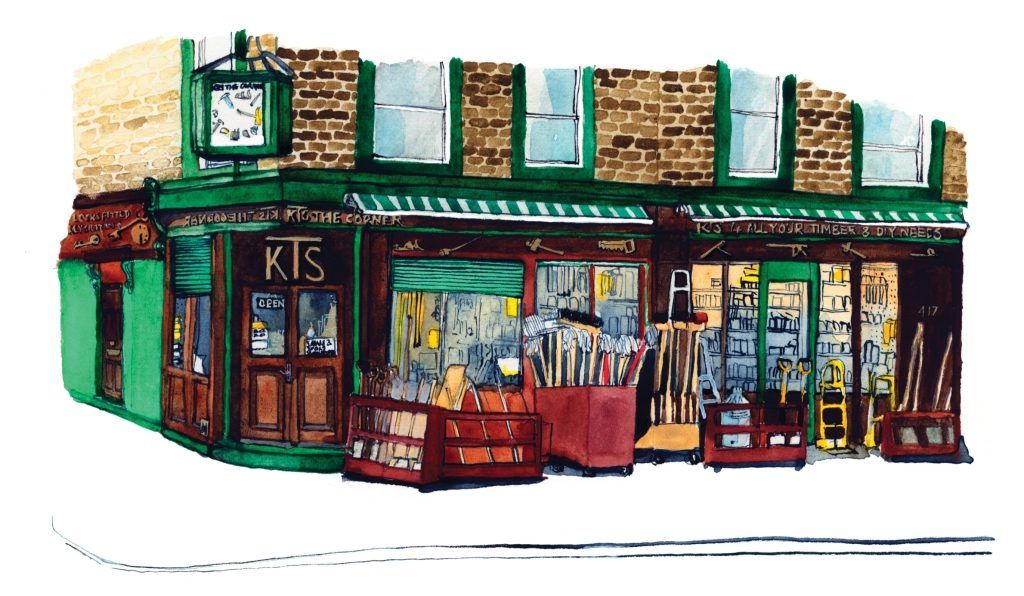 As with photographing signs, a flexible approach is required to capture the shopfronts in watercolour.
About a sixth of them were painted in situ, but increasingly I would paint parts in situ and parts in the studio, as the fine lettering and detailed brickwork needed more and more hours to achieve. Some of them would have been impossible in-situ without sitting in the road, or they might be too close-up, so many are painted from my own photographs. So it depends on the location and how quiet it is. I like to work very early on summer mornings when there's hardly anyone around and the weather is fine, then to return again when the shop is open. For one of them, Frank Ison in Walthamstow, I had to invent the interior as the shop had long closed, but it was a piece for my exhibition in the window gallery there a couple of years ago, so it seemed appropriate to include it.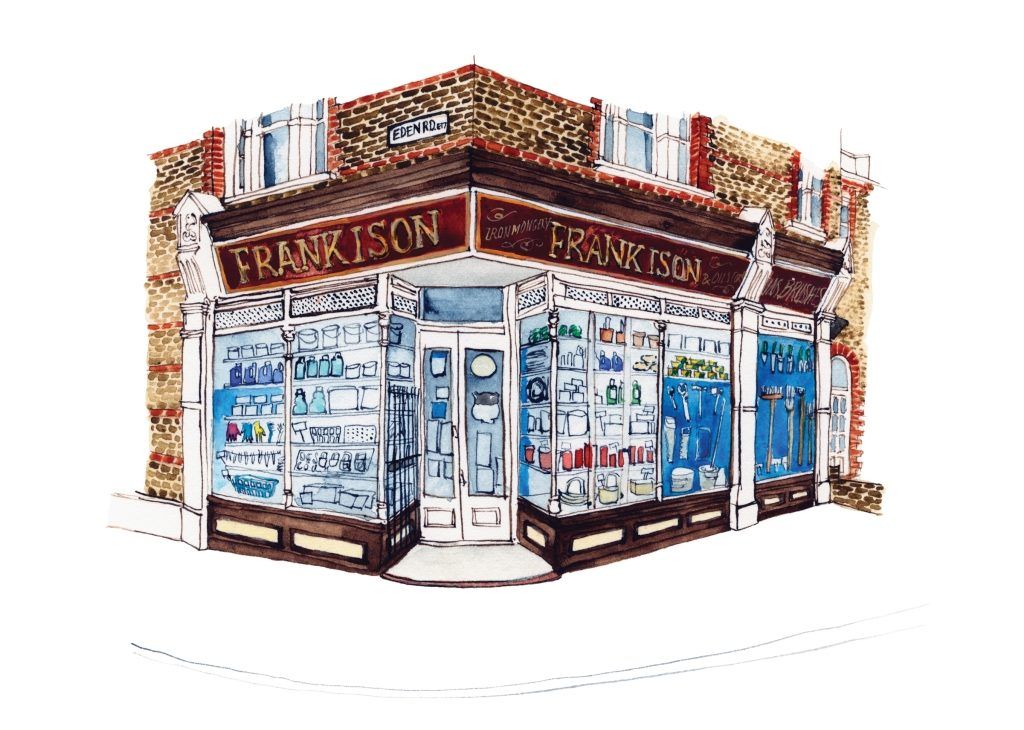 My work in documenting ghost signs around the UK, and further afield, was always grounded in a sense that they will one day fade to nothing. I wondered if Eleanor had some underlying objective in her work which, in contrast, is principally focused on actively trading businesses.
Yes, I would like people to notice, use and support their local small shops. It's a wonderfully independent way to make a living, and all these shops sell useful small items, and serve the community in ways that people can appreciate. Escalating rents and rates have made it much more difficult for small businesses, and I would like to support them by having people talk about these shops, and even to seek them out and help to keep them going. Some have closed since the project began, but many are still open and thriving.
Amen to that!

There are hazards associated with documenting signs in the urban environment, and I've definitely had a few close shaves, and also tricky situations trying to explain why an old sign on someone's house is interesting to me. Eleanor shared a couple of her amusing encounters in the process of developing her paintings.
I leaped off a bus once and went into a butcher's shop, remarking on the 'good-looking butcher's'. They thought I meant the butcher and not the shop! In another, someone thought I was a traffic warden, as I stood there with sketchbook in hand, and came dashing out spilling their coffee in the process.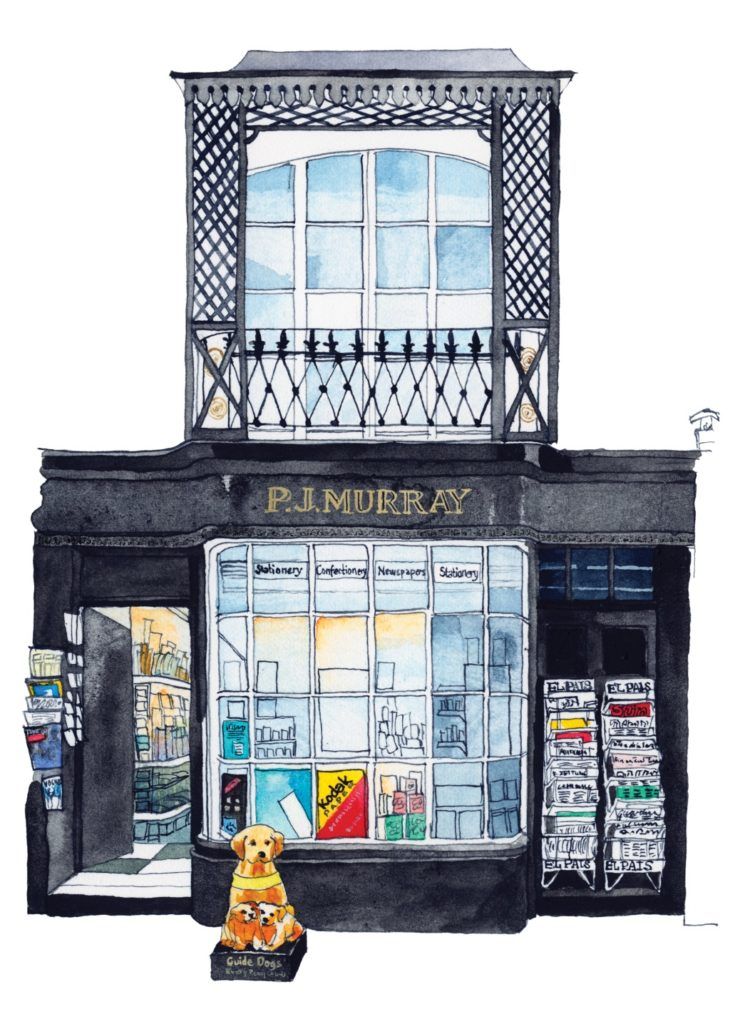 So, does Eleanor have a personal favourite of those she has painted to date?
I admire E Pellicci on Bethnal Green Road, because it is so beautifully designed and made. I love the primrose-yellow Vitrolite panels and 3D typography. The interior is also preserved, with Art Deco marquetry. The owners are very proud of their heritage, for the shop has been in the same family for generations. It's a lively business and extremely popular. But really I love all the shopfronts in the book, or they wouldn't have been included. It's hard to have a favourite – they all are!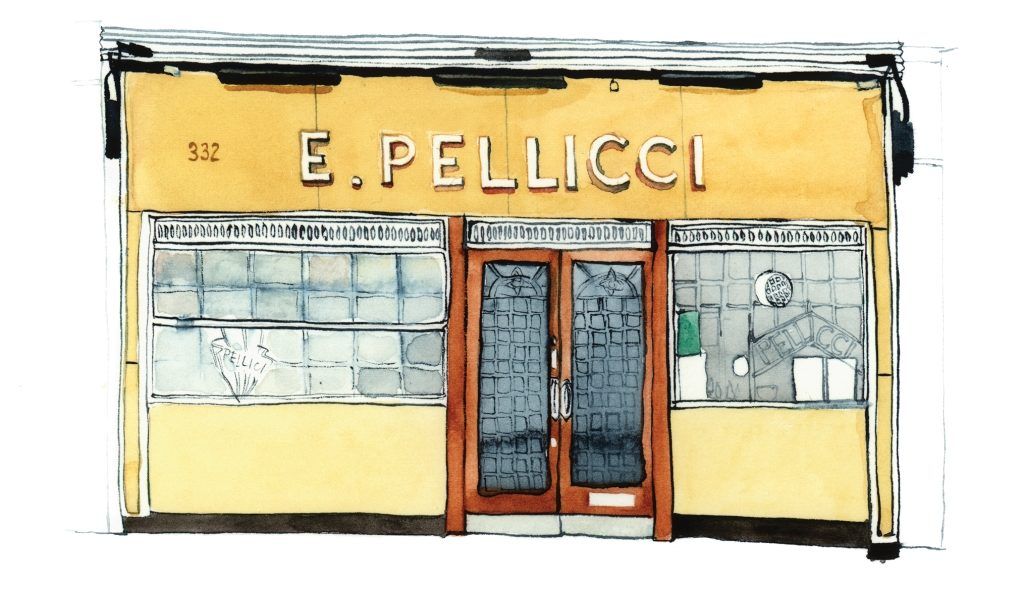 Eleanor's current exhibition coincides with the publication of her book 'Shopfronts of London'. How did this come about, and what can readers expect?
The wonderful London blog Spitalfields Life featured my café series, and they proved popular so we published the Baker and Fishmonger series, followed by the Ironmongers. We wanted to say much more about the shops themselves, so as we developed the book, which has just been published by Spitalfields Life Books in partnership with Batsford Books, I mixed observations about the shops and owners with details about the shop's history. Vicky Stewart helped with the research, and renowned book designer Friederike Huber designed the book. She did a wonderful job, and helped to guide the structure and look of the book in so many ways.
The book is divided into sections by type of shop, so cafés, bakers, butchers, ironmongers, launderettes and so on are all grouped together. I was very clear that these would be the types of shops you can still find in the small parades found in so many London neighbourhoods. They had to sell useful items, the sorts of shops you would go to for daily needs, rather than other types of independents.
I've written an introduction as well as short texts about most of the shops. It's a colourful book with over 100 illustrations which I hope is fun to read and look at, as well as being a record of places that so many of us know and love. I'm happy that it also resonates for people outside London, as it is evocative of the shops people have known in cities, towns and villages elsewhere.
Shopfronts of London
by Eleanor Crow (Hardback, 128 pages, 17.6 x 23.5 cm, £14.99) can be ordered via
Book Depository
. Eleanor can be found on
Instagram
and
Twitter
.