Doc Guthrie: A Tribute
Tribute to Doc Guthrie, sign painter, mentor, and teacher on the LATTC Sign Graphics Program.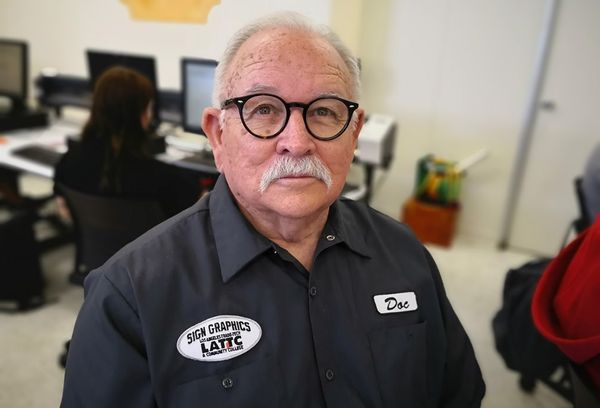 On 12th November 2022, family, friends, and past students gathered in Los Angeles to celebrate the life of Doc Guthrie, 1942–2022. His teaching had a profound influence on the craft of sign painting, and those practising it today. He also had a roll call of timeless catchphrases, never forgotten by his students. This tribute has been written from the perspective of one of these past students, and accompanies many more that were posted online at the time of Doc's death.
Doc Guthrie, Sign Painter
Ralph 'Doc' Guthrie was born in 1942 in Miami, Florida. His father was an electrician and they moved to Sun Valley, California, just before Doc's teenage years. After high school he enlisted in the navy to "get out of my house and see the world", and went to college on his return.
"It was the '60s. It was a lot of fun. Then I met a woman, fell in love, started a family, and had to get serious." — Doc Guthrie in Sign Painters
Doc attended Los Angeles Trade Technical College (LATTC) from 1972–1974 alongside his brother Don. After graduating, the two followed the traditional path of getting jobs in sign shops and working for journeymen sign painters. As Doc puts it in Sign Painters, "that's the old union term for the accomplished guy, the old pro". He was also mentored in his early career by Fran Alrich, a left-handed showcard writer who was profiled in the first ever issue of SignCraft.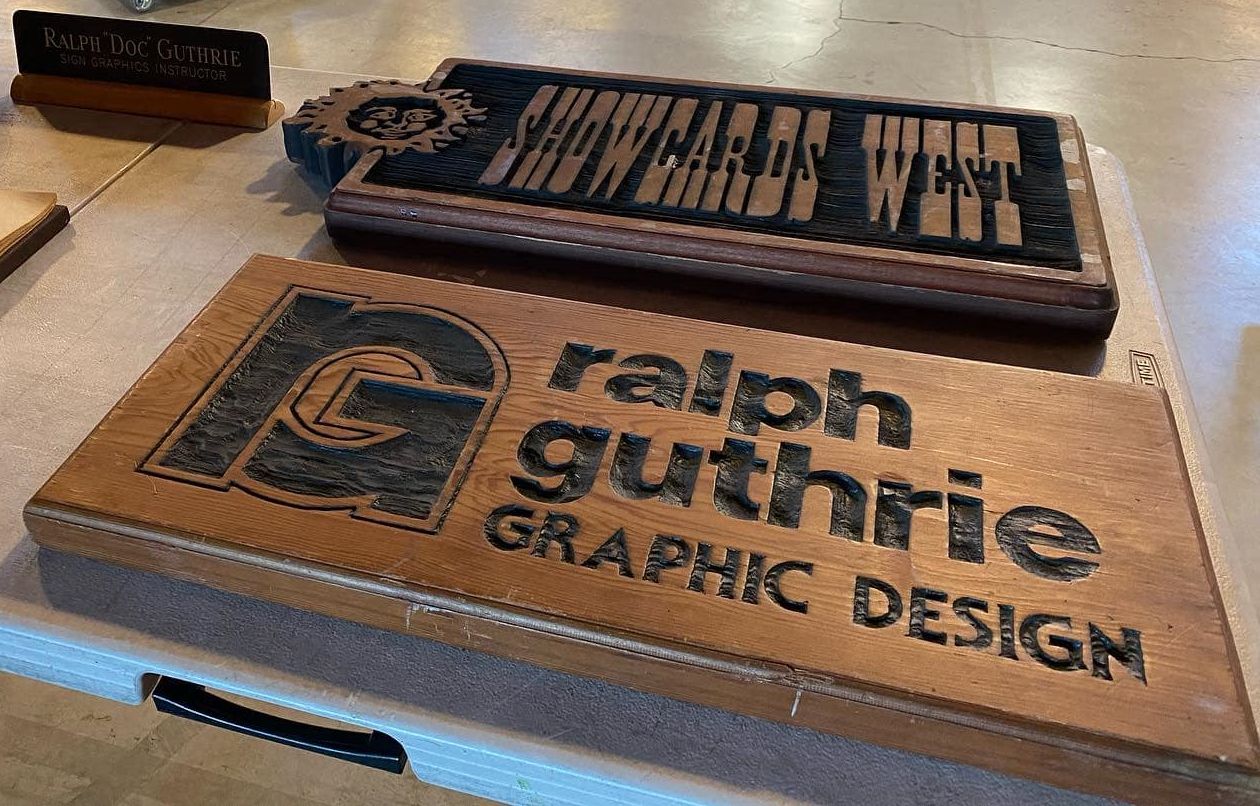 The brothers then started their own business in San Rafael, California. They named it Doc Guthrie Sign Graphics after their father, feeling that this gave the shop more of an old school, professional feel. In addition to traditional sign painting, they also produced large quantities of sandblasted redwood signs. Clients nearly always asked for 'Doc', and eventually Doc adopted the namesake. And it stuck.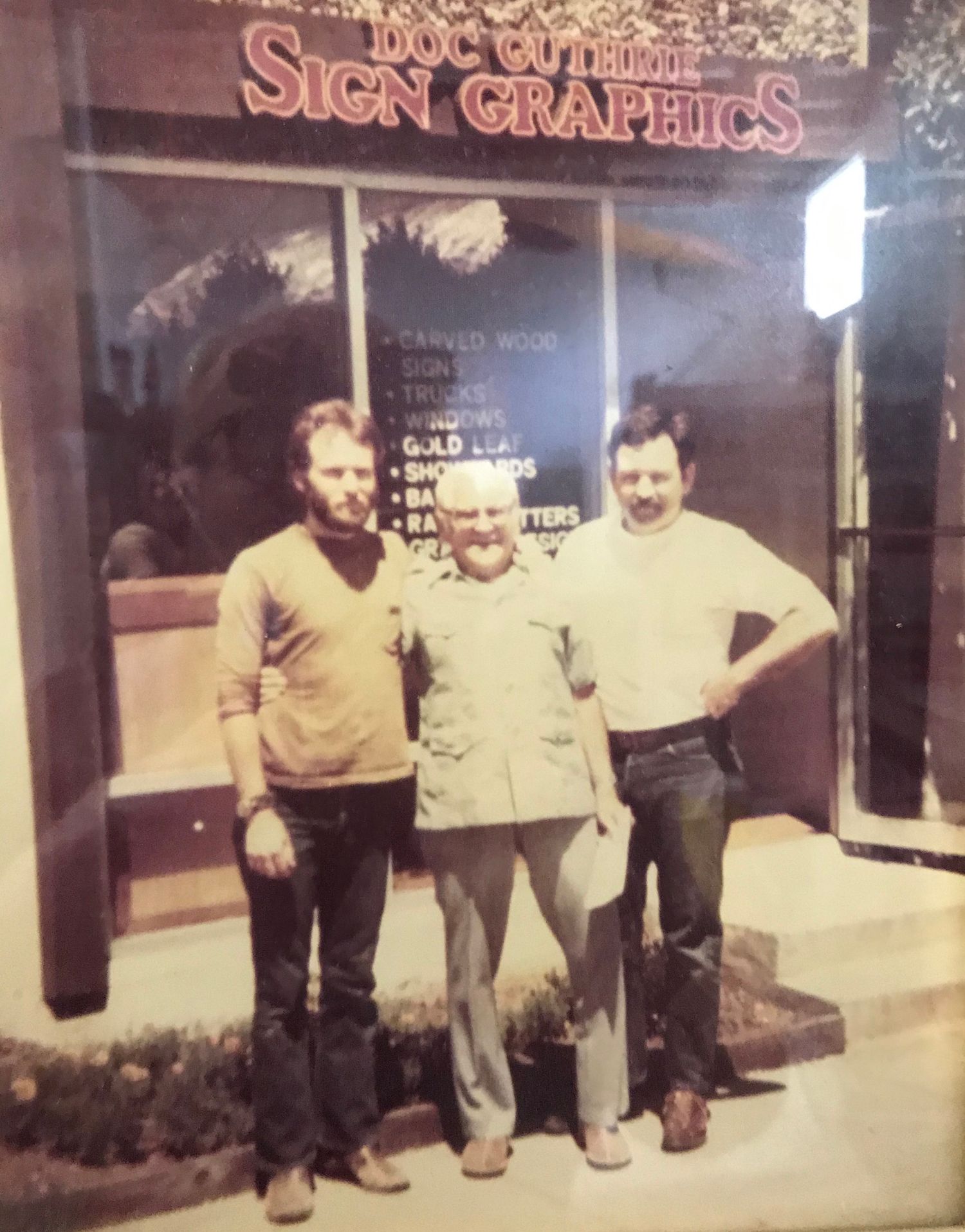 Later, Doc and his wife moved to southern California where he continued in business. Discussing Los Angeles with his brother, they both saw nothing but dollar signs in the commuting city, which was filled with block after block of prime sign real estate for all the cars whizzing by. It was also block (lettering) that Doc most enjoyed working with, using it for bread and butter work like parking and real estate signs. He loved exploring the variation within this simple basic structure, and found that these signs always sold better than 'fancy' work.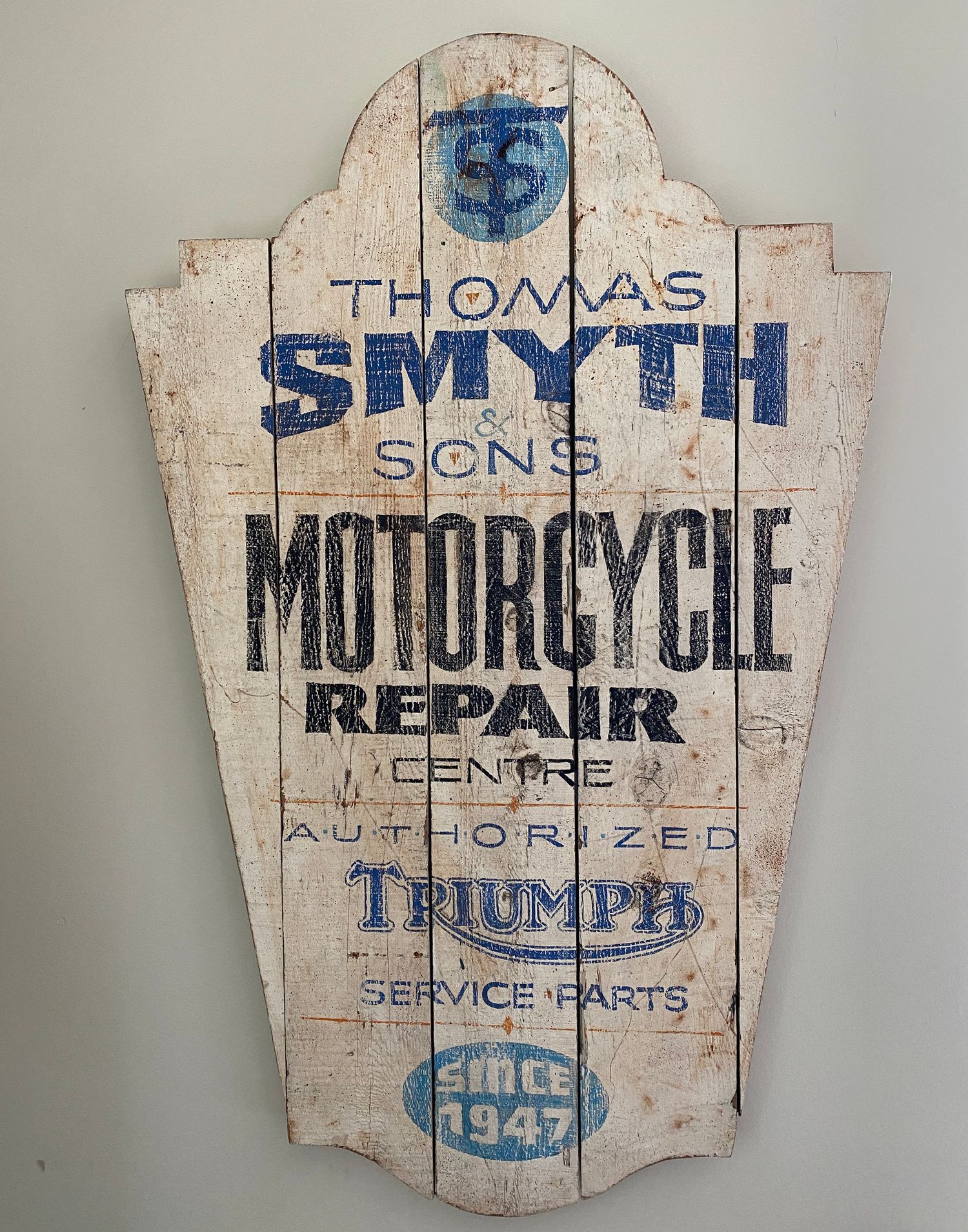 Back to School
In addition to his sign work, Doc taught reading to adults with an organization called Cal Lit. This experience played a small part in facilitating his transition from sign painter to sign painting instructor, which started with him teaching the night class at LATTC. This was at the suggestion of his former teacher there, Richard 'Ernie' Ernest, and in 1992 Doc took over from him as the lead instructor on the Sign Graphics Program.
Sign Graphics is one of the oldest classes at LATTC, and has been taught continuously since 1924. It focuses on traditional hand-lettering and sign painting, with forays into vinyl application, digital learning on SignLab, and gilding. The program takes two years to complete, split across four semesters.
During Doc's time at LATTC, the popularity of sign painting waxed and waned. In times of little interest, Doc reputedly beat the street to recruit anyone he could to keep it going. After the 2012 publication of Sign Painters, and the film's release the following year, the program had a surge in interest and enrolments. Across the four levels, the total number of students jumped from the 15–30 range to more like 60–70, and even reached 80 at one point. To help manage this increased demand, Doc recruited his former student Carlos Aguilar in 2013 as a secondary teacher.

The typical first semester class will cap at 25–30 students, but by the time it gets to the fourth semester, only five to ten of these will have stuck it out. At the time of writing, it's the only sign painting school in the country, and most certainly the most affordable—while weekend workshops can easily cost more than $500, for California residents an entire semester at LATTC is around the same price.
Life on the Sign Graphics Program
Under Doc's leadership, the class had a militant edge and teaching began at 7am sharp: students were dropped if they accumulated five late arrivals or three absences. No mobile phones and no water could be used or consumed within the confines of the classroom—you had to sign out on a sheet to step outside for either.
Deadlines for projects were strict, and Doc refused to grade anything that wasn't in the pile on time. Failing to write your name in the upper right corner of your work would also result in no grade, which meant no feedback or developmental critique.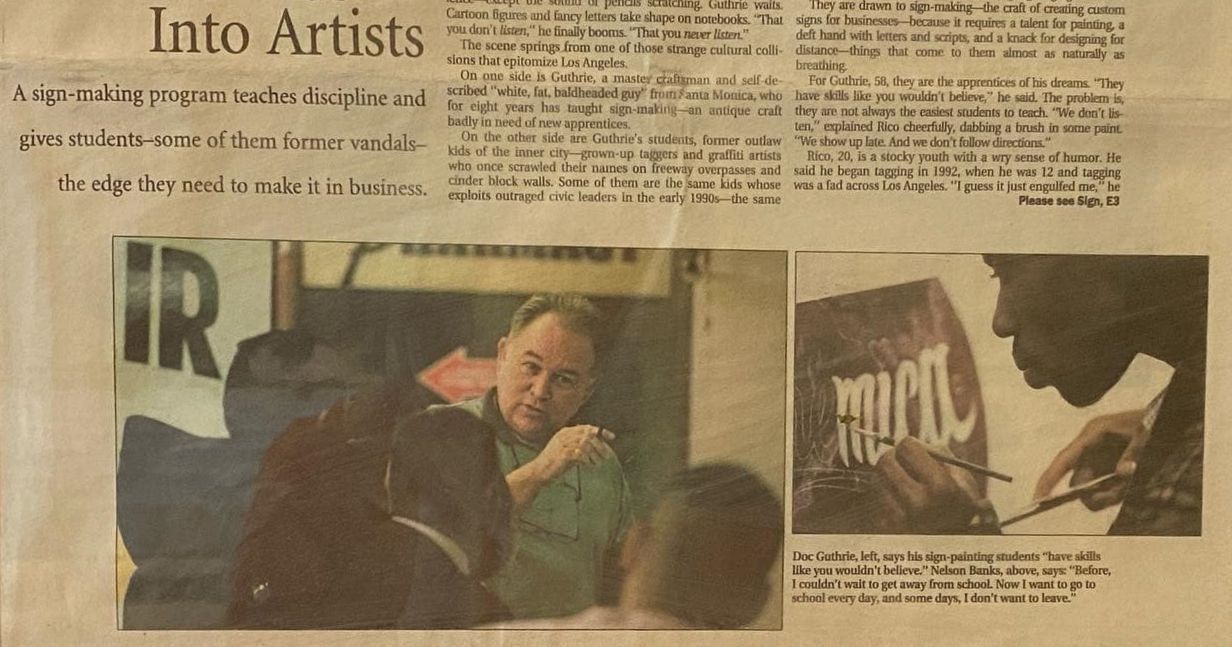 Tool checks were spontaneous and merciless. Forgot your blades, USB, compass, or yellow No.2 pencils? Didn't subscribe to SignCraft Magazine and have your issue in hand? "Goodbye!" And just like that, you were sent home, even if it was only 7:30am and you had just sat in traffic for an hour to get to class.
"My students are hard workers. They're talented people, and they want to succeed. They stick with it under the worst conditions—a tyrant for a teacher and strict guidelines to complete the course. It's amazing to see them grow, turn up the volume on their talent, and become accomplished designers and sign painters." — Doc Guthrie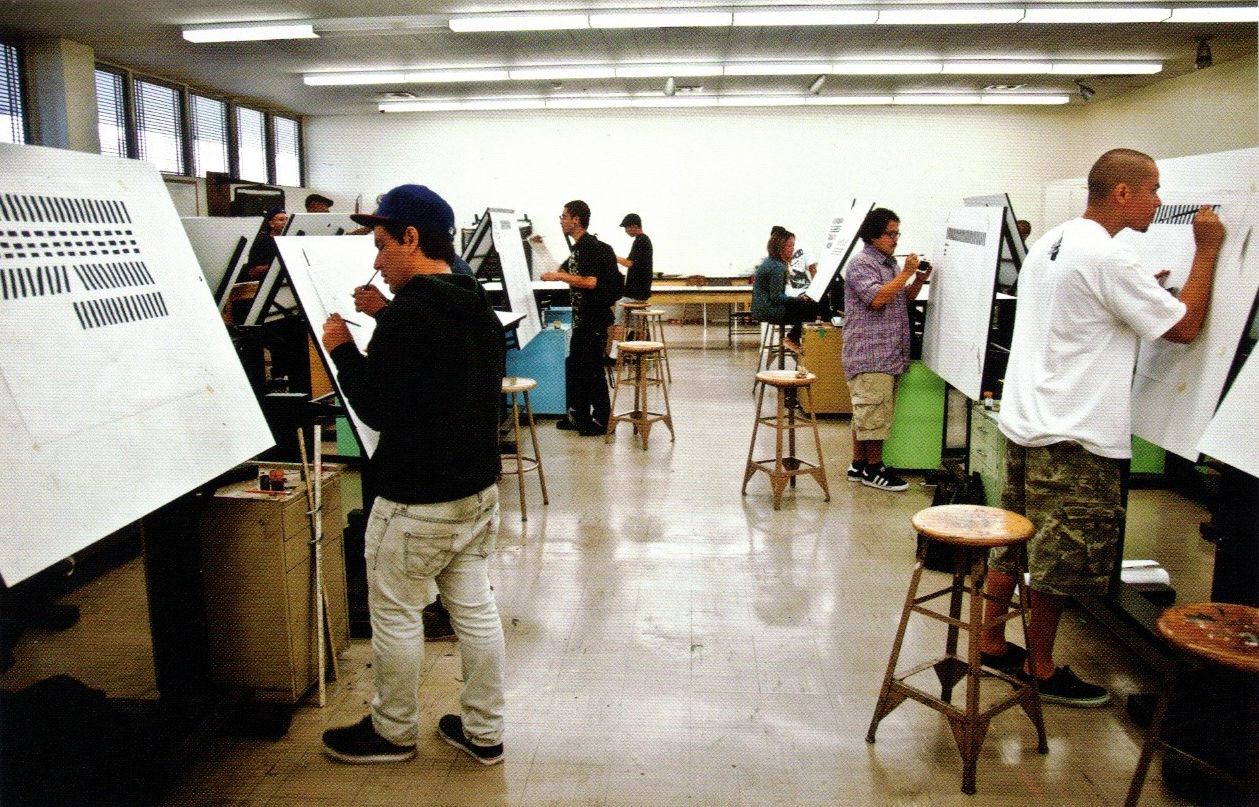 This harsh structure gave rise to myriad emotions, and taught us many lessons beyond the core sign painting syllabus. These included pride, frustration, discipline, self-control, anger, gratitude, exhaustion, joy, humour, and, ultimately, becoming something bigger than yourself. To attend class was at once a sacrifice and a gift.
It's Sign Painting, Not Art
Doc's stylistic approach to painting was simple, bold, and—as former students know all too well—all about layout. "Layout is king" was drilled into us, and in-class layout critiques honed in on the importance of margins and proper emphasis. In regular meetings with his Letterhead buddies in Los Angeles, they discussed the four ways of creating emphasis for effective signs: value contrast; size contrast; weight contrast; and placement.
We were often chided for being overly artistic, even though Doc himself was a prolific collage and assemblage artist outside of his signs—the latter being nothing short of art, either. Yelling at us to stop being 'fucking artists' was his way of reminding us that time is money, and the more you learn about lettering, the more obsessed you can become with perfection. There's a reason the Letterheads motto is IOAFS (It's Only A Fucking Sign), because there's a point where only the sign painter and their colleagues can see the mistakes.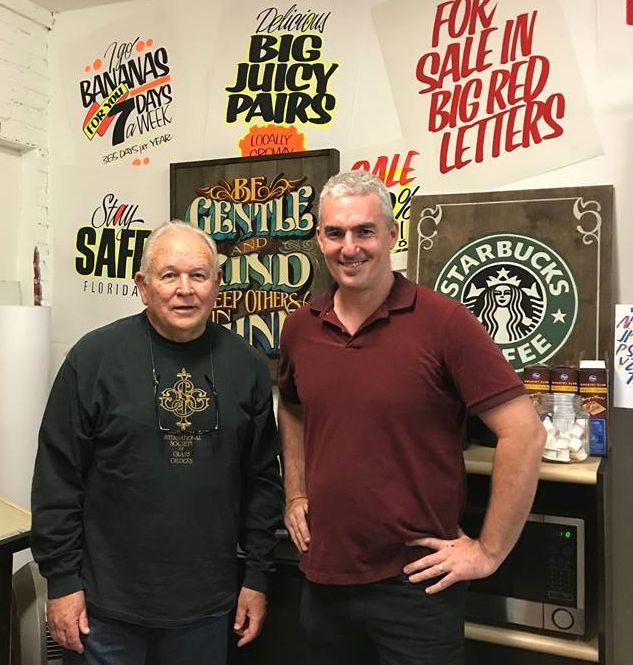 An Enduring Legacy
In 2021, Doc officially announced his retirement after nearly 30 years of teaching. J. Carlos Aguilar is now the lead teacher, with Emmanuel Sevilla hired in 2022 as the new secondary teacher. Emmanuel was also taught by Doc from 2008–10, and served on the advisory board for the program until 2013 when Doc inspired him to move to San Francisco to pursue higher education in fine art.
These are just two of Doc's alumni who can testify to the man's impact on their lives and work. There are countless others and the outpouring of tributes following his death (see below) made it clear that he was so much more than a teacher to so many. He was a mentor, a father figure, and an inspiration to generations of sign painters who now carry his legacy, and lessons, forward in their own work.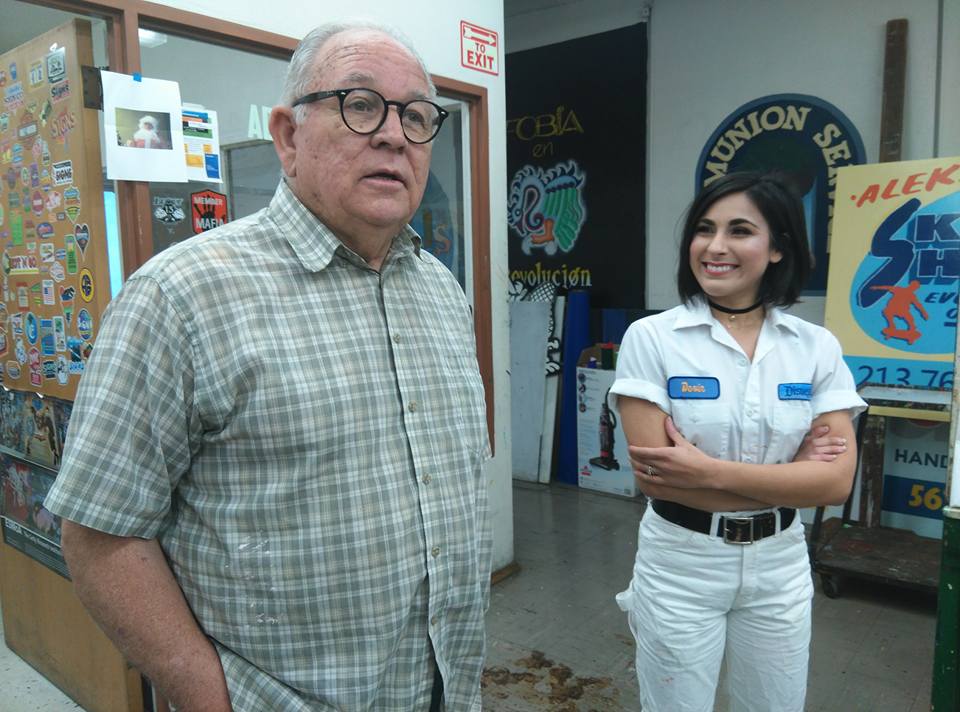 Besides teaching us a craft we love, one of the greatest things Doc left us is each other. He shared so much with us, and any time we find ourselves missing him—needing advice, validation, comfort—we can turn to each other, because we all know exactly what he would tell us. And it's on us to remind each other of that, and to keep his spirit alive.
"If you want to make a good living, and you want to wake up every morning and look forward to the day, look forward to painting a truck, getting up on a wall, painting a movie background, that's a good life. Many people in this country dread getting up and going to work. You have fifty years of work ahead of you, and it should be something that you really love. I never got rich, but I provided a living for my family and owned a home—that's a working-class American success story." — Doc Guthrie
Doc-isms: Ten of the Best
For more of Doc's one-liners and wise words, check the comments under this instagram post where this small selection is taken from.
What does a carpenter do? Measure twice and cut once. What does a sign painter do? Measure once and fuck it all up.
You can lie to me, but you can't lie to yourself.
Look at this nice creative panel shape—a fucking rectangle.
I use the Italian pricing method. If they're wearing Italian shoes, I double it.
Hold up your current issue of SignCrap, *cough*, SignCraft.
Looks like Stars 'R' Us had a sale.
Is that crooked or am I only wearing one shoe again?
Take your pinkie off the easel!
You're one enchilada short of a combo plate.
Believe it or not, your customers are dumber than you.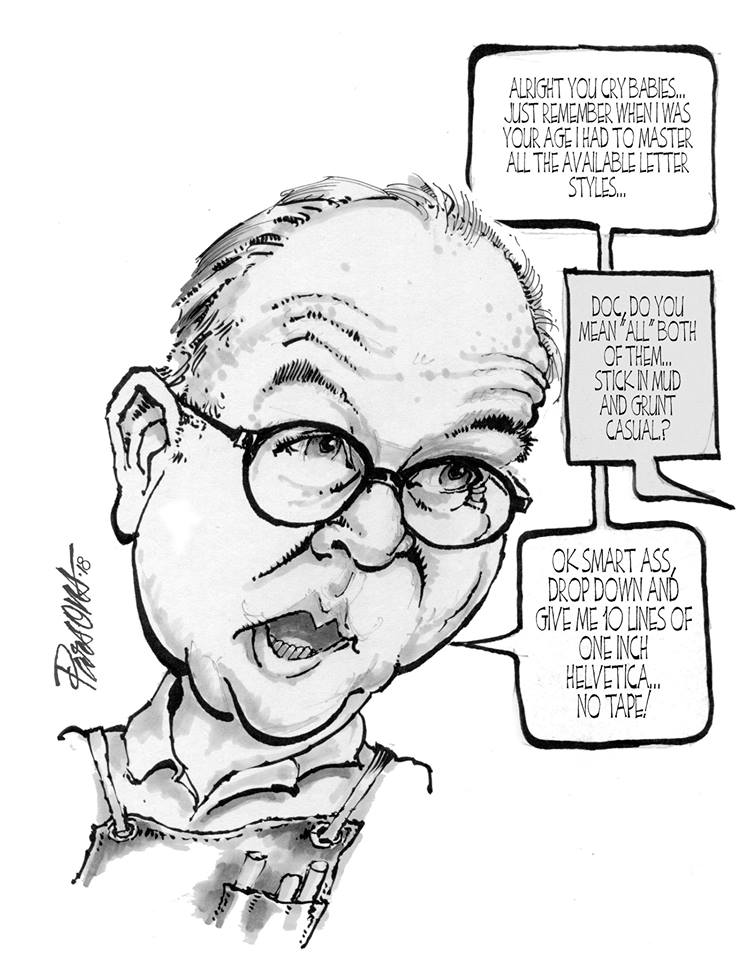 And just one more...
Doc Guthrie Signs. Where quality is just a slogan.
Instagram Tributes
There aren't many people outside of celebrities that earn their place in ink on skin, but Doc was one of them. (Also see the fifth picture on Seann Glaspy's post.)
Here are just a handful of the other tributes that followed the news of Doc's death last year.
RIP Doc.
With thanks to everyone that has helped in bringing this tribute together: Brenna Guthrie; Sean M. Hastings; Jenna Homen; Nat Iosbaker; Alex Kurakake; Mike Languein; Pete McKearnan; Andrea Silver; and Val Trentini.