ABC (Always Be Copying): Reproductive Power from Mexico
Introducing Mexico's Reproduction and Distribution Network, and their Lettering Workshop.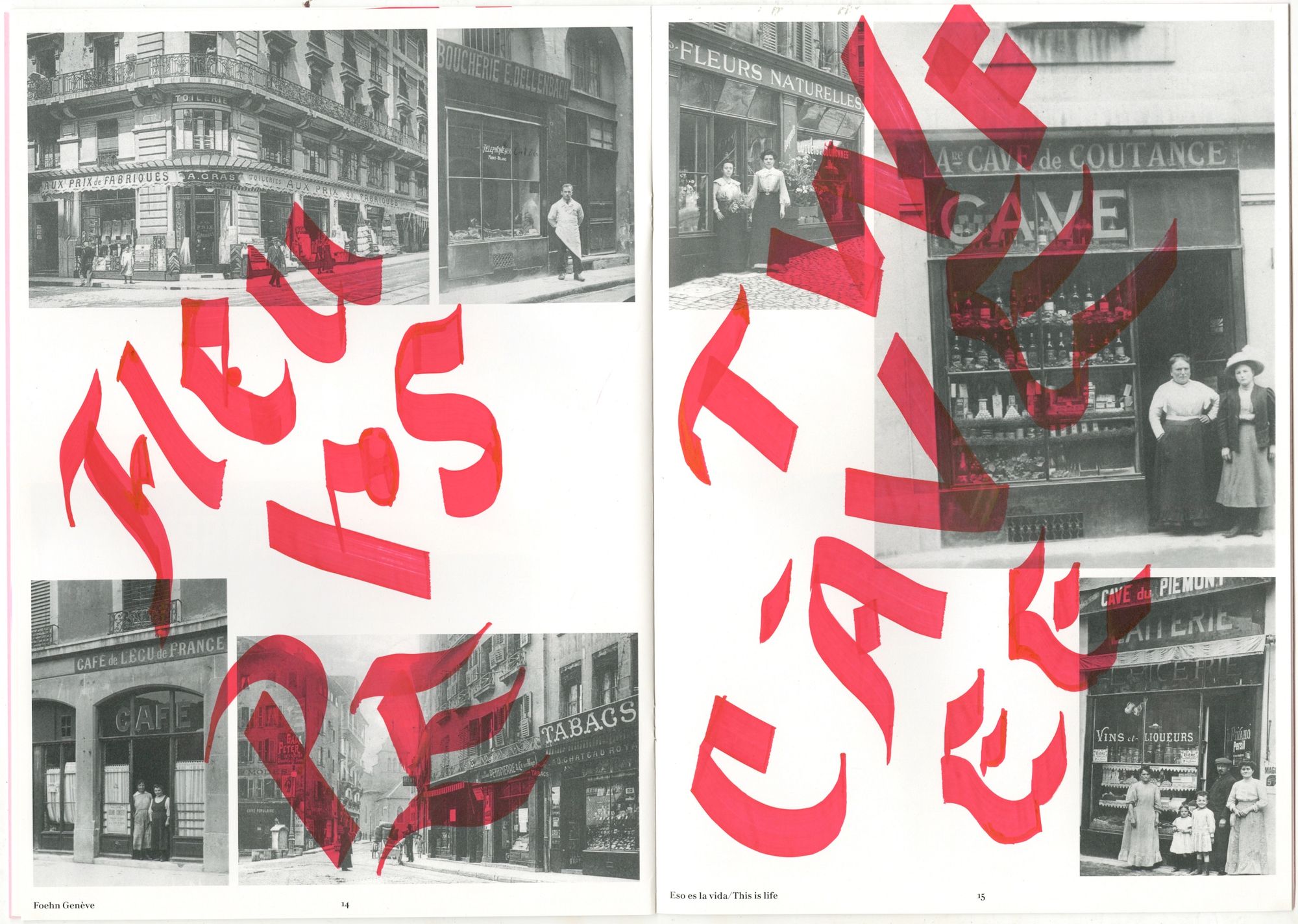 Eso es la Vida/This is Life is an exhibition currently showing in Palm Springs, California. Its focus is graphic design from Mexico, including some exploration of the role and influence of sign painting within this.
In this piece for BLAG, the show's curator, Robert J. Kett, shares the work and influence of one art and design collective, and their initiatives that straddle sign painting, lettering, and print.
ABC (Always Be Copying): Reproductive Power from Mexico
By Robert J. Kett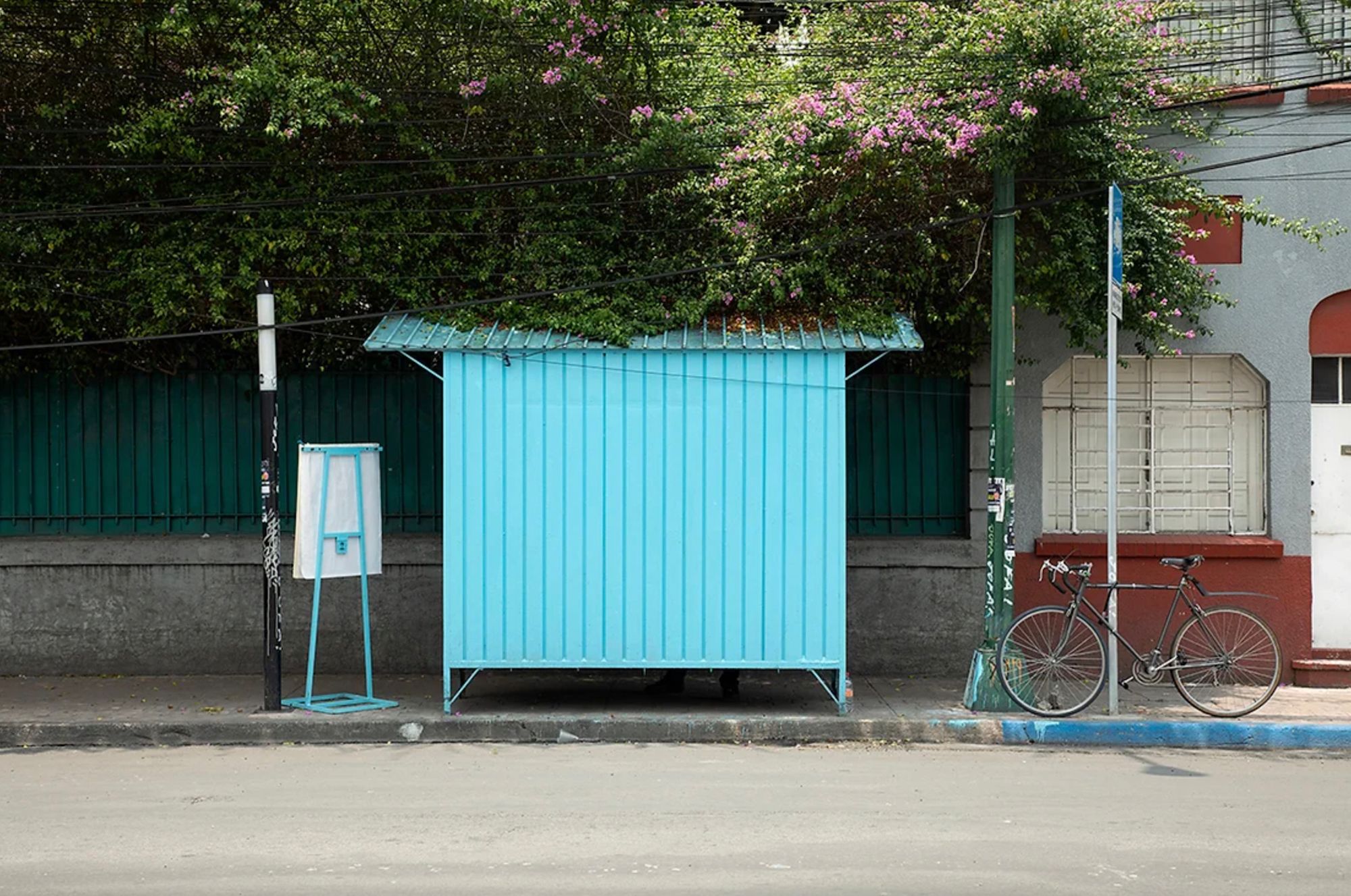 There's a side walk kiosk in the neighbourhood of San Miguel Chapultepec in Mexico City that at first resembles any of the thousands of street stalls where the city's residents find a meal or quickly buy a magazine, cigarette, or snack. In fact, it is the public headquarters of RRD (Red de Reproducción y Distribución / Reproduction and Distribution Network, @erreerrede), an art and design collective through which Anuar Portugal, Joel Castro, Sergio Torres, María José Cruz and Bruno Ruiz celebrate and sustain 'informal' methods of generating, reproducing, and sharing ideas.
The kiosk melds the functions of the street stall, art gallery, and book shop, offering a critical reflection on Mexico's public culture and graphic arts that still sits firmly within the rhythms of the everyday city.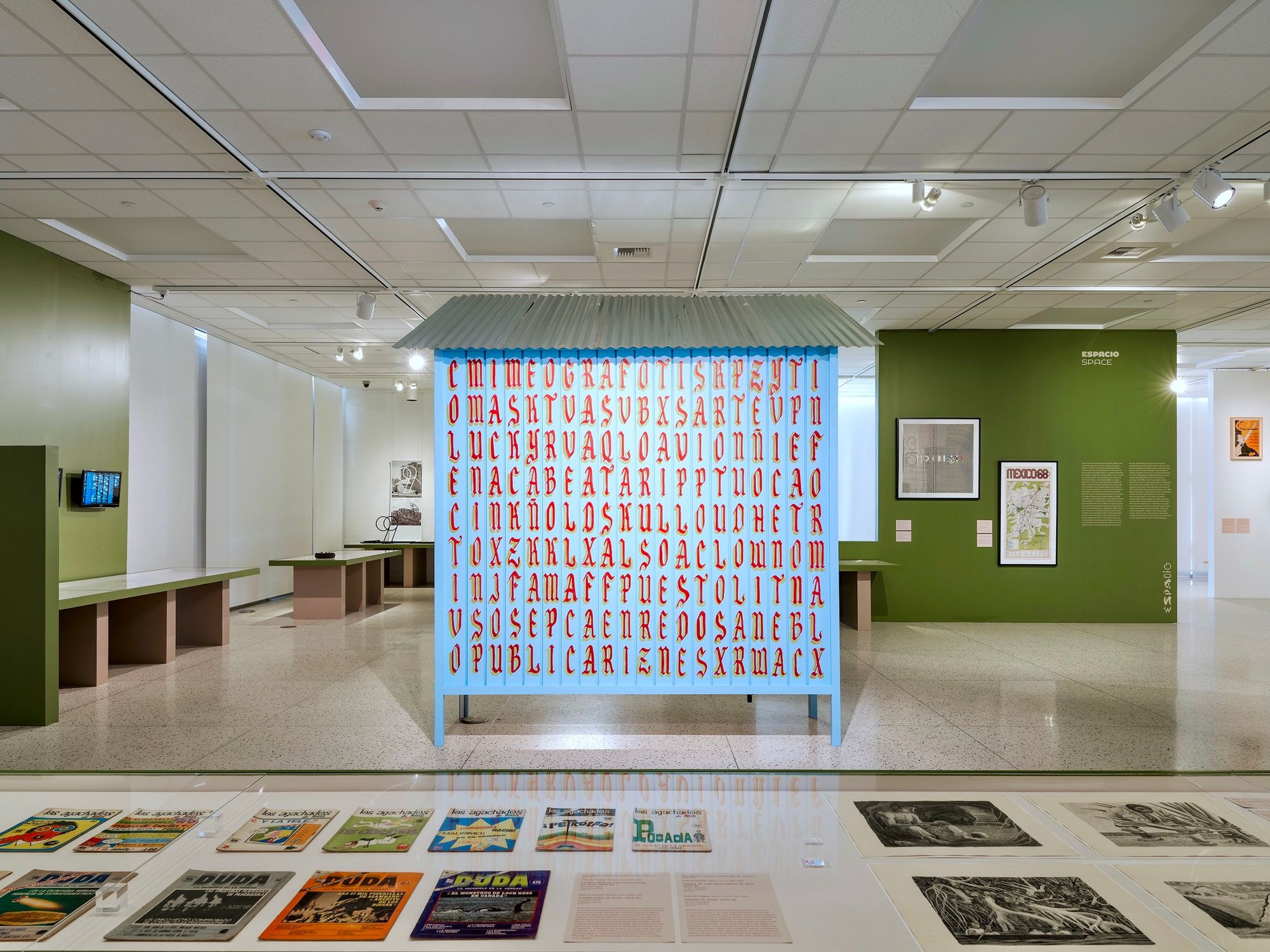 Eso es la Vida
This fall, in addition to occupying its usual site in Mexico City, a copy of RRD's kiosk sits in the Architecture and Design Center Edwards Harris Pavilion at the Palm Springs Art Museum. Eso es la Vida/This is Life: Graphic Design from Mexico (running until 27 November) places RRD's work and that of its brazo-alfabeto (literally 'alphabet arm') TDL (Taller de Letras / Lettering Workshop, @t___d___l) in dialogue with a century of graphic production from Mexico.
Like the collective's work, the exhibition centres the unique genealogies that inform Mexico's graphic landscape—from fine art to protest, popular print, and everyday lettering. Eso es la Vida moves across the past and present to pose key questions about the role of graphic designers in the making and unmaking of modernity, and the reinvention of their field from beyond the Euro-American world.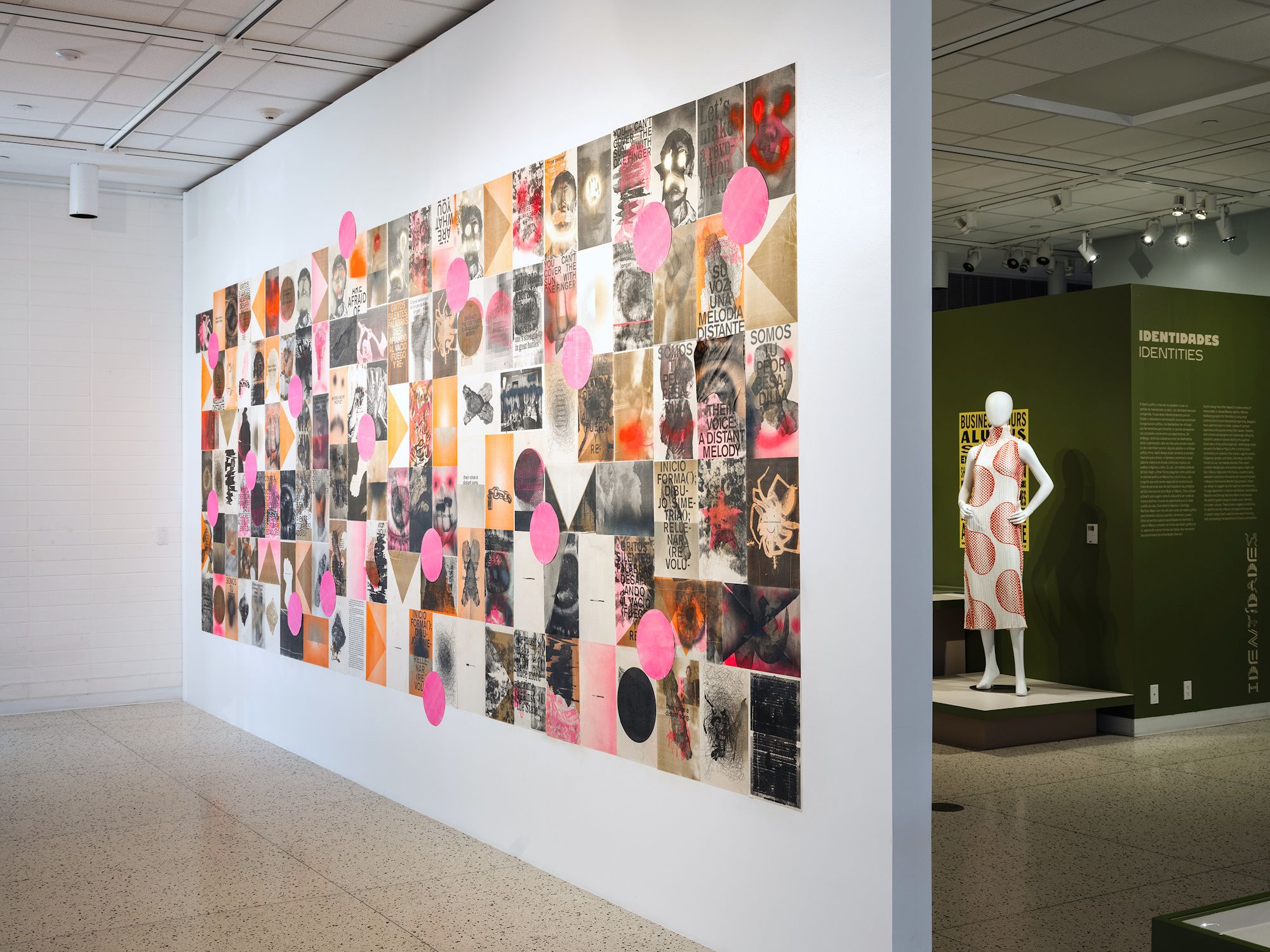 The work on show includes: the political graphics of José Guadalupe Posada and the Taller de Gráfica Popular; posters from the Mexico City Olympics and the 1968 student movement; publications by Estudio Herrera and Suave; risograph murals by Gato Negro and Miau Ediciones; and digital works by Federico Pérez Villoro and Fernanda Ruiz.
The RRD Kiosk
Like so many of the street stalls that make up the everyday economy of Mexico City's public sphere, RRD's kiosk is usually adorned with a variety of hand-painted signs (rótulos). RRD repurposes the communication genres of commerce to host public reflections on themes ranging from gender, tattooing, and multispecies politics, from plant life to cockfighting.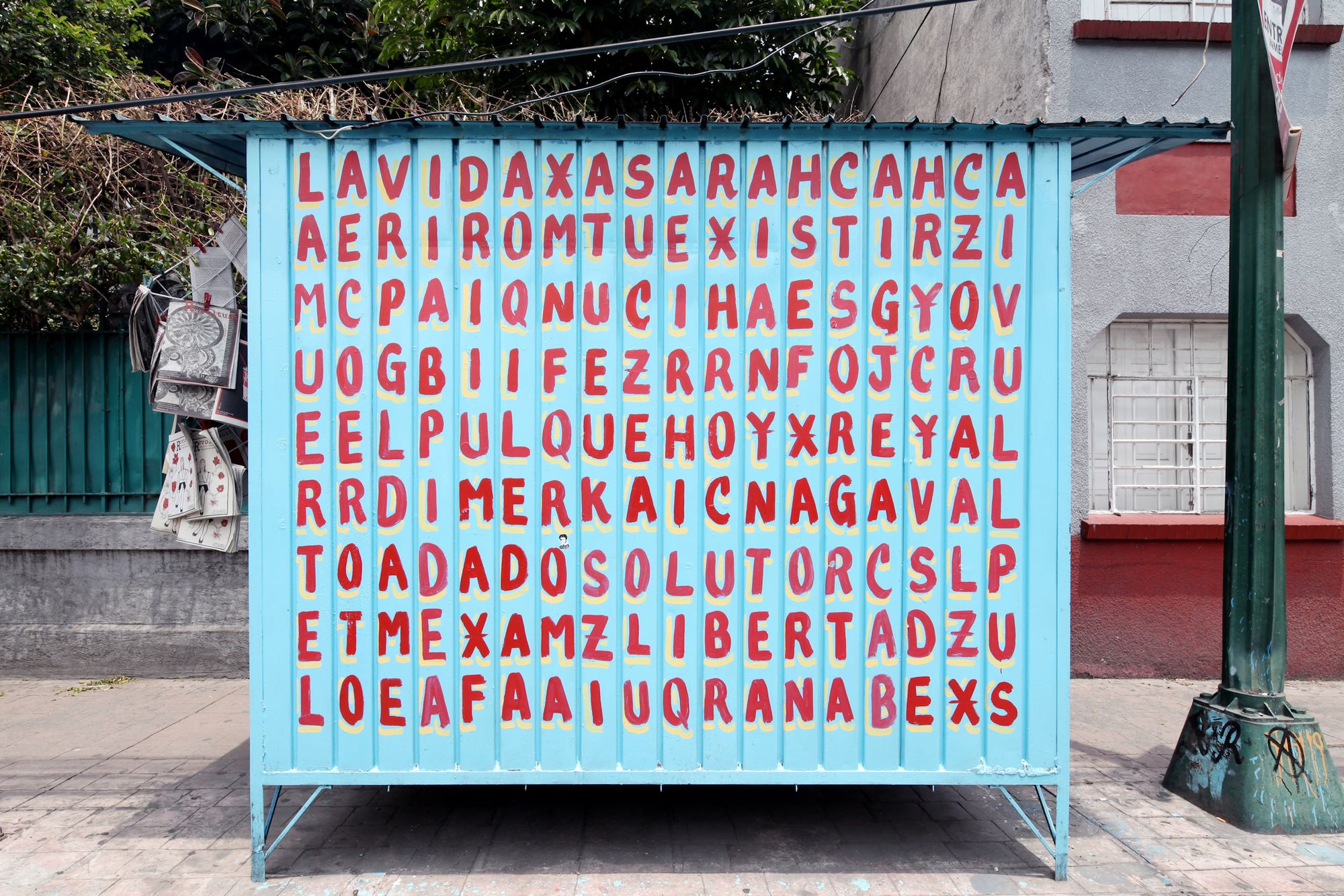 For their installation in Palm Springs, the collective revisited the first mural ever featured on the Mexico City kiosk—a word search entitled La Chacharachusca painted by RRD member and TDL co-founder Joel Castro in 2017.
Like so many rótulos (hand-painted signs), the murals are a collection of red characters with yellow drop shadows. The original and reimagined murals both make use of lettering styles common in Mexico—a sans serif semi-script and a more ornamental Gothic alphabet, respectively. From the field of characters emerge key processes, traditions, and concepts in RRD's work and everyday life: publicar; mimeógrafo; VPN; la vida; libertad (publishing; mimeograph; VPN; life; liberty/freedom).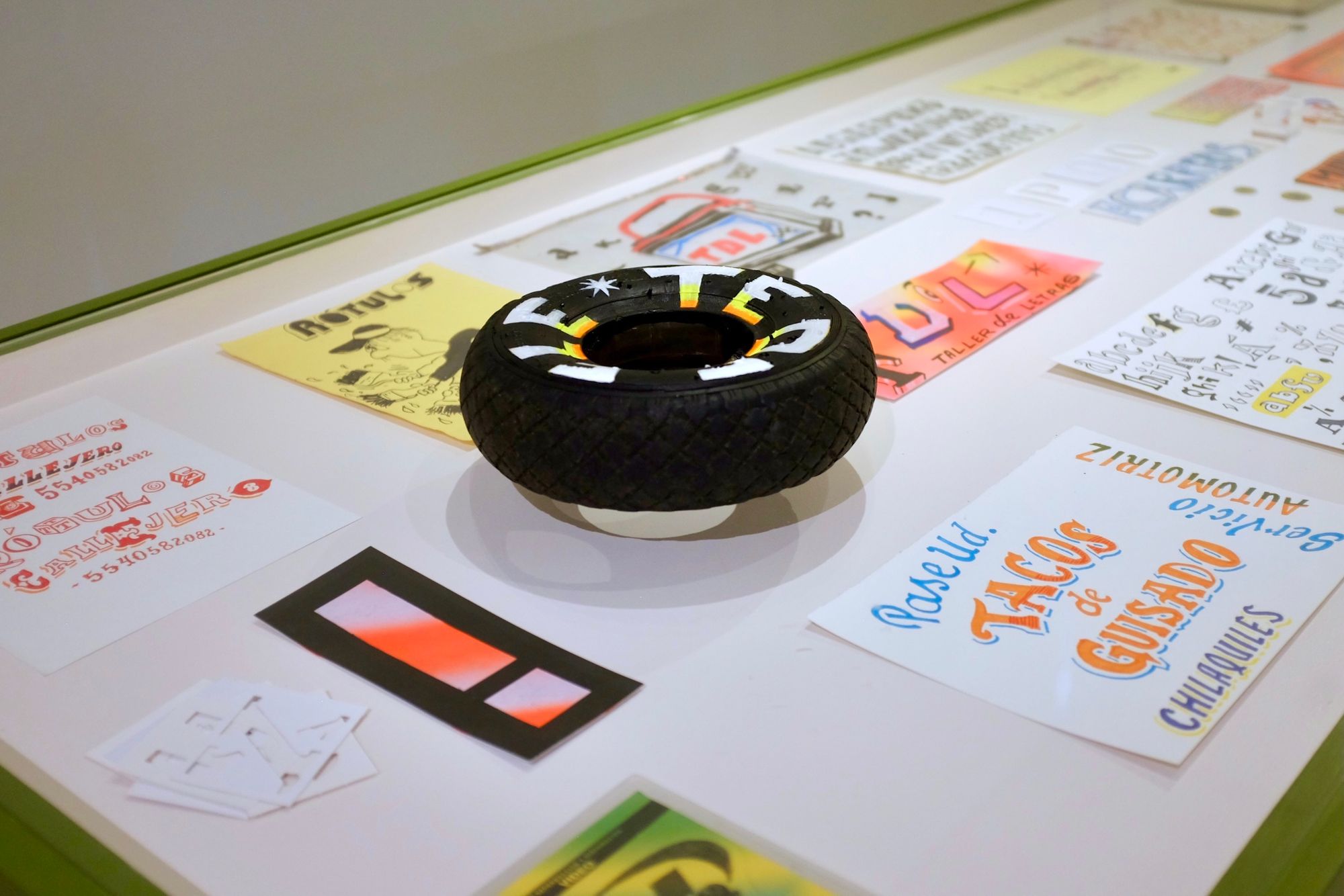 The Lettering Workshop
The world of rotulismo (sign painting) emerges from a set of design networks and knowledges distinct from the schools, offices, and agencies of mainstream graphic design, but has been a crucial influence in shaping the broader aesthetics and politics of graphics in Mexico. RRD member Joel Castro and a group of collaborators including Alberto Vivar Abascal, Nicolas Franky Meza, and Marie Bidaut have dedicated themselves to researching and archiving this landscape through the Taller de Letras (Lettering Workshop/TDL).
In addition to collecting and producing examples of rótulos themselves, TDL also assembles tools and references of the craft, and facilitates workshops in the practice of hand lettering. Their research belies any easy reading of rotulismo as 'informal'—revealing durable repertoires of technique, traditions of apprenticeship, the institution of the workshop, and extensive networks of international influence and exchange.
Currently working in Switzerland, Castro and Bidaut reflect on these lineages in a new publication created for Eso es la Vida entitled Café du Raisin. Through the publication, TDL brings its interest in histories of hand lettering in Mexico to Switzerland, assembling a visual archive of sign painting in the country.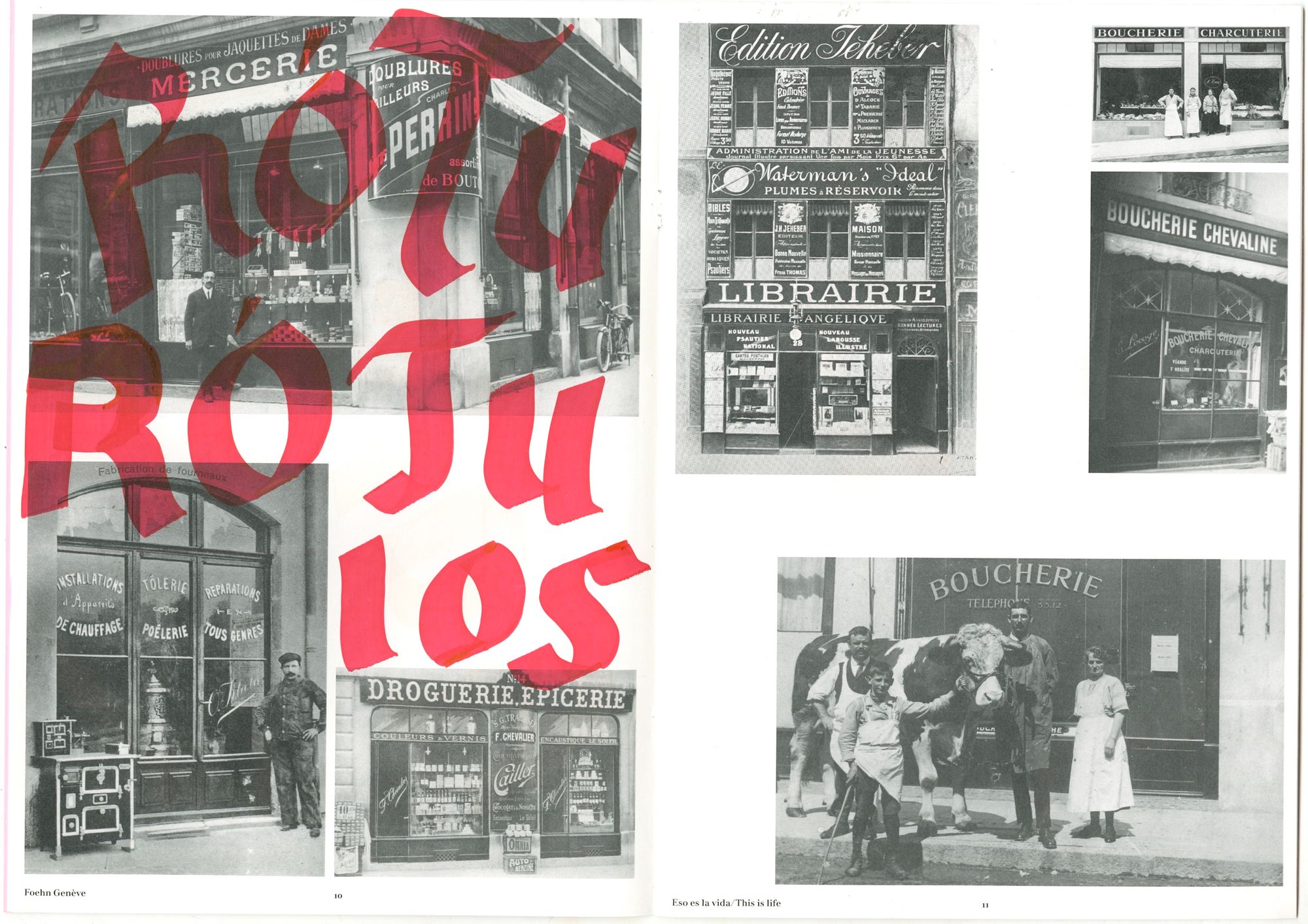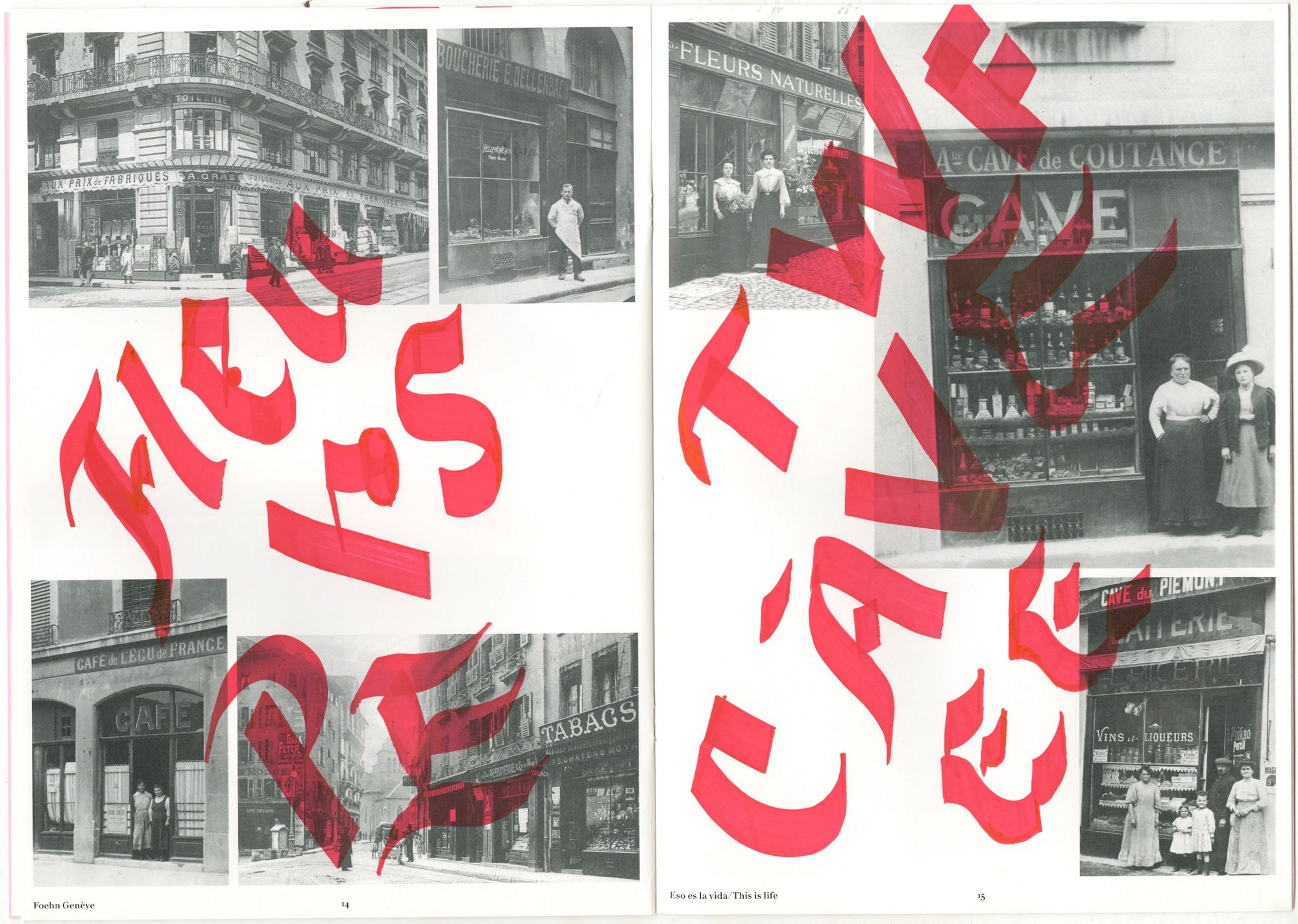 Superimposed over black and white archival photographs are bright red, hand-lettered annotations that generate a dialogue between two instances of a craft that connect distinct temporalities and cultural locations. Boulangeries, caves, and fleurs meet panaderías, pulque, and talachas. Beneath this linguistic juxtaposition lie real movements of brushes, alphabets, and Speedball textbooks that knit a global network of hand lettering together.
Working the Street
RRD is similarly an agent of circulation. As the group's name implies, in RRD's practice, the exploration of sign painting meets an engagement with a broader ecology of reproductive technologies and popular strategies of distribution. The Mexico City kiosk is painted bright blue for a reason: it is one of many kiosks that form part of the Unión de Vendedores de Revistas Libros y Publicaciones Atrasadas Vicente Guerrero Saldaña (Vicente Guerrero Saldaña Union of Vendors of Magazines, Books and Back Issues).
Named after one of the leaders of Mexico's nineteenth-century independence movement, the union and its members are vital actors in the flow of ideas in Mexico's public sphere—proof that, as one of the group's publications with the Pensaré Autonomous Collective argues, "the street belongs to those who work it".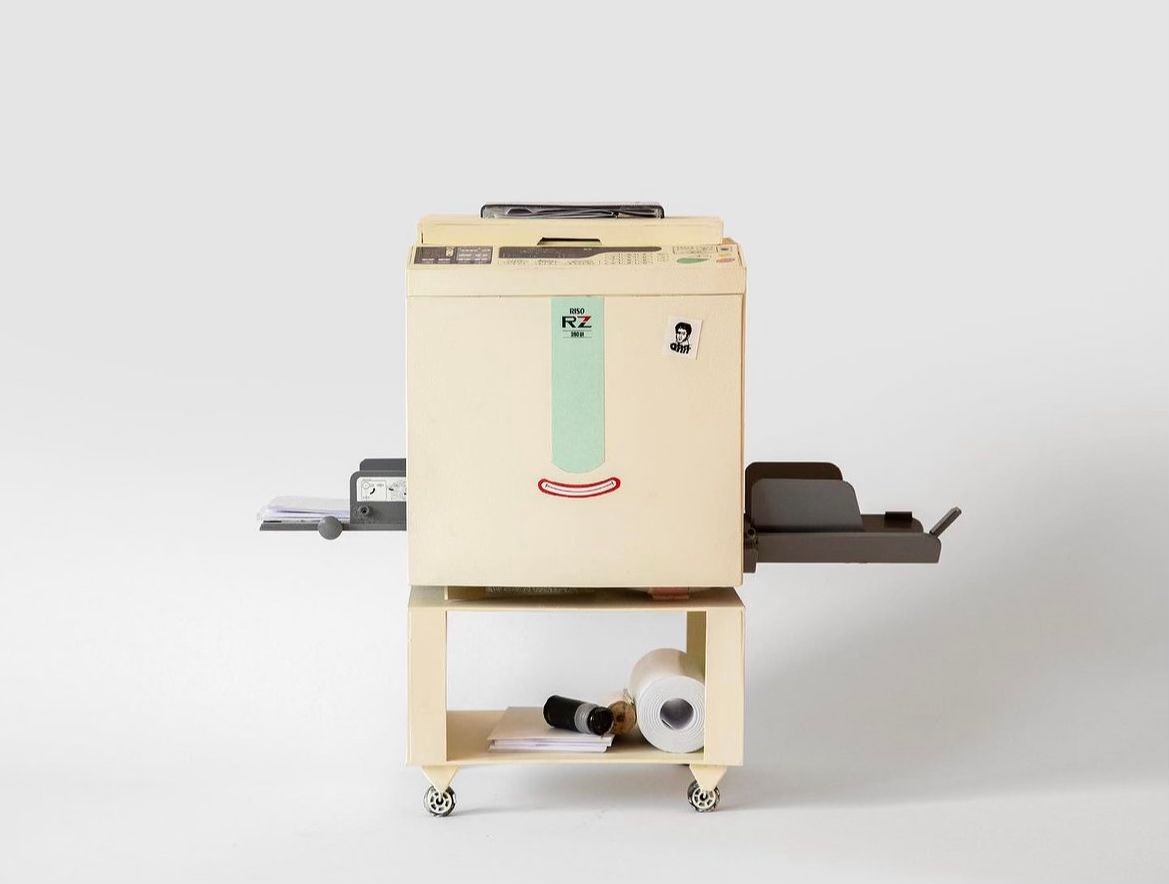 RRD's installation in Palm Springs stages the kiosk as a micro-museum of their efforts to transform an institution of everyday commerce into a kind of public sculpture.
Reproductive Power
RRD works extensively with accessible technologies of reproduction like risograph printing and mimeography, mining their histories as modes of collective publishing. They work with a broad cast of collaborators through publications and workshops, utilising these methods as tools for broadening discourse. As the group reflects on the mimeograph:
"We've found it to have enriched our production because it is the ideal printed medium for small organisations. Schools, parishes, offices and left wing organisations have historically made use of it."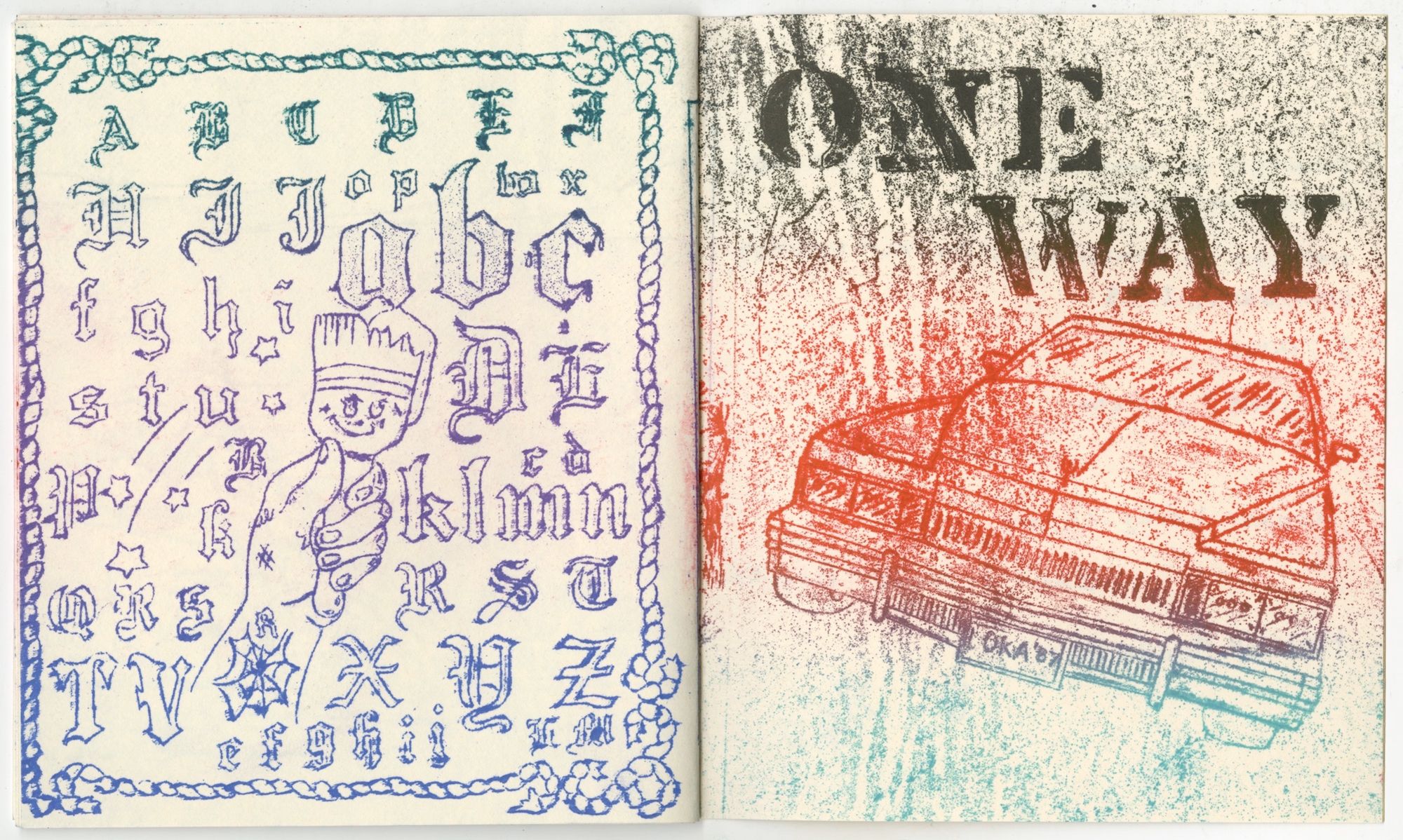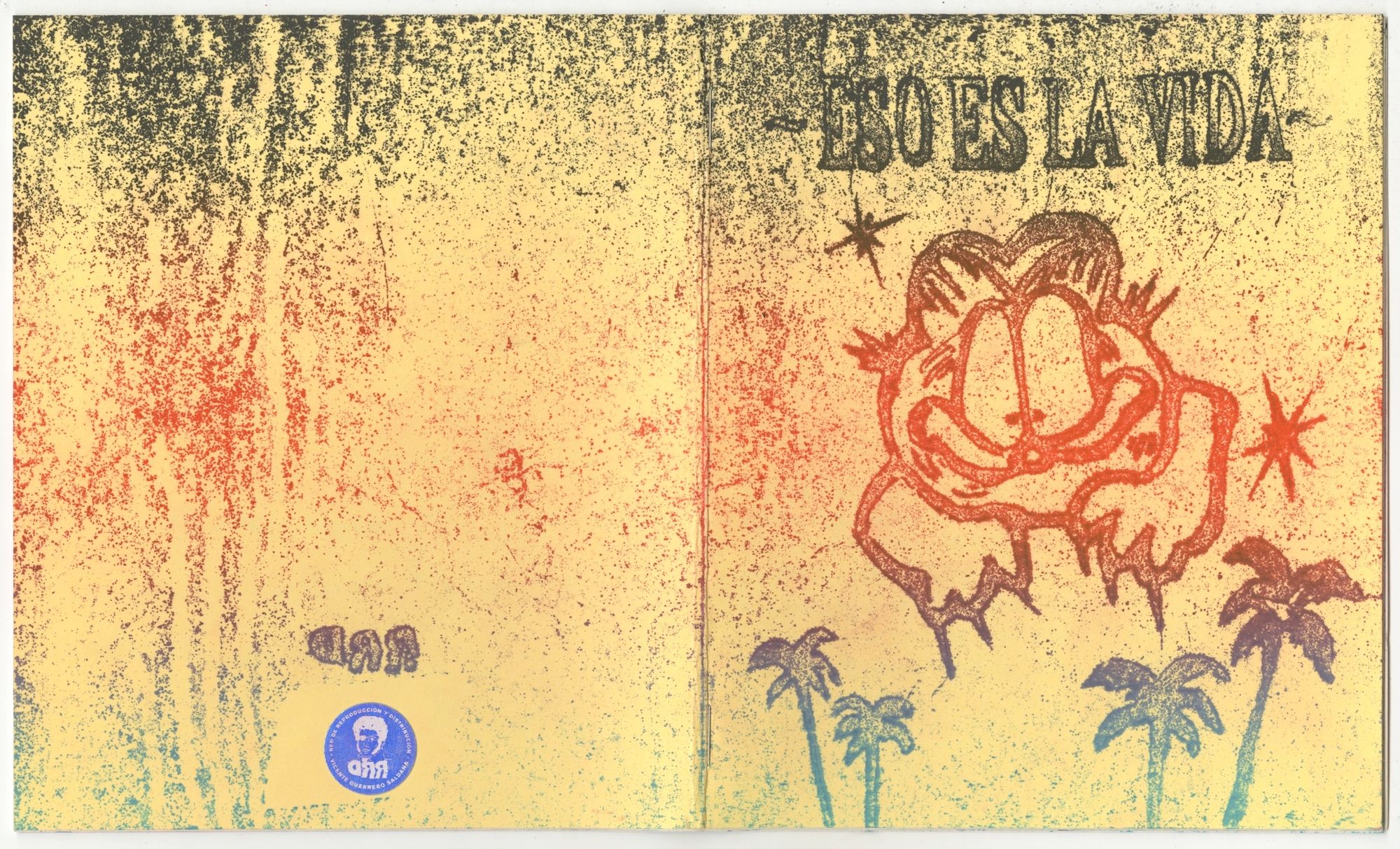 At the Palm Springs Art Museum, RRD conducted a mimeograph workshop with a group of local artists to explore the technology's potential as a creative tool. Together, they produced Eso es la Vida, a zine that reflects on desert life in California and everyday type in Mexico. It is another set of copies in a stream of reproductions that reveal the contemporaneity of tradition and call on all of us to take seriously our role as makers and disseminators of ideas.
---
Written by Robert J. Kett / @rkett
Robert J. Kett is Associate Professor of Humanities & Sciences at ArtCenter College of Design and Adjunct Curator of Architecture + Design at the Palm Springs Art Museum.
Eso es la Vida/This is Life: Graphic Design from Mexico is showing at the Palm Springs Art Museum until 27 November.
Thank you to Patricia Cué, author of
Bardas de Baile
, for introducing Robert J. Kett to BLAG and helping to bring this article to fruition.
---
More from Mexico